Roswell Park provides a wealth of Physical Therapy services which can be accessed Monday through Friday from 8 a.m. to 4:30 p.m. The Physical Therapy (PT) offices are located on the first floor of the hospital and can be contacted by calling 716-845-3271.
The PT staff offers a number of different services, depending upon the type of cancer being treated, and a patient's own individual needs. Working with the physician, the PT staff will work to maximize your physical abilities and comfort levels, to ensure the quickest, most effective recovery for you. Services can be tailored to meet your individual requirements, but many are addressed in our current services, which are outlined below.
Pain Management
Learn about pain management through the use of different physical therapy modalities – heat, cold, electric stimulation, exercise, myofascial release techniques, etc. – in conjunction with the Pain Management Team/Task Force.
Post Breast Surgery Rehabilitation
Patients who undergo breast surgery will meet with PT staff, who will provide them with an overview of the lymphedema prevention precautions to observe and the exercises they will perform after the removal of drains. When patients return to clinic, they return to PT for more thorough instruction in exercises to restore shoulder mobility and function.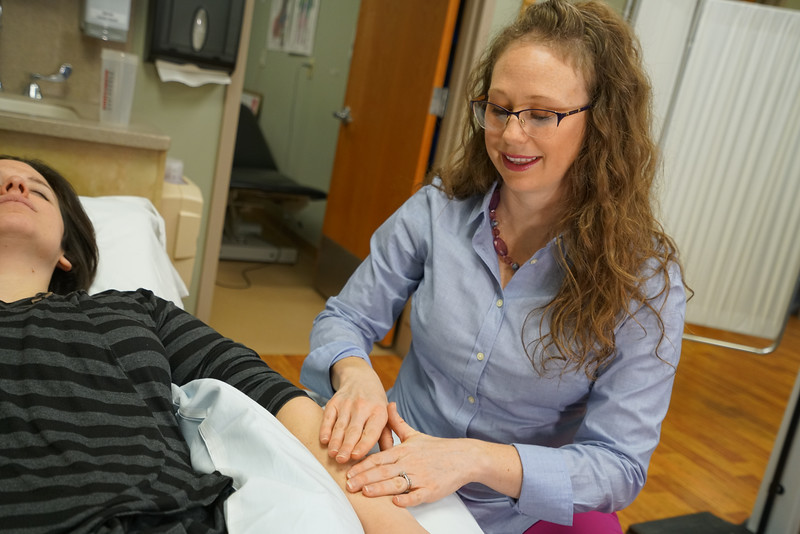 Lymphedema Treatment Services
Lymphedema is a chronic condition characterized by swelling of the arm or leg and usually occurs after surgery and/or radiation treatment to the lymph nodes. The Lymphedema Program provides ongoing, comprehensive management of patients with lymphedema by a multispecialty team of physicians, surgeons and physical therapists.
Post Radical Neck Dissection
Since a nerve and/or a muscle can be affected during this surgery, patients are taught exercises to minimize postural deformity and maximize function of the neck and shoulder.
Post Lung Surgery
After a thoracotomy, patients often need rehabilitation to improve mobility of their shoulder due to the incision and the chest tubes. Additionally, patients can learn conditioning/endurance programs to regain their functional mobility. Some patients with compromised pulmonary function (after pneumonectomy) also will benefit from energy conservation techniques.
Neurological
There are numerous types of neurological involvement in cancer patients, including primary tumors of brain and spinal cord, metastatic tumors of the nervous system, and peripheral nerve damage as a result of tumor, surgery, radiation and chemotherapy. Rehabilitation programs are tailored to the individual needs of the patient to maximize ability to function independently and return to their daily activities.
Orthopedic Patients
Limb sparing surgeries have largely been used for primary extremity tumors instead of amputation. However, the rehabilitation process is often extensive, with the patients having internal prostheses or grafts, and require a great deal of muscle re-education and gait and functional activity training.
Bone Marrow Transplant/Hi-Dose Chemotherapy
Patients receiving bone marrow transplants and those receiving hi-dose chemotherapy require physical therapy as in- and as outpatients to offset the many side effects of treatment. These may include muscle and nerve damage, balance disorders, de-conditioning, and cardiopulmonary compromise.
Survivorship
Survivors who have been diagnosed with cancer and have gone through the associated treatments often find themselves dealing with secondary issues that can affect their quality of life. Physical, Occupational and Lymphedema Therapy can play an important role for patients recovering from cancer treatment. By helping to increase strength, control pain, improve balance and manage daily living function. Rehabilitation Services can help survivors return to their greatest level of ability.