A specialty pharmacy dedicated to your oncology care with uniquely trained oncology pharmacists.
Learn how you may be able to have your prescriptions filled with us
Step 1: Ask any member of the Roswell Park clinical team if your prescriptions, including refills, can be filled by the Roswell Park Pharmacy.
Step 2: Stop by the Roswell Park Pharmacy with your Roswell Park Identification Card (green card) and your insurance card.
Location & Hours
First floor of main hospital, adjacent to the Sunflower Café.
Monday – Friday
9 a.m. – 6 p.m.
Saturday
9 a.m. – 1 p.m.
Pick up all of your prescriptions in person or request home or workplace delivery — free of charge.
Delivery in three hours or less, 150-mile radius from Buffalo, NY.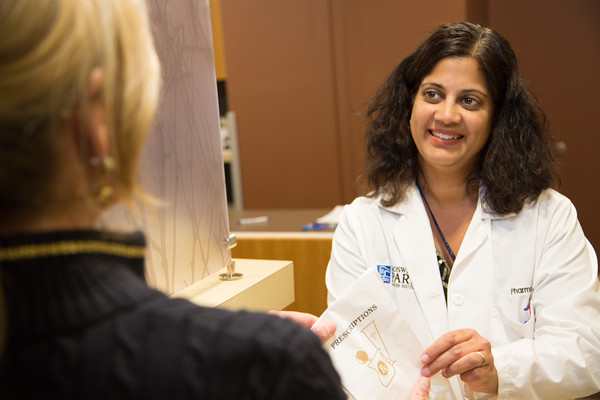 Ask Our Oncology Pharmacists
How to safely and effectively incorporate your current medications, including oral and injectable chemotherapies, into your care regimen.
Inquiries about any prescription coverage.
What makes an oncology pharmacy unique? Find out at Roswell Park Cancer Talk.
An Expert Pharmacy You Can Trust
Medication history is kept securely on file.
Screening and prevention of adverse drug interactions and side effects.
Access to copay assistance programs. 
Over-the-Counter Items Available
To further assist you in being a one-stop pharmacy, we offer select over-the-counter medications, including cough medicine, antacids, antihistamines, decongestants, laxatives and pain medications.