Scott Bieler Clinical Sciences Center at Roswell Park Takes Top Award at AIA Buffalo/WNY Gala
FXFOWLE architecture firm honored for designing a clinical care facility marked by 'elegance' and 'sophistication'
Thursday, January 12, 2017
BUFFALO, N.Y. — The architecture firm that brought the Scott Bieler Clinical Sciences Center to life on the Roswell Park Comprehensive Cancer Center campus has been honored for its efforts. 
FXFOWLE received the Buffalo/WNY Architecture Award at the 2016 awards gala of AIA Buffalo/WNY, the regional chapter of the American Institute of Architects. The award, recognizing the firm's work on the 11-story clinical care facility, is the highest honor conferred by the chapter.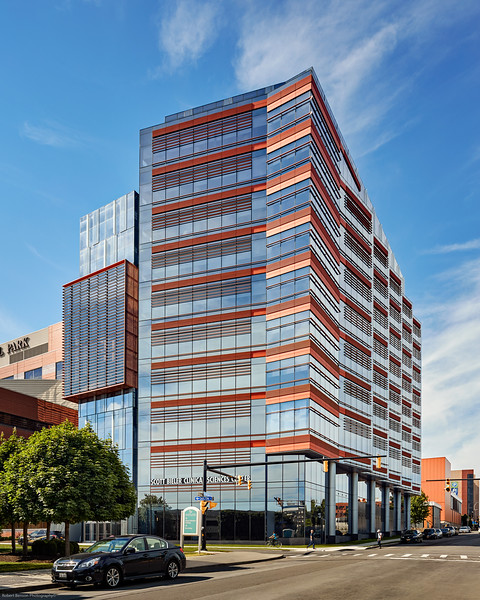 The Scott Bieler Clinical Sciences Center features an open, modern design with scenic views from every floor and a mirrored-glass exterior punctuated by terra cotta accents that complement other buildings on Roswell Park's 28-acre campus. FXFOWLE's work on the project — the cancer center's first clinical expansion in nearly 20 years — was led by Dan Kaplan, Design Partner; John Schuyler, Partner; and Dan Schmitt, Senior Associate, in close collaboration with a Roswell Park Department of Facilities Management team directed by Anthony Putrelo. The facility is home to Roswell Park's Chemotherapy & Infusion Center, supportive care services and a comprehensive Women's Center comprised of the Breast Oncology Center, Breast Imaging Center and Gynecology Center. It also houses administrative offices for many Roswell Park teams.
One of the jurors for the awards program noted the building's "elegance" and "sophistication." Another wrote, "This building is both complex and yet simple at the same time. The detailing gives it a lightness that is not typically found in a building of this scale."
"The Scott Bieler Clinical Sciences Center is a centerpiece of our vision for providing outstanding clinical care that is patient-focused and patient-driven," says Roswell Park President & CEO Candace Johnson, PhD. "FXFOWLE designed a gorgeous, welcoming facility that exceeded our expectations on every level. They were an exceptional partner."
"When we set out to design the Scott Bieler Clinical Sciences Center, we had three critical goals in mind," says John Schuyler, FXFOWLE Partner. "We wanted to reflect the best qualities of our client Roswell Park; to craft a meaningful architectural design that engages the larger Buffalo community; and, most importantly, to create a humane and uplifting environment for those going through challenging health-related issues."
The Scott Bieler Clinical Sciences Center, which opened in May 2016, is named for longtime Roswell Park benefactor Scott Bieler, President of West Herr Automotive. Read more about Mr. Bieler's unprecedented support of Roswell Park.
###
Editor's note: Additional photos available on request.
About Roswell Park:
The mission of Roswell Park Comprehensive Cancer Center is to understand, prevent and cure cancer. Founded in 1898, Roswell Park is one of the first cancer centers in the country to be named a National Cancer Institute-designated comprehensive cancer center and remains the only facility with this designation in Upstate New York. The Institute is a member of the prestigious National Comprehensive Cancer Network, an alliance of the nation's leading cancer centers; maintains affiliate sites; and is a partner in national and international collaborative programs. For more information, visit www.roswellpark.org, call 1-800-ROSWELL (1-800-767-9355) or email AskRoswell@Roswellpark.org. Follow Roswell Park on Facebook and Twitter.
About FXFOWLE:
FXFOWLE has defined a practice that encompasses architecture, interiors, planning and urban development. The basis of the firm's work is a collective, rigorous exploration of fit and form, driven by ideas about function, place, the form-making process and the role of design in human settlement. Inspired by urbanism, sustainability and technology, the firm's portfolio ranges from the scale of an individual building–office towers, multi-family residences, cultural facilities, K-12 and higher education institutions–to the city as a whole, addressing infrastructure and transportation. FXFOWLE is committed to breaking new ground with demonstration projects, and advancing the principles of sustainable architecture. The firm sets and meets high standards of sustainable and energy efficient performance, and strives to go beyond LEED to achieve goals such as net-zero energy, Passivhaus, and tenets of the Living Building Challenge. For more information, visit www.fxfowle.com. Follow FXFOWLE on Facebook, Twitter, LinkedIn and Instagram.