Mother Sandy Costanza Shares Her Experience of Having a Child Diagnosed With Cancer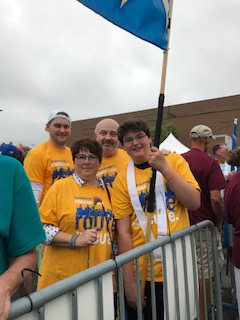 My son, David, was 13 years old when he was diagnosed with acute lymphoblastic leukemia (ALL). My husband and I are both medical professionals, and cancer never entered our minds when David exhibited signs of fatigue, sore throat and listlessness. We thought it was a simple virus — maybe even mononucleosis. Boy, were we wrong! Soon we were caught up in a complicated schedule of chemotherapy, spinal taps and many other procedures, x-rays, doctor visits and several hospitalizations, but fortunately, David has been in remission for the last 17 months.
The last 18 months have been a whirlwind. Here are a few things I've learned since then about having a child diagnosed with cancer:
"Life turns on a dime"
When your child is diagnosed with cancer, it's like being thrown into a tornado with no way out! Take it one step at a time: Cope with things on a moment-to-moment basis if that's what you need to do to get through the day.
Trust your child
When David tells us something isn't right, I never second-guess him. I have no way of knowing how he really feels.
Choose the right hospital
Roswell is awesome! The staff in every area — from admissions, to the cafeteria, to the Pediatric Center — are amazing. They answer questions, return phone calls and always see us that day if necessary.
You can't do it alone
Ask for help, and take it when it's offered. Our family and friends often came along with us for David's treatments to provide company and support. David's school recruited volunteers to cook meals for us. It was such a blessing, and one less thing to worry about.
You are not alone
Multiple services are available to help and support you through this ordeal. Roswell Park has social workers to talk to, if and when you need them. We were set up with SKIP of New York, which provided us with supplemental Medicaid for David's medical bills — based on his chronic illness, not our income. This service was a tremendous help, as the copays add up quickly.
Never miss another Cancer Talk blog!
Sign up to receive our monthly Cancer Talk e-newsletter.
Sign up!
There are also many organizations whose mission is to help children through their treatment. Love Your Melon contacted us and visited David at our house. It's a university-based program to improve the life of pediatric cancer patients. Mikey's Way also contacted us and provided David with a new Nintendo DS game system as well as a new tablet.
Cancer is relentless
The constant worry never leaves your mind. Although David has been in remission, the treatments are anything but fun. It has taken over a year for David to regain his physical stamina, and although it is remarkably better, it still isn't 100 percent. At one point he was receiving three intramuscular shots of chemotherapy in his thighs three times a week; as his mother, it was horrible for me to see David go through that.
David has returned to school full time this year after being tutored at home for a year. He missed his 8th-grade graduation and most of his freshman year. Sometimes the spinal chemo has caused painful complications to his muscles and neck. Remission and maintenance therapy can be complicated.
David has two long years of treatment ahead, but we thank God every day that we have an institution like Roswell Park here in our city. We are eternally grateful for the staff and for the research that has helped give David the future he deserves.
Editor's Note: Cancer patient outcomes and experiences may vary, even for those with the same type of cancer. An individual patient's story should not be used as a prediction of how another patient will respond to treatment. Roswell Park is transparent about the survival rates of our patients as compared to national standards, and provides this information, when available, within the cancer type sections of this website.