Fundamentals of Endoscopic Surgery (FES)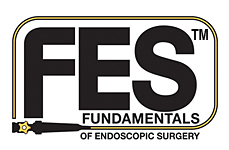 The SAGES Fundamentals of Endoscopic SurgeryTM (FES) program is a comprehensive educational and assessment tool designed to teach and evaluate the fundamental knowledge, clinical judgment and technical skills required in the performance of basic gastrointestinal (GI) endoscopic surgery (endoscopy). Our goal is to provide participants with an opportunity to learn the fundamentals of endoscopic surgery in a consistent, scientifically accepted format, and to test cognitive and technical skills – all with the goal of improving the quality of patient care.
FES was designed for medical and surgical residents, fellows, practicing general surgeons, gastroenterologists, and other physicians to learn and test basic endoscopic skills required to form a foundation in the practice of flexible endoscopy.
Successfully achieving certification in the Fundamentals of Laparoscopic Surgery (FES) is a national requirement to receive the initial American Board of Surgery certification. For people who have already received their American Board of Surgery certification, the FES certification is valuable as a foundation or supplement to any MIS curriculum.
Book Your Training
In order to be eligible to take the FES exam you must follow the instructions via the self-instructional web-based program, available for purchase at http://www.flsprogram.org/.
Test Schedule
1st, 2nd and 3rd Thursday of every month
Schedule Your Exam
Please schedule your test at www.webassessor.com/sages. *We cannot assist you in scheduling this exam; you must use the webassessor to schedule your exam date.
Testing Costs
Vouchers for FES testing must be purchased via the FES program. There is no fee from Roswell Park Comprehensive Cancer Center to sign up for testing dates. There is a fee associated with utilizing the ATLAS program for training purposes in preparation for the FES test.