Prestigious federal grant funds effort to understand fast-growing but underexplored trend in tobacco use
Highlights
Shared grant to fund new WNY Center for Research on Flavored Tobacco Products
NCI-funded program 1 of only 9 national Tobacco Centers of Regulatory Science
Researchers will seek input from hundreds of tobacco and e-cigarette users
BUFFALO, N.Y. — The expertise of two regional research teams has earned a federal grant of nearly $20 million to create the nation's first program dedicated to the study of flavored tobacco. One of only nine projects to earn funding through the federal Tobacco Centers of Regulatory Science (TCORS) program, the WNY Center for Research on Flavored Tobacco Products, or CRoFT, will unite teams from Roswell Park Comprehensive Cancer Center and the University of Rochester Medical Center in an effort to better document and understand one of the fastest-growing trends in tobacco use.
The five-year, $19.05 million competitive grant, awarded by the National Cancer Institute, will be shared by Roswell Park and URMC. Based at Roswell Park, the program will be led by Richard O'Connor, PhD, and Maciej Goniewicz, PhD, PharmD, both internationally recognized experts on tobacco use and its health consequences. The Roswell Park team will analyze various combustible and electronic tobacco products, their consequences for health and how users interact with these products. Collaborators from URMC, led by Irfan Rahman, PhD, and Deborah Ossip, PhD, will contribute critical resources in biomarker screening, genetic analysis and toxicology assessment.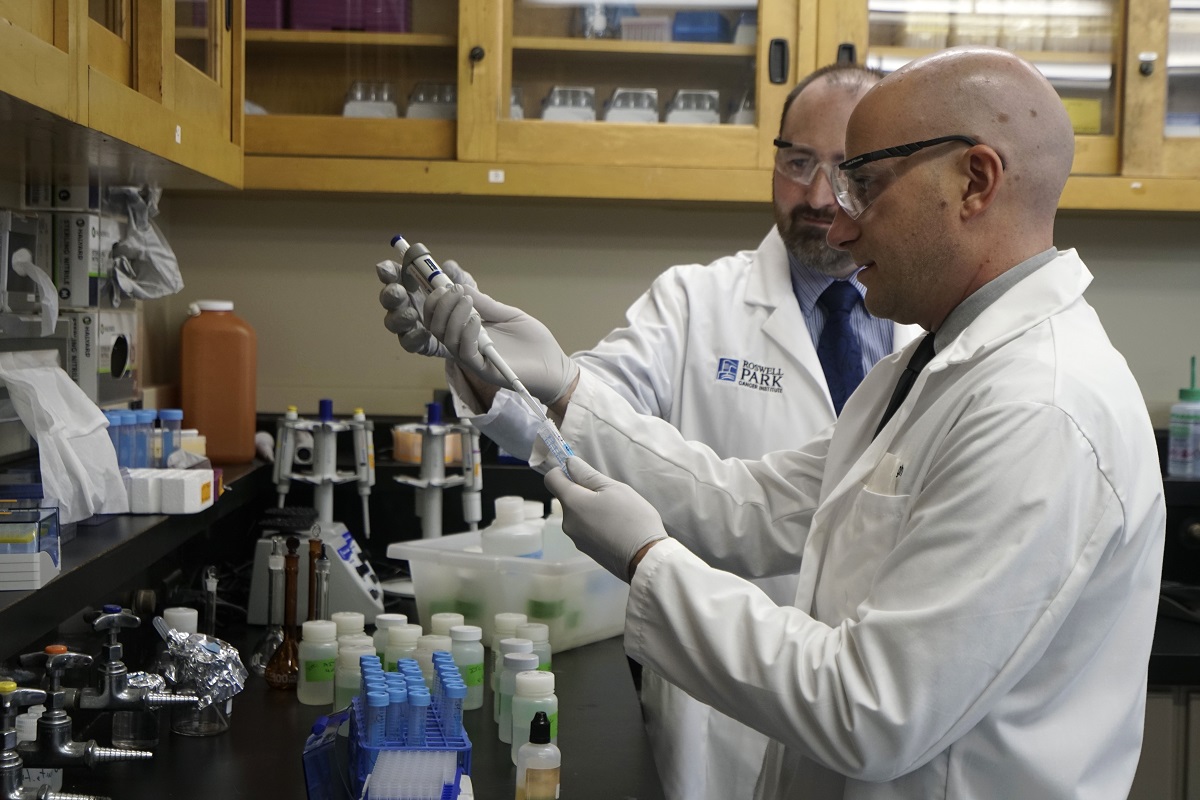 "We're really excited about initiating this work, because no one has ever looked at flavored tobacco in such a comprehensive and systematic way. There are so many different flavorings, delivery systems and product options, and so much we don't know about them," says Dr. O'Connor, a Professor of Oncology with Roswell Park's Health Behavior and Epidemiology & Prevention programs and Director of the Buffalo cancer center's Tobacco Research Laboratory.
Current federal regulations prohibit the sale and manufacture of flavors other than menthol in combustible cigarettes but not in other tobacco products, including e-cigarettes. Data published last year from the PATH Study, the largest prospective U.S. study of tobacco use, indicated that use of flavored products was highest among youth and young-adult tobacco users, with 80% of tobacco users ages 12-17 and 73% of tobacco users ages 18-24 reporting that they'd used a flavored tobacco product in the previous 30 days.
"There are a number of flavoring chemicals that are regarded as safe for incorporation into food and drink, but we have such limited data about what happens when these products are inhaled," adds Dr. Rahman, a Professor of Environmental Medicine, Dentistry, Medicine and Public Health Sciences at URMC. "We're going to study what happens when these chemicals are added to e-cigarettes, vape pens, Juul and other pods, hookahs, waterpipes, cigars and cigarillos to be a resource for both policymakers and the general public."
The TCORS program was initiated five years ago by the U.S. Food and Drug Administration (FDA) and National Institutes of Health (NIH) in order to generate evidence to inform the FDA's regulatory activities.
The CRoFT team will pursue projects in four main areas:
Assessing Flavorant Toxicity
Characterizing Flavors and Their Impact on Behavior
Determining Respiratory Health Effects of Flavors
Evaluating the Effects of Product Marketing
The team will seek input from hundreds of tobacco and e-cigarette users as it pursues this work, implementing several surveys and clinical studies.
"We're going to use a lot of different approaches to answer some very important questions: How does the concentration of flavorings affect use? Are there benefits to switching from one type of product to another? Does changing packaging or putting warnings on products change behavior? These are things people want and need to know," notes Dr. Goniewicz, Associate Professor of Oncology in the Department of Health Behavior at Roswell Park.
Other key collaborators include Maansi Bansal-Travers, PhD, MS, and Martin Mahoney, MD, PhD, from Roswell Park and Scott McIntosh, PhD, Scott Steele, PhD, Dongmei Li, PhD, and Isaac Sundar of URMC.
The grant funding this work is NCI project number U54CA228110.
###
Roswell Park Comprehensive Cancer Center is a community united by the drive to eliminate cancer's grip on humanity by unlocking its secrets through personalized approaches and unleashing the healing power of hope. Founded by Dr. Roswell Park in 1898, it is the only National Cancer Institute-designated comprehensive cancer center in Upstate New York. Learn more at www.roswellpark.org, or contact us at 1-800-ROSWELL (1-800-767-9355) or ASKRoswell@roswellpark.org.