Donation is largest in Buffalo Bills Alumni Foundation History
Highlights
Historic donation will benefit prostate cancer research at Roswell Park
Cure the Blue founded in 2010 by two-time cancer survivor, Booker Edgerson
Alumni Foundation has donated $2.4 million to charities since 1999
Today, the Buffalo Bills Alumni Foundation made a $100,000 donation – the largest donation in the Foundation's history – to Roswell Park Comprehensive Cancer Center in support of prostate cancer research. Buffalo Bills Alumni Foundation President and Bills Wall of Famer, Booker Edgerson, along with other Bills Alumni made the official check presentation to Roswell Park's President and CEO, Candace S. Johnson, PhD, as part of the Alumni's major healthcare initiative called "Cure the Blue".
Sponsored by the Buffalo Bills Alumni Foundation, the Cure the Blue Program has become one of the Buffalo area's most comprehensive efforts to help promote prostate cancer awareness programs. The gift made this morning will support research efforts led by Adam Sumlin, PhD, MBA, Assistant Professor of Oncology at Roswell Park. Dr. Sumlin's work in prostate cancer research focuses on strategies for early detection and understanding and addressing disparities in how cancer affects different groups of people.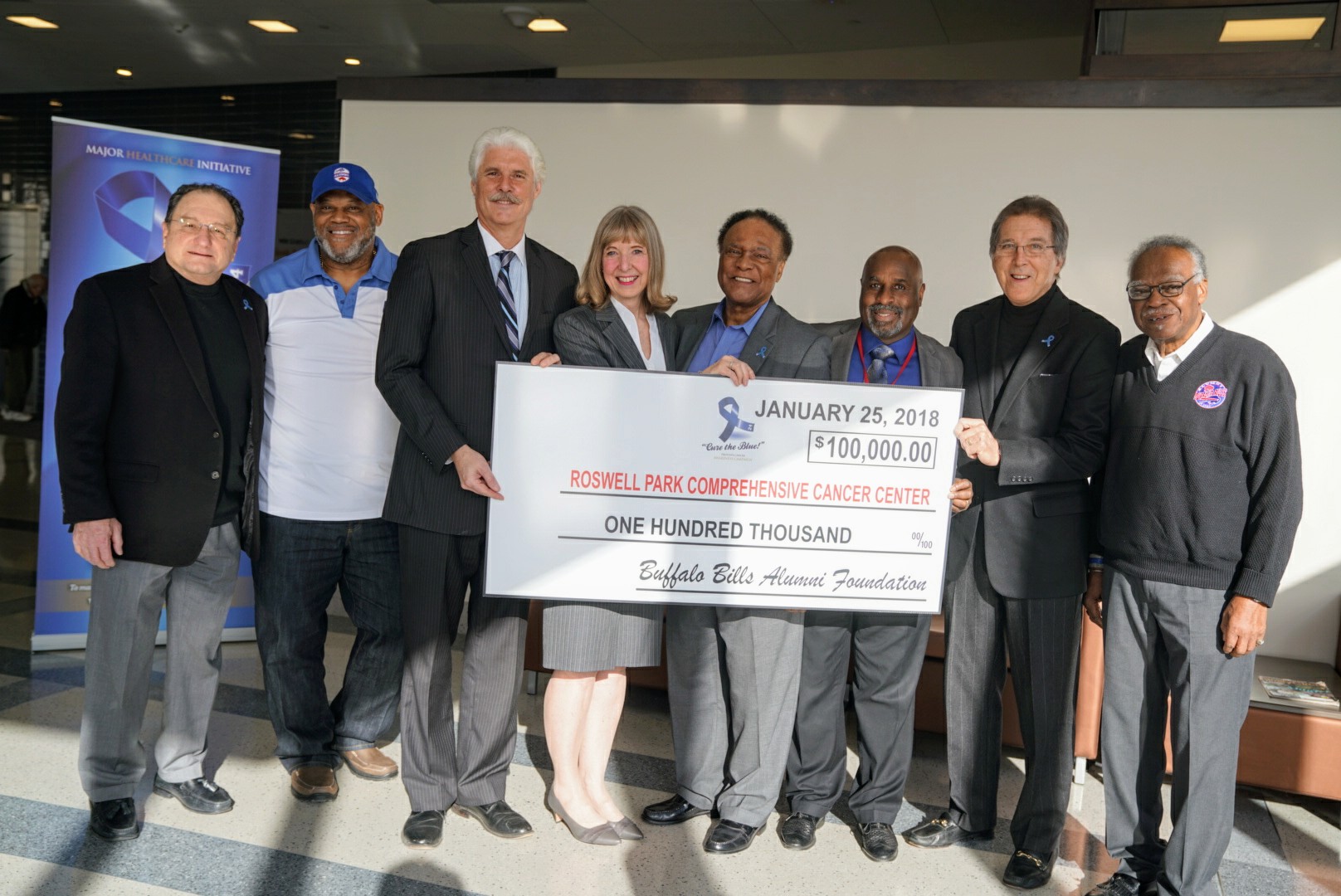 "At Roswell Park, we're not only dedicated to finding cures for cancer, but also to building awareness, providing education on prevention and exploring new ideas to improve early detection rates so that we can save more lives from the fear, pain and loss of cancer," said Dr. Johnson. "We're grateful to the Buffalo Bills Alumni Foundation and the Cure the Blue initiative for their support in carrying our mission forward."
Booker Edgerson, a two-time prostate cancer survivor, originally had the idea for the Cure the Blue initiative in 2010 when he was added to the Buffalo Bills Wall of Fame.
"I have had a goal for quite a few years to promote Prostate Cancer Awareness, especially to minority males. Four years ago, we officially launched our Cure the Blue major healthcare initiative in an effort to bring awareness, education and research to the dreaded disease of prostate cancer to our community," stated Edgerson. "We are delighted to present this $100,000 check to Roswell Park, which represents the hard work and dedication of our Bills Alumni and the tremendous support that this campaign has received from businesses, individuals and organizations both large and small from across the state."
The Buffalo Bills Alumni Foundation has given more than $2.4 million to various charitable organizations over the past 20 years.
###
About the Buffalo Bills Alumni Foundation
The Buffalo Bills Alumni Foundation was founded in 1999 and is comprised of past Bills players who have left an imprint on society during their football careers and want to continue molding society in a positive manner. Not only have they changed the game, but they have touched and shaped Buffalo as we know it today. The Bills Alumni Foundation has given over $2.4 million to local Western New York charities over the past 20 years.
Media Contact
Amy Biber Collson, Director, Development Marketing & Communications
716-845-1038; amy.biber@roswellpark.org
 
Joe Ciffa, JRC Promotions
716-583-4710