Amy Robach Honored at 27th Annual All Star Night, Roswell Park's Signature Gala
Highlights
Event featured remarks from honored guest, Amy Robach of "Good Morning America"
Dr. Robert Fenstermaker recognized for his work on the SurVaxM vaccine
The 11 Day Power Play was presented the Katherine Anne Gioia Inspiration Award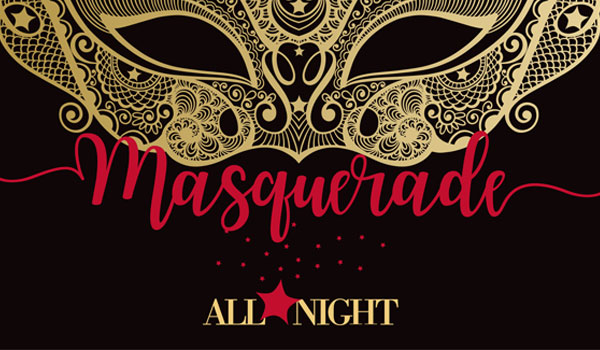 Buffalo, N.Y. – Amy Robach was honored Saturday evening at the 27th annual All Star Night, Roswell Park Comprehensive Cancer Center's signature black-tie gala, for the extraordinary courage she has shown in the face of her breast cancer battle.
The "Good Morning America" news anchor was diagnosed with breast cancer in 2013 after an on-air mammogram. She chose to fight the disease in the public eye in order to spread awareness and hope to as many individuals as possible. Robach's book, "Better: How I Let Go of Control, Held On to Hope, and Found Joy in My Darkest Hour," demonstrates her courage while outlining her fight, her motivation and her optimism, bringing further encouragement to those who share in the fight against cancer.
Tonight's event was presented by M&T Bank and celebrated the theme of Masquerade, which transported more than 1,000 guests to an evening of elegance.
The event, which was co-chaired by Christine and Charles Lorenz, also included recognition of The 11 Day Power Play, which received the Katherine Anne Gioia Inspiration Award. In a grueling effort led by event founders Mike and Amy Lesakowski, 40 committed hockey players spent 11 continuous days playing hockey while eating and sleeping at HarborCenter in downtown Buffalo and raising $1.2 million for cancer research at Roswell Park.
In addition, Robert Fenstermaker, MD, FACS, FAANS, Chair of Neurosurgery and Director of Neuro-Oncology, received the Thomas B. Tomasi, MD, PhD, Hope Award for his innovative and passionate approach to brain cancer research. Fenstermaker is the lead investigator on SurVaxM, a groundbreaking vaccine against glioblastoma — a form of brain cancer — that is in phase II trials at Roswell Park. It has shown great promise for extending and even saving lives — so much so that the phase II trials are taking place at four additional institutions, including the Dana-Farber Cancer Institute in Boston and the Cleveland Clinic.
"We are recognizing Dr. Fenstermaker as one of Roswell Park's most preeminent leaders for his significant achievements in research and medicine — especially his success in developing SurVaxM," said Candace Johnson, PhD, Roswell Park President and CEO. "He's the kind of physician-scientist that's highly prized in the cancer research world because they bring both sides of the equation into solving a problem. He's always thinking of the next therapeutic approach to improve treatment for brain tumors. He's a force to be reckoned with in this field, and we're very fortunate to have him here in Buffalo."