Striking contemporary building will house four existing care centers plus new supportive-care programs
BUFFALO, N.Y. — Roswell Park Comprehensive Cancer Center ushered in a new chapter today with the opening of the Scott Bieler Clinical Sciences Center on its main campus. The 11-story, 142,000-square-foot facility adjacent to and accessible from the Roswell Park main hospital will be dedicated to targeted clinical programs and support services. The building is the first clinical expansion on the Roswell Park campus in nearly two decades, and will enable expansion of programs and services across every area of the comprehensive cancer center's operations.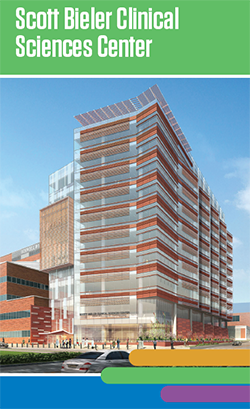 "We saw a vision of cancer care provided in a beautiful, inviting facility that inspires, relieves and comforts. And the Scott Bieler Clinical Sciences Center delivers on that vision," says Roswell Park President and CEO Candace S. Johnson, PhD. "Every color and texture you see throughout this building, every decorative detail, every inch of space was designed from the lens of how to provide the best possible care to meet the needs of this community, across the spectrum of cancer — from prevention and screening to treatment, follow-up and survivorship."
The community this morning got the first glimpse of the facility, which was designed by the architecture firm FXFOWLE. Over the coming weeks, four care centers will be relocated from sites with the Roswell Park main hospital:
A Breast Oncology Center that offers the latest approaches for risk management and the diagnosis, treatment and monitoring of benign and malignant breast tumors.
A Breast Imaging Center offering screening and diagnostic mammography, ultrasound and stereotactic biopsy, with capacity to provide 10,000 additional screening mammograms annually.
An expanded Chemotherapy & Infusion Center that doubles the capacity of the existing center. It features both private rooms and spaces where patients can interact, and every infusion bay looks out on scenic views of the city.
A Gynecology Center that offers advanced screening approaches and cutting-edge therapies for all cancers of the female reproductive system. With the Breast Oncology and Breast Imaging centers, the Gynecology Center makes up a comprehensive Women's Health Center for the prevention, diagnosis and management of breast and gynecologic cancers.
The Scott Bieler Clinical Sciences Center is also home to two new centers dedicated to meeting the long-term needs of patients who are no longer in active treatment. The Survivorship & Supportive Care Center and Adolescent & Young Adult Center will provide supportive care such as nutritional services, complementary care, psychosocial services, screening, pain management and palliative care for patients of all ages.
The $50.5 million construction project benefitted from support from every corner and segment of the community. Early on, Sen. Charles Schumer, Rep. Brian Higgins and Buffalo Mayor Byron Brown led the way in securing New Market Tax Credits for the project — advocacy that translated to $6.3 million toward the construction of the building, thanks to the participation of Chase, Dudley Ventures, the National Development Council and Building America.
"The grand opening of the Bieler Clinical Sciences Center at the marquee Roswell Park Comprehensive Cancer Center is a huge boost for Buffalo that will keep this city at the cutting-edge of vital medical research and create new jobs," says Sen. Schumer. "I am so proud to have helped deliver the much sought after federal New Market Tax Credits which supported building this project. This Center is a shining example of how these credits can be used to create good-paying jobs, enhance health services and support Roswell's ground-breaking research."
"Roswell Park Comprehensive Cancer Center is a place that is overflowing with inspiration, hope and comfort and this expansion makes room for even more," says Congressman Higgins. "The Scott Bieler Clinical Sciences Center, built with the help of federal New Markets Tax Credits and through the generosity of giving Western New Yorkers, continues the advancement of Roswell Park's long tradition as a national leader in cancer research and care."
"The opening of the Scott Bieler Clinical Sciences Center is great news for Buffalo and great news for Roswell Park Comprehensive Cancer Center, one of the best cutting edge cancer treatment centers in the country," says Buffalo Mayor Byron Brown. "Not only will the expansion enable Roswell Park to continue advancing critical research and providing quality care to our residents and visitors, but it will provide a great opportunity to local job seekers in the surrounding neighborhoods and the greater Buffalo community. Today's announcement is another sign of our city's significant transformation, and I thank Roswell Park for its continued commitment as we continue to grow Buffalo into a city of opportunity for all."
Two-thirds of the funds for the Scott Bieler Clinical Sciences Center — more than $32 million — was realized through donations from community members through the Making Room to Save Lives campaign, led by co-chairs Donna Gioia and Scott Bieler.
"The campaign exceeded its goal by over $4 million, and this success is credited to the support of the entire community," notes Lee Wortham, Chair of the Roswell Park Alliance Foundation Board of Trustees. "Including our Circle of Ten, who grew into a Circle of Fifteen million-dollar donors, we had over 500 individuals, corporations, foundations, organizations and Roswell Park faculty and staff who stepped forward and contributed."
The Clinical Sciences Center was recently named for Bieler, in recognition of his significant gift commitment to the Institute's Priority Endowment Fund.
"I couldn't be more proud to see my name on a building that can make such an impact on patients and survivors who will be treated here, and the loved ones who care for them. How can you not be inspired as you walk through these doors?" says Bieler, the President of West Herr Automotive Group. "I want Roswell Park to continue inspiring patients to keep fighting, and for Roswell Park to continue its work for years to come."
The building, designed with help from Roswell Park's Patient & Family Advisory Committee, features high ceilings, extensive use of natural light and scenic views of the city. A contribution from New York Energy Research & Development (NYSERDA) enabled implementation of energy-conserving measures throughout the Center.
Every floor features artwork from both well-known and emerging artists from the Western New York region, a collection curated by the Art Committee of the Roswell Park Alliance Foundation and made possible through generous donations.
"What will be housed at the Scott Bieler Clinical Sciences Center will enhance the level of quality and innovation for patients and survivors," says Michael Joseph, Chair of the Roswell Park Board of Directors. "I am proud to be associated with this great organization that contributes so much to the fight against cancer. Every employee, every donor, every volunteer gives so much of themselves every day to make the journey our patients face a little easier."
###
The mission of Roswell Park Comprehensive Cancer Center is to understand, prevent and cure cancer. Founded in 1898, Roswell Park is one of the first cancer centers in the country to be named a National Cancer Institute-designated comprehensive cancer center and remains the only facility with this designation in Upstate New York. The Institute is a member of the prestigious National Comprehensive Cancer Network, an alliance of the nation's leading cancer centers; maintains affiliate sites; and is a partner in national and international collaborative programs. For more information, visit www.roswellpark.org, call 1-800-ROSWELL (1-800-767-9355) or email AskRoswell@Roswellpark.org. Follow Roswell Park on Facebook and Twitter.