BMT & Cellular Therapy Canada | Lodging
Your Stay in the Buffalo Area
After your discharge from Roswell Park, you'll need to stay in the Buffalo area for several weeks. This will enable us to monitor your progress closely and manage any medical concerns that may arise.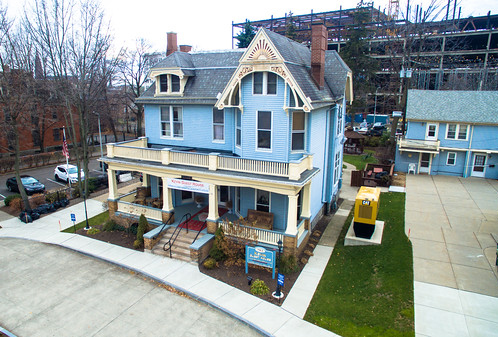 The Kevin Guest House is a Victorian-era home with a bed-and-breakfast atmosphere and located near Roswell Park.
Lodging
If you're coming to Roswell Park from outside Western New York, we will assist you with housing arrangements. Thanks to our collaboration with the Ontario Ministry of Health, there is no out-of-pocket cost for lodging for Canadian patients and their caregivers.
We have made special arrangements for our Canadian BMT patients to stay in the following locations, all approved for your post-transplant stay:
Kevin Guest House (KGH) is just steps from the Roswell Park hospital. A Victorian-era home with a bed-and-breakfast atmosphere, it offers the convenience of a fully equipped central kitchen so you can prepare the meals you like best. A continental breakfast is provided each day, and you may choose to join other guests in the dining room several nights a week for complimentary meals served by local volunteers. KGH provides free laundry facilities, free WiFi, air conditioning, off-street parking, and a garden with gazebo, and is a short walk from Buffalo's rapid transit system. Guests who stay in the main house share a bathroom. After transplant, BMT patients stay in a two-bedroom apartment with private bath, next to the main house.
Wyndham Garden Hotel is connected directly to Roswell Park Comprehensive Cancer Center, so there's no need to go outside at night or in bad weather. Deluxe rooms have a full-size refrigerator; suites include a full-size refrigerator, kitchenette-size sink, and sofa bed. Wyndham Garden offers a 24-hour pantry market, coin laundry, room service, fitness center, and on-site restaurant.

Holiday Inn Express in downtown Buffalo is less than a mile from Roswell Park. Each one-bedroom suite comes with a kitchenette. The hotel offers free breakfast, an on-site convenience store, free high-speed Internet, a fitness center, laundry facilities, in-room DVD players with DVD rental available, and a TGI Friday's restaurant next door. Buffalo's rapid transit system is right outside the door, making it easy to explore the city and to travel back and forth to Roswell Park as needed.
CandleWood Suites in Amherst, New York, is less than 10 miles from Roswell Park. It features one-bedroom suites, each with a fully equipped kitchenette. The hotel also offers WiFi, on-site fitness center, on-site snack shop, laundry facilities, dry cleaning pickup, free parking, and a reception on Tuesday evenings. This facility is pet-friendly.
 
Buffalo Grand Hotel (formerly Adams Mark) in downtown Buffalo is about two miles from Roswell Park. Every room offers free high-speed WiFi. Room service is available 24 hours a day, and the hotel offers an on-site restaurant, bar, indoor pool, fitness center, business center, and car-rental office.
If you have any questions, need more information, or are ready to make a reservation, please call our team at 716-845-8022 or our toll-free number, 1-800-685-6825, ext. 8022.