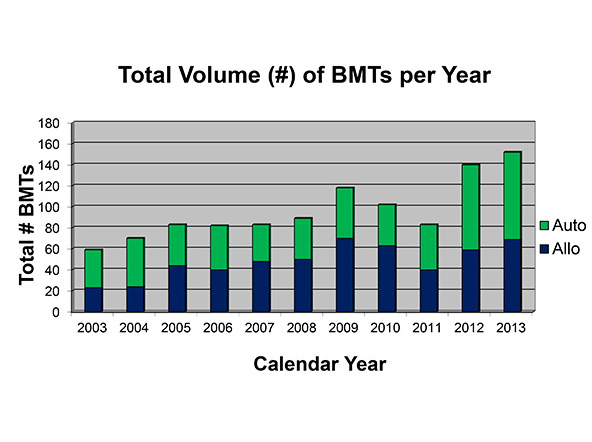 We're one of the nation's top blood or marrow transplantation (BMT) centers, based on patient outcomes.
In 2015, for the fifth consecutive year, the Center for International Blood and Marrow Transplant Research (CIBMTR) identified Roswell Park as one of the nation's top BMT centers, producing significantly better-than-predicted outcomes for patients receiving allogeneic transplants (involving a donor). Roswell Park is among the 15 of 167 U.S. transplant centers who have achieved this distinction as reported to the CIBMTR.
Distinctions & Accreditations
Access to Clinical Research Studies (Clinical Trials)
Most patients who undergo blood and marrow transplantation at Roswell Park are enrolled in clinical research studies. Because Roswell Park is a member of the Alliance for Clinical Trials in Oncology (ACTION — formerly CALGB) and the Blood and Marrow Transplant Clinical Trials Network (BMT-CTN), eligible patients have the opportunity to enroll in these cooperative trials.
Special Services
Roswell Park offers advanced techniques, therapies, services, and programs to improve outcomes for BMT patients. These include:
Reduced-intensity conditioning, which can make transplant possible for eligible patients up to age 80.
Unrelated donor BMT, which is a transplant using a donor who is not a blood relative of the patient.
Cord blood transplant, which uses cells taken from an umbilical cord or placenta after a baby is born. This makes transplant possible for patients who do not have a fully matched donor, either related or unrelated.
A Quality Management Program to ensure consistent, high quality in clinical care, cell collection and processing at every stage of the transplant process.
Promising new ways to predict and control transplant complications, including treatment side effects and graft-versus-host disease (GVHD).
A database with information about more than 2,000 transplants performed at Roswell Park. Analyzing this information helps us improve both short-term and long-term care for people who undergo transplants here.
A BMT Orientation and Caregiver Program for the friends or loved ones who serve as your caregivers during and after your transplant and will play a critically important role in your treatment and recovery.
One-Stop Care
BMT patients will find the services and assistance they need in a single location—the Roswell Park hospital. These include:
On-site collection and processing of blood and marrow.
An outpatient clinic that cares exclusively for BMT patients, both before and after transplant. The BMT Long-Term Survivorship Clinic serves all BMT patients, including those whose transplants were not performed at Roswell Park.
A Transplant Coordinator who can manage all aspects of your case, including the search for a donor, if you need one.
Access to more than 20 million potential donors through Be The Match (the national marrow registry).
Dental Services
Prior to a blood or marrow transplant, Roswell Park's dental oncologists look for any conditions that could lead to infection. Chemotherapy and other treatments given as part of the BMT process can weaken your immune system, making it harder for your body to fight off infection, so it's important to take care of any existing problems to prevent future infection and associated pain.