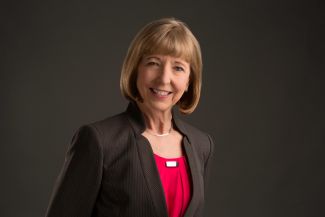 M&T Bank Creates New Leadership Chair With Additional $500,000 Endowment Gift to Roswell Park
M&T Bank Presidential Chair in Leadership will be held by President and CEO Candace S. Johnson, PhD
Highlights
Gift builds $2.3M endowment establishing M&T Bank Chair in Cancer Research
Now the largest endowed chair to be held by the leader of the cancer center
Fund supports Roswell Park's highest priorities and leadership development
BUFFALO, N.Y. — Roswell Park Comprehensive Cancer Center has announced that longstanding supporter M&T Bank has made a gift of $500,000 to create the M&T Bank Presidential Chair in Leadership, to be held by Candace S. Johnson, PhD, President and CEO, and future presidents and CEOs thereafter.
This gift builds on the M&T Bank Endowed Chair in Cancer Research, which was established in 2008 in recognition of the high esteem in which M&T Bank and the late Robert G. Wilmers, then chair and CEO of M&T Bank, held President Emeritus Thomas B. Tomasi, MD, PhD, and Roswell Park. The M&T Bank Presidential Chair in Leadership endowment supports Roswell Park's highest priorities and administrative and faculty leadership development and marks the largest endowed chair in the cancer center's history.
"By supporting our clinicians, educators and researchers with this endowment gift, we're hoping to accelerate new and potential cures for cancer," says Eric Feldstein, Head of Business Banking at M&T Bank and a member of the Roswell Park Alliance Foundation Board. "We're honored, as we've always been, to be associated with this great institution and the people who have dedicated their lives to finding answers to the unanswered questions in health care."
M&T Bank is a longtime benefactor of Roswell Park, with a relationship that dates back into the late 1980s. During this time, the corporation has provided critical support for programs, research, events and capital campaigns, including the Leaders for Life endowment campaign; the Horizons of Hope campaign; the Clinical Sciences Center campaign; the Courage of Carly Fund; screening clinics and breast cancer treatment; and The Ride for Roswell. They are also the presenting sponsor of Roswell Park's annual All Star Night fundraising gala.
"M&T Bank recognizes the importance of exceptional leadership in the critical quest to save more lives and find a cure for this terrible disease," says Dr. Johnson. "It is vital that our leadership continues to grow and develop to ensure that our organization continues to lead in the field of cancer research and treatment. M&T's commitment to our mission through the years has made them a critical partner for us and the cancer cause."
The endowment is recognized with a plaque in the hospital's main lobby and another on the 10th floor of Roswell Park's Scott Bieler Clinical Sciences Center. Endowment funds are essential to furthering Roswell Park's research efforts, clinical programs and quality-of-life programs benefiting patients and their families and caregivers. Roswell Park presented M&T Bank with a personalized director's chair in acknowledgment of their special gift.
###
Roswell Park Comprehensive Cancer Center is a community united by the drive to eliminate cancer's grip on humanity by unlocking its secrets through personalized approaches and unleashing the healing power of hope. Founded by Dr. Roswell Park in 1898, it is the only National Cancer Institute-designated comprehensive cancer center in Upstate New York. Learn more at www.roswellpark.org,or contact us at 1-800-ROSWELL (1-800-767-9355) or ASKRoswell@RoswellPark.org.