Roswell Park's Dr. Sai Yendamuri Honored by European Society of Thoracic Surgeons
Department chair recognized for analysis showing negative impact of neoadjuvant therapy
Highlights
Dr. Yendamuri wins Brompton Prize at annual meeting in Innsbruck, Austria
Award honors the year's best thoracic presentation at major scientific meeting
Analysis found neoadjuvant chemotherapy did not improve survival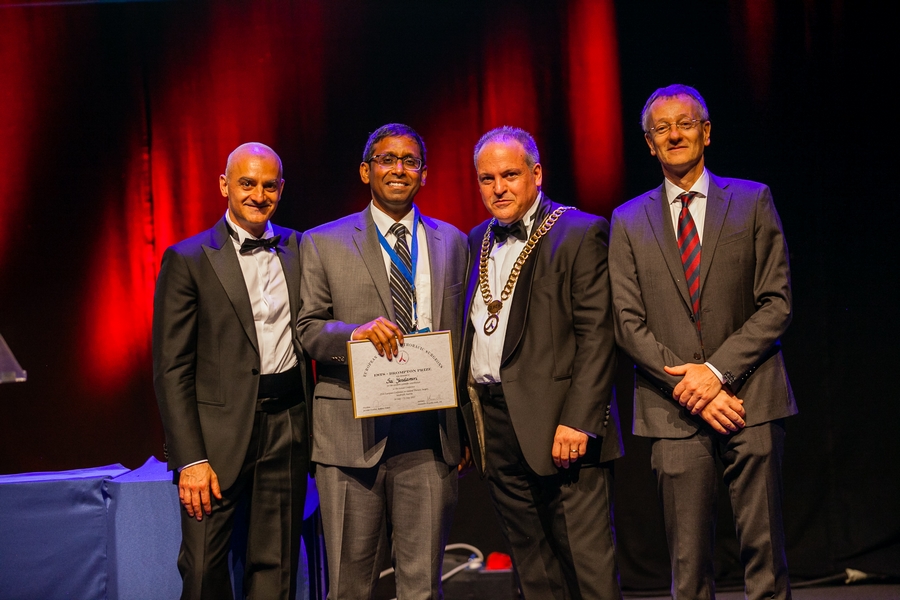 BUFFALO, N.Y. — Sai Yendamuri, MD, FACS, Chair of the Department of Thoracic Surgery at Roswell Park Comprehensive Cancer Center, received a prestigious award at a recent international gathering of thoracic surgeons. Dr. Yendamuri was awarded the Brompton Prize, for the year's best thoracic abstract, manuscript and presentation of new research, from the European Society of Thoracic Surgeons (ESTS). Of approximately 250 abstracts accepted for presentation, six are selected for the Brompton Session, during which a panel of judges score the presentations and award the coveted prize to the top one.
Dr. Yendamuri accepted the award at the ESTS annual meeting in Innsbruck, Austria. The work that garnered the honor, "An analysis of the risk and benefit of neoadjuvant chemotherapy among patients undergoing surgery for non-small cell lung cancer," examined data from more than 134,000 patients in the National Cancer Database to assess the impact of neoadjuvant therapy on perioperative outcomes, as well as long-term survival.
The analysis found that patients who underwent neoadjuvant therapy had slightly higher 30-day and 90-day mortality without providing a survival advantage among patients whose cancer had spread to their lymph nodes. "In an era of increasing use of minimally invasive surgery that enables administration of adjuvant therapy more reliably," says Dr. Yendamuri, "the paradigm of routine neoadjuvant therapy for patients with this stage of disease should be reconsidered."
###
The mission of Roswell Park Comprehensive Cancer Center is to understand, prevent and cure cancer. Founded in 1898, Roswell Park is one of the first cancer centers in the country to be named a National Cancer Institute-designated comprehensive cancer center and remains the only facility with this designation in Upstate New York. The Institute is a member of the prestigious National Comprehensive Cancer Network, an alliance of the nation's leading cancer centers; maintains affiliate sites; and is a partner in national and international collaborative programs. For more information, visit www.roswellpark.org, call 1-877-ASK-Roswell Park (1-866-559-4838) or email AskRoswell@Roswellpark.org. Follow Roswell Park on Facebook and Twitter.