Roswell Park Deputy Director Named to NIH Immunology Grant Review Board
Dr. Kunle Odunsi begins 4-year term on Transplantation, Tolerance and Tumor Immunology Study Section
Highlights
Dr. Odunsi named to group that considers applications for NIH funding
Members selected to panel based on records of professional achievement
Will help assess grant proposals relating to immune response, immunotherapies
BUFFALO, N.Y. — Kunle Odunsi, MD, PhD, FRCOG, FACOG, Deputy Director of Roswell Park Comprehensive Cancer Center, has been appointed to the Transplantation, Tolerance and Tumor (TTT) Immunology Study Section within the National Institutes of Health (NIH) Center for Scientific Review. The TTT section is the panel of peer reviewers who consider applications to the NIH for funding related to studies of immune-related transplant rejection, basic mechanisms of acquired immune tolerance and studies of tumor immunology and vaccine development.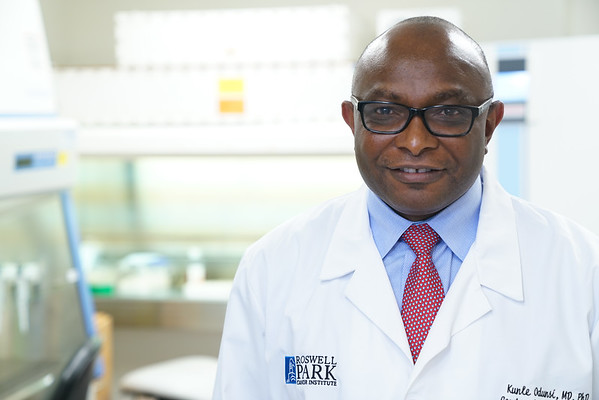 Dr. Odunsi, who is also Chair and Steven M. Piver Professor of Gynecologic Oncology at Roswell Park and Executive Director of the Institute's Center for Immunotherapy, will serve on this prestigious federal panel for a four-year term. Members are selected to this study section on the basis of their demonstrated competence and achievement in their scientific discipline as evidenced by the quality of research accomplishments, publications in scientific journals, and other significant scientific activities, achievements and honors.
"We are honored to see one of our colleagues tapped for this prestigious and very important role," says Roswell Park President and CEO Candace S. Johnson, PhD. "Kunle understands keenly the need to exchange ideas back and forth between basic-science labs and the clinical centers where we make our newest and most innovative therapies available, and that perspective will make him an insightful and valued contributor to this panel's discussions."
###
The mission of Roswell Park Comprehensive Cancer Center is to understand, prevent and cure cancer. Founded in 1898, Roswell Park is one of the first cancer centers in the country to be named a National Cancer Institute-designated comprehensive cancer center and remains the only facility with this designation in Upstate New York. The Institute is a member of the prestigious National Comprehensive Cancer Network, an alliance of the nation's leading cancer centers; maintains affiliate sites; and is a partner in national and international collaborative programs. For more information, visit www.roswellpark.org, call 1-877-ASK-Roswell Park (1-866-559-4838) or email AskRoswell@Roswellpark.org. Follow Roswell Park on Facebook and Twitter.