Dr. Khurshid Guru Named Chair of Urology at Roswell Park Comprehensive Cancer Center
Renowned robotic surgeon, educator will lead a team of more than 50 clinicians, researchers and staff
Highlights
Longtime leader of surgical robotics at Roswell Park to head urology team
Trained with the first established robotic surgery program before joining RPCI
Dr. James Mohler named to new role of Chief of Inter-Institutional Academics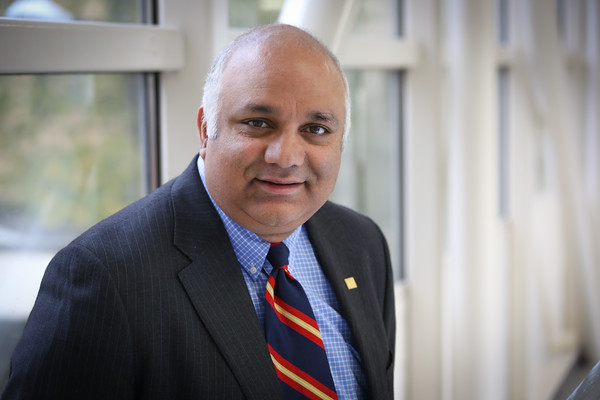 BUFFALO, N.Y. — Khurshid Guru, MD, one of the most experienced and accomplished robotic surgeons in the world, has been named Chair of the Department of Urology at Roswell Park Comprehensive Cancer Center. Dr. Guru, who was recruited to Roswell Park in 2005 to direct the Institute's robotic surgery program, will lead a team of more than 50 faculty members, clinicians, researchers and staff who provide care for patients with various genitourinary diseases, including prostate, bladder and kidney cancer.
"Khurshid is one of the most creative and energetic people I've ever met," says Roswell Park President and CEO Candace S. Johnson, PhD. "In his work as a surgeon, educator, researcher, entrepreneur and volunteer, he always seems to blend the best of science and human compassion together. He will be an outstanding leader for this very dedicated team."
Dr. Guru previously served as Vice Chair of the Department of Urology, a role he'd held since April 2016. He was one of a select group of surgeons who had completed a fellowship in robot-assisted surgery under the "father of robotic surgery," Dr. Mani Menon of Henry Ford Health System's Vattikuti Urology Institute. After completing this training, Dr. Guru performed one of the first robot-assisted radical cystectomies in the world.
As Dr. Guru's efforts pushed the boundaries of robot-assisted surgery forward on an international scale, he was named the Dr. Robert P. Huben Professor of Urologic Oncology at Roswell Park in March 2012. In 2015, he was recognized with the Roswell Park Alliance Foundation's Thomas B. Tomasi, MD, PhD, Hope Award, paying special tribute to Dr. Guru for his innovation, leadership and philanthropy.
Regarded as one of the top robotic surgeons in the world, Dr. Guru has performed more than 2,500 robot-assisted surgical procedures. He has performed live surgeries in 10 countries, and earlier this year performed his 500th robotic radical cystectomy, or surgery to remove the bladder. He leads the International Robotic Cystectomy Consortium, which includes more than 50 surgeons in 23 countries, and is founder of the Guru Charitable Foundation, which has supported health- and education-related programs in Kashmir since 2007.
A passionate educator, Dr. Guru created one of the first robotic surgery simulators in the world and has helped train more than 300 surgeons through the Applied Technology Laboratory for Advanced Surgery (ATLAS) Program at Roswell Park, which operates under his direction. Last week, he kicked off the 4th annual Junior Robotic Surgery Challenge, in which students ages 16–19 will explore the Fundamental Skills of Robotic Surgery as part of a broader introduction to careers in STEM.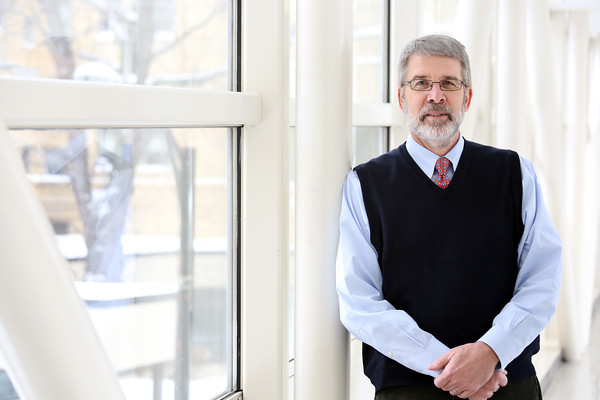 James Mohler, MD, has assumed the new role of Chief of Inter-Institutional Academics and will act as Roswell Park's point person and liaison for translational research collaborations between Roswell Park and the University at Buffalo. He remains Senior Vice President for Translational Research at the Institute, and will continue to help shape and inform clinical practice nationally and internationally as Chair of the National Comprehensive Cancer Network (NCCN) Clinical Practice Guidelines in Oncology Panel for Prostate Cancer. In March 2017, Dr. Mohler was awarded the Rodger Winn Award from the NCCN.
"I thank Jim for the leadership he has provided to the Department of Urology since he was recruited to Roswell Park in 2003," notes Dr. Johnson. "Dr. Mohler has set a high standard for integrity, superb clinical care and cutting-edge research, and the robust translational research program at Roswell Park has benefited significantly from his executive leadership." 
###
The mission of Roswell Park Comprehensive Cancer Center is to understand, prevent and cure cancer. Founded in 1898, Roswell Park is one of the first cancer centers in the country to be named a National Cancer Institute-designated comprehensive cancer center and remains the only facility with this designation in Upstate New York. The Institute is a member of the prestigious National Comprehensive Cancer Network, an alliance of the nation's leading cancer centers; maintains affiliate sites; and is a partner in national and international collaborative programs. For more information, visit www.roswellpark.org, call 1-877-ASK-Roswell Park (1-866-559-4838) or email AskRoswell@Roswellpark.org. Follow Roswell Park on Facebook and Twitter.