Dr. Mohamed Ahmed Joins Forces with RPCI to Establish Roswell Park Hematology Oncology of Niagara
Acquisition brings convenient access to comprehensive services for cancer patients in Niagara County, Northtowns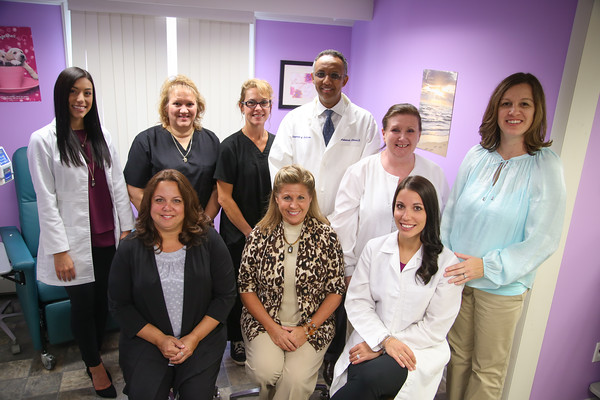 BUFFALO, N.Y. — One of the most experienced and trusted oncology practices in Niagara County has added services and resources through a new affiliation with Roswell Park Comprehensive Cancer Center. With Roswell Park Oncology P.C.'s acquisition of Cancer Care & Hematology of Niagara, the oncology practice that Mohamed S. Ahmed, MD, PhD, has led since 2008 will continue to operate out of 2931 Military Road in Niagara Falls, N.Y., under the name Roswell Park Hematology Oncology of Niagara.
Through this newest Roswell Park community cancer practice, Dr. Ahmed and his team will continue to provide comprehensive and compassionate care, specializing in the diagnosis and treatment of cancer and blood disorders through chemotherapy, infusion therapy and referral to radiation oncology. Along with Roswell Park Niagara, the surgical-oncology satellite location Roswell Park Comprehensive Cancer Center has operated in Wheatfield, N.Y., since 2012, Roswell Park Hematology Oncology of Niagara will make a comprehensive slate of cancer treatments, multidisciplinary case review and supportive care available to residents of Niagara County and the Northtowns around Buffalo.
"We're excited about what this new relationship will mean for our patients," says Dr. Ahmed. "Partnering with Roswell Park allows us to expand the services and therapeutic options we can make available to our patients without having to disrupt or relocate our practice. It brings new tools and resources to the care our team provides but allows us to retain our character, our culture and convenience for cancer patients in and around Niagara County."
Patients of Dr. Ahmed and the other members of his staff, which includes nurse practitioners Samantha Morreale, NP, and Laura Ciraolo, NP, will have the opportunity to take part in Roswell Park clinical research studies that make the newest therapies and approaches available.
"Everyone should have access to clinical trials, regardless of where they live, because these studies are an incredibly important part of the delivery of cancer care today," says Thomas Schwaab, MD, PhD, a Roswell Park urologist specializing in kidney cancer who also serves as Chief of Strategy, Business Development and Outreach and at the Institute and is CEO, Roswell Park Oncology, PC. "This new affiliation with Dr. Ahmed and his team, who have an outstanding reputation among both clinicians and patients, allows us to extend Roswell Park care and the resources of the region's only comprehensive cancer center more deeply into our community."
A practicing physician since 2002, Dr. Ahmed completed specialty training in hematology/oncology at the Medical College of Wisconsin and served a residency in internal medicine at Stamford College and the Columbia University College of Physicians and Surgeons. After completing a B.S. degree in chemistry from the University of Pune, India, he went on earn MS, MPhil and PhD degrees in biochemistry, all from the Aligarh Muslim University, India, and an MD, from St. George's University School of Medicine in Grenada. He is board-certified in internal medicine, hematology and medical oncology.
Dr. Ahmed will retain his affiliations with the University at Buffalo, the Lake Erie College of Osteopathic Medicine, St. Mary's Regional Medical Center and Niagara Falls Memorial Medical Center.
To schedule an appointment at Roswell Park Hematology Oncology of Niagara, call 716-298-4869.
For a complete list of Roswell Park locations and affiliate sites, go to roswellpark.org/about-us/satellites-affiliations-collaborations.
###
The mission of Roswell Park Comprehensive Cancer Center is to understand, prevent and cure cancer. Founded in 1898, Roswell Park is one of the first cancer centers in the country to be named a National Cancer Institute-designated comprehensive cancer center and remains the only facility with this designation in Upstate New York. The Institute is a member of the prestigious National Comprehensive Cancer Network, an alliance of the nation's leading cancer centers; maintains affiliate sites; and is a partner in national and international collaborative programs. For more information, visit www.roswellpark.org, call 1-800-ROSWELL (1-800-767-9355) or email AskRoswell@Roswellpark.org. Follow Roswell Park on Facebook and Twitter.