Roswell Park Designated a 'Fundamentals of Laparoscopic Surgery' (FLS) Test Center
Monthly trainings offered at Institute, which is only approved FLS Test Center in Western & Central New York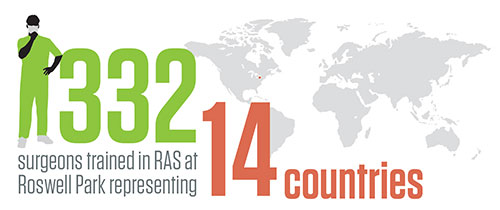 BUFFALO, N.Y. — Roswell Park Comprehensive Cancer Center has been designated an official Fundamentals of Laparoscopic Surgery (FLS) Test Center after successfully meeting all required standards and criteria. The Institute is one of 21 approved FLS Test Centers in the Eastern and Mid-Atlantic regions of the U.S., and one of only three in New York state.
The FLS program serves as a basic curriculum to guide surgical residents, fellows and practicing surgeons in the performance of basic laparoscopic surgery, a minimally invasive surgical approach involving specialized tools and techniques. Because they allow for significantly smaller surgical incisions, laparoscopic procedures are typically associated with a number of benefits compared to traditional "open" surgery, including less bleeding and pain, lower risk of infection and shorter hospital stays.
Created by the Society of American Gastrointestinal and Endoscopic Surgeons (SAGES), FLS was launched in 2004. The FLS Test, required for board certification in general surgery through the American Board of Surgery (ABS), is a two-part proctored exam that measures cognitive knowledge, case/problem management skills and manual dexterity in laparoscopic surgical procedures, as well as the preparatory training course also developed by FLS. Candidates for the FLS Test include junior and senior surgical residents and fellows who are enrolled in an accredited program of surgical education, as well as board-eligible or board-certified practicing surgeons. Test takers must be practicing or learning laparoscopic procedures in areas such as gynecology, urology or oncology.
FLS tests are administered monthly in the Applied Technology Laboratory for Advanced Surgery (ATLAS) Program at Roswell Park Comprehensive Cancer Center under the leadership of Emese Zsiros, MD, PhD, FACOG, a gynecologic oncologist and certified FLS-trained laparoscopic surgeon. The Roswell Park training program consists of comprehensive web-based education modules, hands-on skills training and administration of the FLS test.
"We are proud and excited to become the region's only certified training center in basic laparoscopic surgery," says Dr. Zsiros, an Assistant Professor of Oncology in the Department of Gynecologic Oncology and the Center for Immunotherapy at Roswell Park. "We look forward to helping surgical residents, fellows and practicing surgeons from all over the country and all over the world to master the techniques of laparoscopic surgery. Our goal is to enhance the surgical decision-making and technical skills of the next generation of laparoscopic surgeons and, ultimately, to improve the quality of patient care."
See a schedule of FLS testing dates or enroll for FLS testing.
###
The mission of Roswell Park Comprehensive Cancer Center is to understand, prevent and cure cancer. Founded in 1898, Roswell Park is one of the first cancer centers in the country to be named a National Cancer Institute-designated comprehensive cancer center and remains the only facility with this designation in Upstate New York. The Institute is a member of the prestigious National Comprehensive Cancer Network, an alliance of the nation's leading cancer centers; maintains affiliate sites; and is a partner in national and international collaborative programs. For more information, visit www.roswellpark.org, call 1-800-ROSWELL (1-800-767-9355) or email AskRoswell@Roswellpark.org. Follow Roswell Park on Facebook and Twitter.