Our Orchard Park practice specializes in the diagnosis and treatment of cancer and blood disorders. We offer an on-site chemotherapy and infusion center, known for its supportive and friendly environment. Our Resource Center has expanded to our Care Network Patients & Families. As a member of the Roswell Park Care Network, we're linked to our region's only National Cancer Institute-designated Comprehensive Cancer Center. This allows our board-certified oncologists to create specialized care plans for our patients following the same cancer care guidelines used by Roswell Park physicians, who subspecialize in your type of cancer. Our patients benefit from access to newest therapies and treatment approaches, supportive services and Roswell Park clinical trials.
Our board-certified, fellowship-trained medical oncologists and hematologists diagnose and treat of all types of cancers in collaboration with the specialized teams at Roswell Park Comprehensive Cancer Center who are experts in your individual type of cancer.
Our caring physicians will review all of your options and guide you through the development of a personalized care plan. Every step of the way, we'll work closely with you to control any symptoms and to coordinate treatment with other specialists who are leading experts in their fields.
As a member of the Care Network of Roswell Park Comprehensive Cancer Center, our patients benefit from services that enhance their medical care, including specialized treatment planning, expert pathology review and access to clinical trials.
Dermatologic oncology
Skin cancer is very common but if detected early, nearly 100% of cases may be cured. Our skin cancer team offers several highly effective therapies and will work with you to create a personalized treatment plan that meets both your needs and preferences
Thoracic oncology
We offer high-quality care for patients with lung cancer and other malignant conditions of the chest as well as lung cancer screening, on-site chemotherapy and infusion services, and referrals to radiation oncology.
Urologic services
We provide options for diagnosis, monitoring and treatment for cancers of the prostate, kidneys and bladder. 
Breast surgery
We specialize in the diagnosis and treatment of breast cancer. Whether you need an examination, a second opinion, or surgery, we'll walk you through the entire process. We use a range of minimally invasive procedures in the detection and diagnosis of breast health conditions, including mammography and ultrasound biopsies, stereotactic and ultrasound-guided staging tests, and sentinel lymph node biopsy.
Specialized hematologic care
Our practice provides a full range of treatment services for disorders of the blood and bone marrow, including:
Acute and chronic leukemias (ACL)
Hodgkin and non-Hodgkin lymphomas
Multiple myeloma and myelodysplastic syndromes
Malignant and benign hematologic disorders

hemoglobin C disease
hemoglobin S-C disease
sickle cell disease
various types of thalassemia

Our patients benefit from services that enhance their medical care, including specialized treatment planning, expert pathology review and access to clinical trials.
Chemotherapy & infusions
Our facility provides chemotherapy treatments, therapeutic phlebotomy, intravenous infusions and other IV treatments for blood disorders. Our comfortable setting features recliner chairs, a private room and other amenities for patients.
Supportive healthcare services
Before, during and after treatment, we'll help you cope with the day-to-day concerns related to your illness. Our expert staff will coordinate treatment with other specialists to help reduce your side effects and improve your quality of life. Your patient care plan can include supportive healthcare services such as occupational therapy, physical therapy, nutrition counseling, pain management and psychosocial support. And through our affiliation with Roswell Park, our patients also benefit from access to a comprehensive range of supportive services.
The Resource Center at Southtowns provides cancer patients and their families with information, support, assistance and materials designed to educate and guide them through their cancer journey. All cancer patients, caregivers, friends, family members, healthcare professionals, students, and staff from the practice are welcome. Feel free to speak to any staff member to learn more about the Resource Center and what we offer our patients and families.
Roswell Park is unable to accept new or gently used wigs, hats, head coverings, medical supplies or medical equipment.
Patient education and support
We offer Roswell Park education and supportive materials, as well as publications and reference materials from national and local organizations. Topics include nutrition, side effects management, caregiver support, relaxation techniques and available resources.
Wig boutique
The Resource Center at Southtowns provides one new wig and head covering per year at no cost to our patients that are experiencing hair loss due to cancer treatment.
Please call 716-845-1300 ext. 5443 or email Karen.Reisch@RoswellPark.org for more information about our private, personalized wig fittings.
We are funded through generous donations from the Roswell Park Alliance Foundation.
Cancer Coach Program
The Cancer Coach Program connects Roswell Park patients with cancer survivors who know firsthand how a cancer diagnosis changes your life. This free program matches coaches with patients based on diagnosis, cancer type, stage, age and gender — Cancer Coaches are trained to provide comfort and practical information for patients; they don't, however, provide medical advice.
Infusion orientation
Our staff can help you learn what to expect and connect you with information, tools and resources you may need or that can ease the burden of treatment and side effects. Your staff will provide you with a tote bag filled with useful supplies, like a notepad, water bottle, cookbook and a folder of helpful information. This is offered to our patients undergoing infusion treatments.
Make an appointment
Our team of specialists will work closely with you to coordinate an efficient process for your appointment in Williamsville, New York. Appointments for consultations are available Monday through Friday.
Insurance
We participate with the following major insurance plans.
Emblem Health
Fidelis Care, including Wellcare Medicare
Highmark BCBS WNY
Independent Health
Magnacare Network, including: 

self-funded AETNA (not Medicare)
Brighton
Coventry First Health

Martin's Point, through US Family Health Plan
Medicare
Molina/Monroe Plan (formerly YourCare)
Multiplan Network/PHCS
MVP Health Plan including:

self-funded CIGNA with MVP logo on card

NYS Empire Plan
NYS Medicaid
NOVA Healthcare
United Healthcare/UMR/AARP
Univera/EBS-RMSCO/Lifetime Benefit Solutions
UPMC (Jamestown & CMP providers only)
Wellcare (CMP providers only)
Patients of Roswell Park Hematology Oncology Southtowns have a new option for receiving their specialty medications. Our new medically integrated dispensary (MID) will allow for increased convenience and personalized care for all your specialty medications.
This will allow many benefits such as:
Access to specific oncology medications sooner
Convenience
Medication counseling and follow-up from our specialized team
Confirmation of benefits and assistance with high copay medications
Coordination of refills
Patients who have medications prescribed by doctors of the Roswell Park Care Network are able to receive their specialty medications from our dispensary, located inside the Roswell Park Hematology Oncology Northtowns location in Williamsville.
By incorporating a MID into our Northtowns location, we aim to better serve our patients and better meet their cancer care needs in a safe, convenient way. Studies also show that patients who receive their medications directly from dispensaries located inside their healthcare facilities are more likely to continue their treatment as prescribed, leading to better outcomes. Patients of Roswell Park's main campus in Buffalo can take advantage of our on-site specialty pharmacy.
Hours: Monday through Friday, 8 a.m. – 4 p.m.
Address: 199 Park Club Lane, Williamsville, NY 14221
Phone Number: 716-634-3340 ext 5641
Meet Our Team
Log into your Patient Portal
Facility Image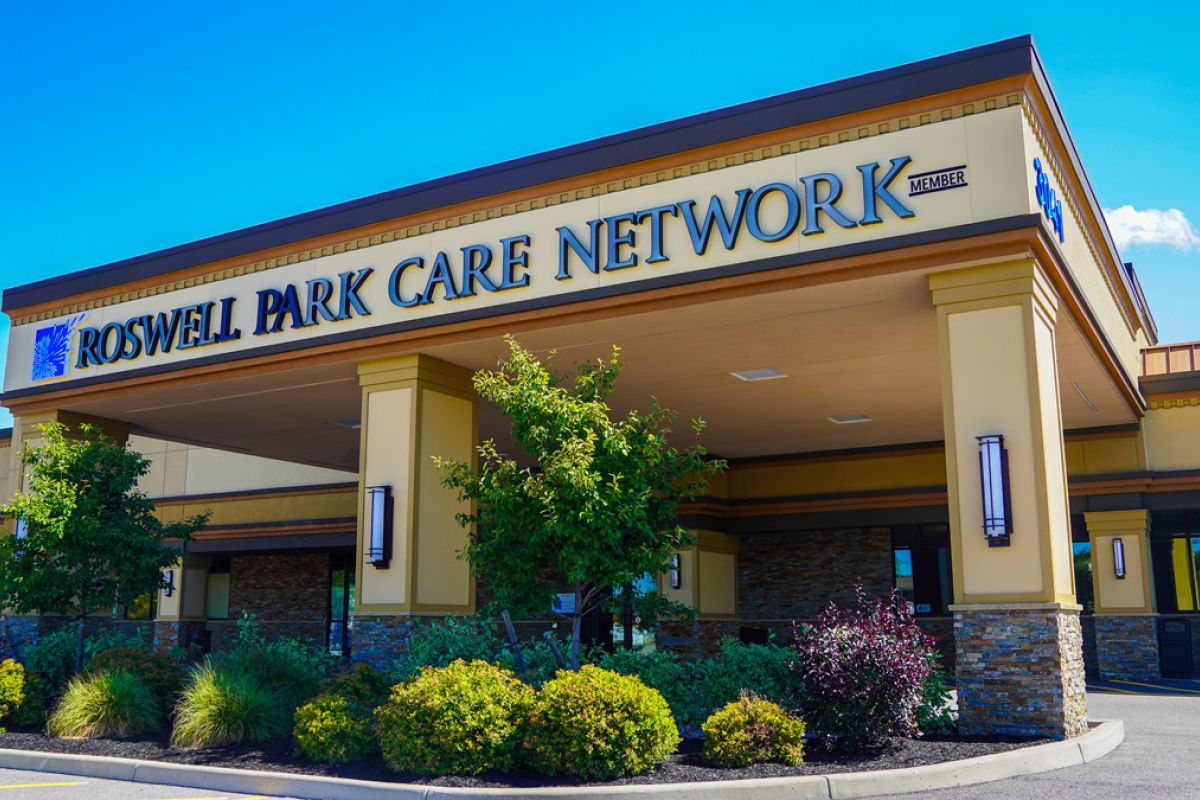 Our Location
Address
3041 Orchard Park Road
Orchard Park, NY 14127
United States