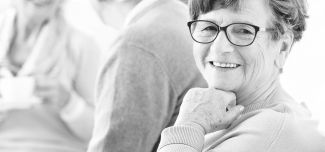 Roswell Park Commended as Age-Friendly Health System
Designation from Institute for Healthcare Improvement signifies attention to needs of older patients
Highlights
Age-Friendly initiative focuses on evidence-based care elements known as 4Ms
Institutions tailor healthcare to older patients' goals and preferences
IHI hopes 20% of hospitals in the U.S. will be age-friendly by 2020
BUFFALO, N.Y. — Roswell Park Comprehensive Cancer Center was recently recognized by the Institute for Healthcare Improvement (IHI) and The John A. Hartford Foundation as an Age-Friendly Health System.
The nonprofit organizations determined that Roswell Park provides care in accordance with the "4Ms" they consider to be essential, evidence-based elements of care for older patients:
What Matters: Know and align care with each older adult's specific health outcome goals and care preferences including, but not limited to end-of-life, and across settings of care
Medication: If medication is necessary, use age-friendly medication that does not interfere with What Matters to the older adult, Mobility, or Mentation across settings of care
Mentation: Prevent, identify, treat, and manage dementia, depression, and delirium across settings of care
Mobility: Ensure that each older adult moves safely every day to maintain function and do What Matters
The cancer center takes a comprehensive approach in order to understand what is most important to our older adult patients, implementing needs assessments and issuing patient surveys to ensure high-quality care for older patients.
"An older patient does not come to Roswell Park with just a cancer diagnosis, they also balance unique challenges that come with aging," said Pamela Giesie, MSN, RN, PHN, CNOR, FABC, Chief Nursing Officer and Vice President of Patient Care Services. "Taking part in the Age-Friendly Health Systems initiative means we are at the forefront of addressing every patient's needs and providing them with the highest quality care possible."
IHI and The John A. Hartford Foundation have a goal of encouraging 20 percent of U.S. hospital and health systems to become age-friendly by 2020.
###
Roswell Park Comprehensive Cancer Center is a community united by the drive to eliminate cancer's grip on humanity by unlocking its secrets through personalized approaches and unleashing the healing power of hope. Founded by Dr. Roswell Park in 1898, it is the only National Cancer Institute-designated comprehensive cancer center in Upstate New York. Learn more at www.roswellpark.org, or contact us at 1-800-ROSWELL (1-800-767-9355) or ASKRoswell@RoswellPark.org.