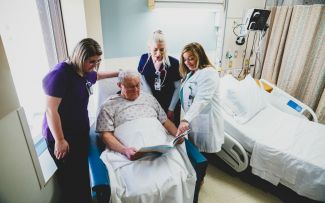 Roswell Park Invites You to a Nursing Open House May 13 at the Cancer Center
'Nurses with compassion and a caring presence' encouraged to attend
Highlights
Nursing Open House at Roswell Park is Monday, May 13 from 2-6pm
Register online at roswellpark.org/nursingopenhouse
Attendees should bring updated resume, be prepared for onsite interviews
BUFFALO, N.Y. — If you're a nurse and have imagined yourself working at Roswell Park Comprehensive Cancer Center, the center's nursing open house on May 13 is the right place to start that journey. Take an opportunity to learn about oncology nursing and hear from those who work at Roswell Park.
Experienced nurses with one year of clinical experience in oncology, one year of critical care experience, or three years of medical-surgery nursing are invited to attend. Register to attend here. Attendees should be sure to bring an updated resume and prepare for potential onsite interviews.
The cancer center will be recruiting for 36 open positions in various nursing roles across many areas of practice, and including part-time, full-time and per diem opportunities. 
"We are looking for nurses with compassion and a caring presence to work with our amazing team of healthcare professionals who provide the highest-quality care to special patients," said Pamela Giesie, MSN, RN, PHN, CNOR, FABC, Chief Nursing Officer and Vice President of Patient Care Services at Roswell Park. "This is oncology nursing at its best. Come see what our family of Roswell Park nurses is all about."
The Nursing Open House will be held May 13 from 2-6 p.m. at the Gaylord/Cary Meeting Rooms in the Research Studies Center at Roswell Park. Free parking is available; attendees are encouraged to park in the main parking ramp across from the main hospital on Elm and Carlton Streets in Buffalo. Parking tickets will be validated.
###


Roswell Park Comprehensive Cancer Center is a community united by the drive to eliminate cancer's grip on humanity by unlocking its secrets through personalized approaches and unleashing the healing power of hope. Founded by Dr. Roswell Park in 1898, it is the only National Cancer Institute-designated comprehensive cancer center in Upstate New York. Learn more at www.roswellpark.org, or contact us at 1-800-ROSWELL (1-800-767-9355) or ASKRoswell@RoswellPark.org.