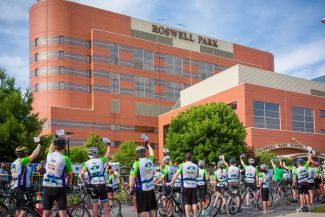 The Ride For Roswell Offering More Start Times For Popular Routes in 2019
Registration now open for June 22 event
Highlights
Three additional start times added for popular 20- and 30-mile routes
Ten routes available ranging from 3 to 100 miles
2019 Ride Weekend scheduled for June 21 & 22
Today, The Ride For Roswell, presented by the West Herr Automotive Group, launched registration for this summer's event, taking place on Saturday, June 22. Online registration is available at RideForRoswell.org.
Funds raised through The Ride benefit innovative cancer research at Roswell Park Comprehensive Cancer Center, including clinical trials and immunotherapy studies, as well as quality-of-life programs that ease the cancer journey for patients and their families.
"We are excited to continue our momentum from last year and make an even greater impact in 2019," says Ride founder Mitch Flynn. "We will all be affected by cancer in some way throughout our lives. And with 1.7 million new cancer cases expected in the U.S. this year – nearly 5,000 cases each day – there's still so much left for us to accomplish in our mission to end cancer. We can change those statistics by supporting the research taking place at Roswell Park, but we need everyone who wants to make a difference to register as a rider, virtual rider or volunteer."
In response to a growing demand for the 20- and 30-mile River Routes, Ride officials have added additional start times to expand capacity for these options. In past years, registrants choosing either of these routes had two start time options, but they can now opt to begin their ride at up to five different start times. Adjustments have also been made to the 2019 event so that more participants riding different distances can depart from the start line at the same time, making scheduling easier for families and team members looking to start together.
The Ride offers 10 different routes ranging from 3 to 100 miles, including two international Canada routes. The 2019 routes and start times include:
River Routes (start at the University at Buffalo's North Campus)
3-mile Family Route: 10:30 & 11:30 a.m.
10-mile: 9:30 & 11 a.m.
20-mile: 7, 8, 9, 10 & 11 a.m.
30-mile: 7, 8, 9 & 10 a.m.
Country Routes (start at UB's North Campus)
34-mile: 7:30 and 8:30 a.m.
45-mile: 7:30 and 8:30 a.m.
65-mile (Metric Century): 6:30 and 7:30 a.m.
100-mile (Century): 6:15 a.m.
Canada Routes (start at Roswell Park)
26-mile with shuttle from Niagara Falls to finish line: 6:30 to 7:30 a.m.
44-mile: 6:30 to 7:30 a.m.
To participate, riders aged 18 and over are required to reach the fundraising minimum of $200 ($500 for Canada routes) by Ride Day; riders aged 17 and under have a fundraising minimum of $50 for all routes.
In addition to riders, more than 2,000 volunteers are needed to support the event. Volunteer signup is now available for the most critical volunteer positions. The Ride also offers a virtual rider option for those who are volunteering or cannot be present on June 22 but want to raise funds for Roswell Park.
Ride Weekend kicks off on Friday, June 21, with the Peloton, a 12-mile route that is reserved for a qualified group of top fundraisers who raise $1,000 or more. The Peloton riders will ride in two-by-two formation from Roswell Park to UB's North Campus and join the Celebration of Hope event, a moving and inspirational community rally in support of the fight against cancer. On Saturday, June 22, after months of fundraising efforts, thousands of riders will embark on their routes from start lines at UB's North Campus and Roswell Park.
Since the first Ride For Roswell was held in 1996, the event has raised more than $48 million for cancer research and patient-care programs at Roswell Park.