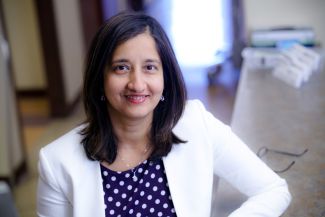 Dr. Bhuvana Ramkumar, Formerly of CCS Oncology, Returns to Roswell Park as Community Cancer Practice Physician
Specialist with four board certifications will provide care at two community cancer practice locations
Highlights
Dr. Ramkumar is an extensively trained hematologist and oncologist
Holds additional board certifications in internal medicine and palliative care
Will work from Roswell Park's Niagara Falls & Williamsville community practices
BUFFALO, N.Y. — Roswell Park Comprehensive Cancer Center's Community Cancer Practice network of outstanding oncology physicians has once again expanded with the appointment of Bhuvana Ramkumar, MD, as staff physician at Roswell Park Hematology Oncology of Niagara in Niagara Falls, N.Y., as well as Roswell Park Hematology Oncology Northtowns in Williamsville, N.Y.
Most recently on staff with CCS Oncology, where she has practiced for the last four years, Dr. Ramkumar is extensively trained, with board certifications in four specialties: medical oncology, hematology, internal medicine and hospice/palliative medicine. Also a former Roswell Park hospitalist, she is pleased to be rejoining the Roswell Park network of practices.
"Dr. Ramkumar is a highly regarded, well trained physician who is well known and loved in the community," says Thomas Schwaab, MD, PhD, who oversees Roswell Park Comprehensive Cancer Center's community practices as Chief of Strategy, Business Development and Outreach at the Buffalo-based comprehensive cancer center. "She has many years of experience in both Niagara Falls and Amherst, and we are very happy to welcome her back to the Roswell Park family."
Dr. Ramkumar sees patients with most types of solid tumors as well as benign and malignant hematologic conditions. She also provides palliative care.
A graduate of The Tamil Nadu Dr. M.G.R. Medical University in Chennai, India, Dr. Ramkumar completed an internal medicine internship from The University of Oklahoma-College of Medicine in Tulsa, OK, and an internal medicine residency at Rochester General Hospital in Rochester, N.Y., where she received a Research Scholar and Best Emergency Room Resident award. Before completing a fellowship in hematology and oncology at State University of New York Upstate Medical University in Syracuse, where she was elected Chief Fellow in the Hematology and Oncology program, she was employed as a dedicated oncology hospitalist at Roswell Park, where she was presented the Best Multidisciplinary Team Award.
Dr. Ramkumar's work has been published in medical journals and presented at conferences during her residency and fellowship programs. She will care for patients with various solid tumors and hematologic cancers at 2931 Military Road, Niagara Falls, as well as 199 Park Club Lane, Suite 200, Williamsville. To schedule an appointment with Dr. Ramkumar, call 716-298-4869 (Niagara Falls) or 716-634-3340 (Williamsville).
For a complete list of Roswell Park locations and affiliate sites, go to www.roswellpark.org/locations.
###
Roswell Park Comprehensive Cancer Center is a community united by the drive to eliminate cancer's grip on humanity by unlocking its secrets through personalized approaches and unleashing the healing power of hope. Founded by Dr. Roswell Park in 1898, it is the only National Cancer Institute-designated comprehensive cancer center in Upstate New York. Learn more at www.roswellpark.org, or contact us at 1-800-ROSWELL (1-800-767-9355) or ASKRoswell@roswellpark.org.