Empire State Ride Raises More Than a Half-Million Dollars for Cancer Research at Roswell Park
Cyclists from WNY and across the country completed the seven-day, 546-mile adventure in Niagara Falls, USA
Highlights
101 cyclists travelled 546 miles over seven days
Riders traveled from as far as California and the Virgin Islands to participate
Annual ride started in 2014 by founder Terry Bourgeois
BUFFALO, N.Y. — Today, 101 cyclists crossed the Niagara Falls finish line to complete the Empire State Ride (ESR), a seven-day, 546-mile adventure across New York State to end cancer. To participate, individuals from as far as California and the Virgin Islands raised more than $500,000 to support cancer research at Roswell Park Comprehensive Cancer Center.
The fully-supported ESR began in Manhattan on Sunday, July 30 with a view of the Statue of Liberty from the Staten Island Ferry. Over the next seven days, cyclists of all experience levels travelled through some of the most scenic parts of New York State, making overnight stops in the Hudson Valley, Albany, Utica, Syracuse and Rochester.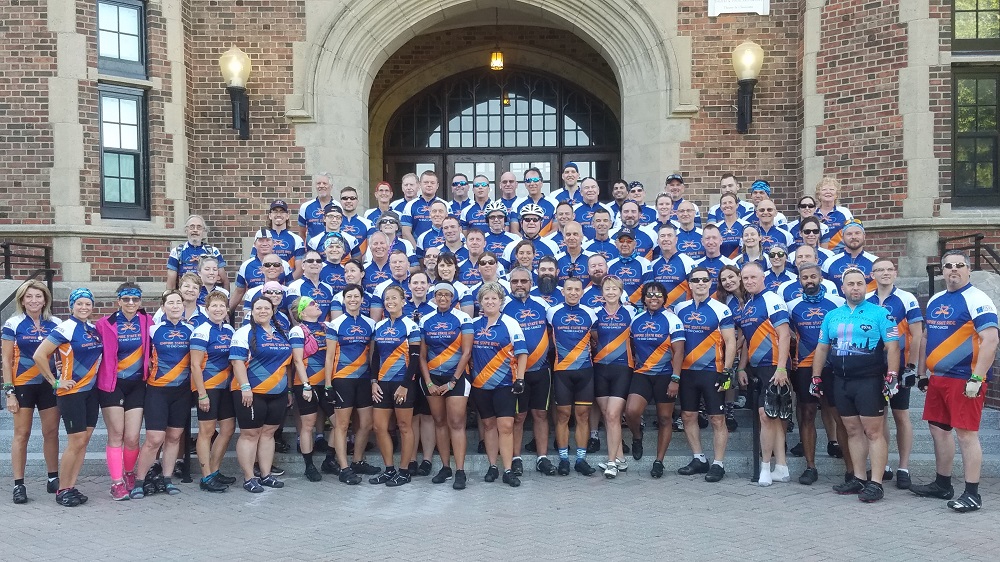 Among those who greeted the riders at the finish line were Candace Johnson, PhD, Roswell Park President and CEO, as well as Niagara Falls Mayor Paul Dyster.
"The funds raised by the Empire State Ride participants allow Roswell Park to make lifesaving advances in many areas of cancer research, including clinical trials, personalized medicine and immunotherapy," said Dr. Johnson. "This incredible event offers an amazing personal challenge to riders and the opportunity to create lifelong bonds with other cyclists, all while seeing New York State in such a unique way. It's an experience of a lifetime, which also creates a lasting impact on the fight against cancer."
The ESR started as a personal challenge completed by event founder Terry Bourgeois in 2014. "One in three women and one in two men in America are diagnosed with cancer in their lifetime. This is what makes it an important cause for us to get behind," said Bourgeois. "And what better way to get behind it than by doing something we love: bicycling. It's wonderful to see how this event has grown and how more and more people want to join us on our mission to win the fight against cancer."
In addition to the seven-day ride participants, several riders took advantage of the One-Day Ride option and raised funds to join the ESR for select legs of the route. Riding Marshals, a professional cycling trainer and staff ensured that riders had everything they needed for a safe and successful journey, including rest stops, meals, a support vehicle and camping accommodations.
Pre-registration is already open for the 2018 Empire State Ride at EmpireStateRide.com.