Roswell Park Physician Kunle Odunsi Recognized for his National Leadership
Odunsi reappointed to National Cancer Institute Gynecologic Cancer Steering Committee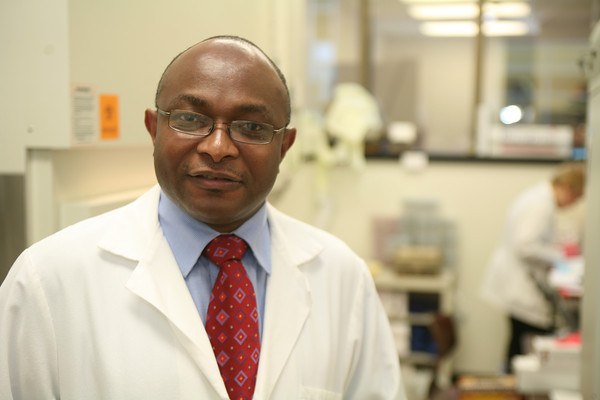 BUFFALO, N.Y. —Kunle Odunsi, MD, PhD, FRCOG, Deputy Director of Roswell Park Comprehensive Cancer Center, has been re-elected to the prestigious leadership position as Co-chair of the National Cancer Institute's (NCI) Ovarian Task Force of the Gynecologic Cancer Steering Committee. He will serve for three years.
The NCI Gynecologic Cancer Steering Committee seeks to find efficient, cost-effective, science-driven and transparent processes that identify and promote the "best science" in gynecologic cancer clinical research. The Steering Committee operates through three task forces: Ovarian, Uterine and Cervical cancers. Their goal is to foster collaborations among international groups and institutions engaged in conducting clinical trials in gynecologic cancers. Dr. Odunsi is co-chair of the Ovarian Cancer Task Force along with Deborah Armstrong, MD, Professor of Oncology at Johns Hopkins School of Medicine.
"Dr. Odunsi is known for his devotion and dedication in the clinic, in the laboratory and within the national cancer community. We congratulate Dr. Odunsi for this recognition of his continued leadership and contributions which support innovative therapies for cancer, and specifically gynecologic cancers that will make a difference in the lives of patients," says Candace Johnson, PhD, President and CEO of Roswell Park.
Dr. Odunsi also serves as the M. Steven Piver Professor and Chair of the Department of Gynecologic Oncology, Executive Director of the Center for Immunotherapy at Roswell Park. He provides operational oversight for the scientific, clinical research and educational missions of Roswell Park and monitors all research-related initiatives steering development of programs and policies designed to transfer scientific discoveries to clinical settings.