Dr. Oscar DeLeon Elected President of ASRA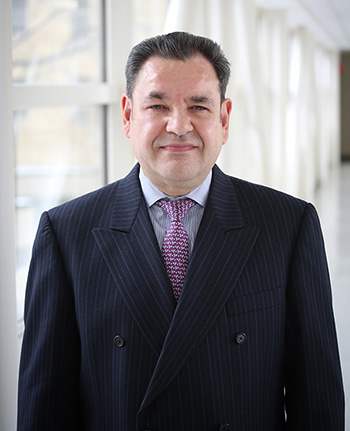 New officers for the American Society of Regional Anesthesia and Pain Medicine (ASRA) began their terms at the 40th Annual Regional Anesthesiology and Pain Medicine Meeting, and the President of the prestigious organization is Roswell Park's very own Oscar DeLeon, MD, Chief of the Division of Pain Medicine and Professor of Oncology.
Dr. DeLeon received his medical training at the Universidad de San Carlos de Guatemala after obtaining a degree in music with specialty in piano. He underwent surgical residency at the State University of New York (SUNY) Downstate, then anesthesia residency at SUNY Buffalo, and previously served as the Director of the Acute Pain Service, Director of the Surgical Intensive Care Unit, and Chief of Critical Care Medicine at Roswell Park.
Dr. DeLeon is board certified in Anesthesiology, Critical Care Medicine, and Pain Management. He is a member of the Pain Medicine Committee of the American Society of Anesthesiologists (ASA) and the National Comprehensive Cancer Network, Adult Cancer Pain Panel. Currently, Dr. DeLeon serves as co-chair of the joint ASA/American Pain Society committee that is drafting acute pain guidelines. He is also Professor and Vice-Chair for Clinical Affairs in the Department of Anesthesiology at SUNY Buffalo, School of Medicine and Biomedical Sciences.
ASRA is the largest subspecialty medical society in anesthesiology. Its mission and vision address the clinical and professional educational needs of physicians and scientists, ensuring excellence in patient care utilizing regional anesthesia and pain medicine, and investigating the scientific basis of the specialty.