ECHDC Celebrates Success of Queen City Bike Ferry
Roswell Park Comprehensive Cancer Center patient Luke Gworek represents 10,000th rider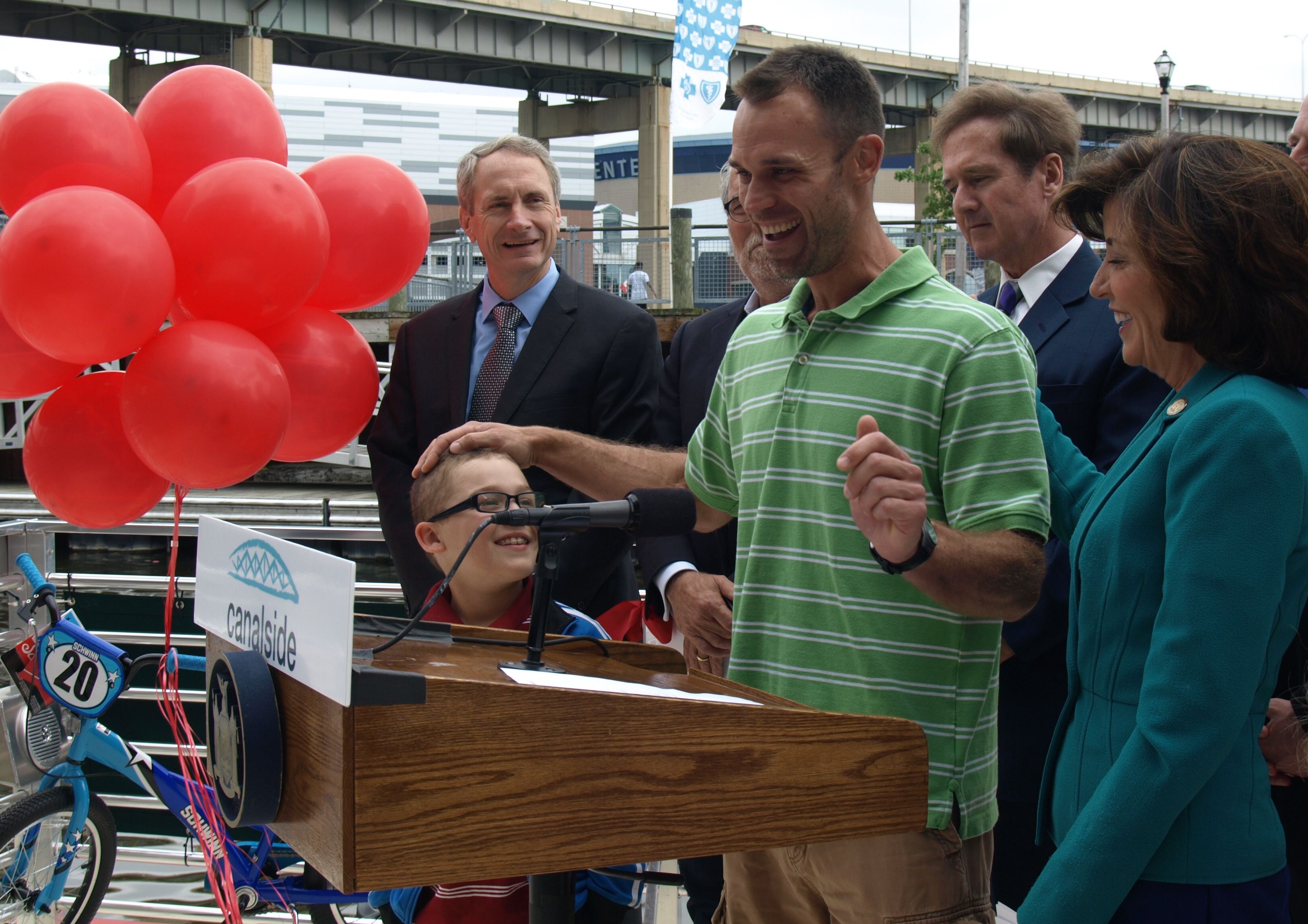 BUFFALO, N.Y. — Erie Canal Harbor Development Corporation (ECHDC) today celebrated the early success of the Queen City Bike Ferry. Since its launch last month, the ferry has already surpassed 10,000 riders. The brand new multihull craft carries pedestrians and their bikes across the Buffalo River from Canalside to the First Buffalo Marina. People taking the quick ride say it is an easy and inexpensive way to get to the Outer Harbor while spending some time on the water and enjoying a different view of Buffalo.
"The Queen City Bike Ferry is a little boat that is making a big impact on Buffalo's waterfront," said Lt. Governor Kathy Hochul. "Thousands of passengers have found out it is both fun and practical to jump on the ferry for a quick ride to the Outer Harbor. Governor Cuomo had a specific strategy for activating Buffalo's waterfront to attract more visitors. Each activity, such as the ferry, expands the waterfront experience and gives residents another reason to be proud of Buffalo, or as I call it, 'The City of Fun.' "
"The Queen City Bike Ferry is the story of a dollar and a dream. A dollar is all it costs to ride the ferry and the dream was to connect Buffalo's inner and outer harbors in a way that invites exploration and enjoyment of the entire waterfront," said Robert Gioia, Chairman of ECHDC. "If you haven't ridden the ferry, put it on your 'to do' list for the summer. Bring your bike, your camera, your kids and your dog — it really is fun for the whole family."
"The growth of our waterfront, Ride For Roswell and special award for Luke all share a common theme — that the Western New York is a community of resilience, one that comes together in times of need and celebration and one that believes in a better tomorrow," said Congressman Brian Higgins.
Assemblyman Sean Ryan said, "The Queen City Bike Ferry has been an overwhelming success, and I am thrilled that in just a few short weeks we are already at 10,000 riders. Everyone I have talked to says that the ferry is a terrific addition to Buffalo's waterfront. My thanks to the Hillimans for doing an outstanding job operating the ferry, which is connecting our inner and outer harbors, allowing locals and visitors to experience our growing and vibrant waterfront."
A very special 8-year-old boy was invited to represent the 10,000th passenger of the Queen City Bike Ferry. Luke Gworek, who is being treated for acute lymphoblastic leukemia at Roswell Park Comprehensive Cancer Center, came aboard with his family to make the river crossing. Luke is a member of Carly's Club for Kids, which offers support programs and fun activities for children diagnosed with cancer. Currently, over 260 pediatric cancer patients and their families are served by Carly's Club.
Luke is also known as the "Band-Aid King" because he has made it his mission to collect Band-Aids for young cancer patients. It all started when he was given a Band-Aid with a sad face printed on it during his treatment. It made him unhappy, so he vowed to make sure no other patient ever got a negative message on their bandage. In the past year and a half he has donated more than three thousand boxes of Band-Aids to Roswell Park and Women & Children's Hospital of Buffalo.
Today ECHDC teamed up with Roswell Park, Bert's Bikes and ferry captain Rich Hilliman to surprise Luke with a gift to thank him for his hard work and positive, caring attitude. Bert's Bikes presented Luke with a brand new bicycle when he came onboard the ferry. The 8-year-old was also given a free summer pass to use on the ferry all summer long. To top it off, Luke even got to help pilot the ferry across the river.
"It is our pleasure to present Luke with a bike he can use for the upcoming Ride For Roswell," said Bert Dunn, owner of Bert's Bikes. "We also applaud the Queen City Bike Ferry on its success and for choosing Luke to be the 10,000th rider."
"Empire State Development and Canalside picked an outstanding citizen to recognize as the 10,000th passenger on the Queen City Bike Ferry. Despite the challenges he's faced so bravely, Luke has given back to this community and has been a supporter and advocate for others fighting cancer," says Bryan Sidorowicz, Director of The Ride For Roswell, which celebrates its 20th anniversary June 26-27 across Western New York and has raised more than $30 million for cancer research and patient-care programs. "The Queen City Bike Ferry is another exciting development in the City of Buffalo that is making our community more bicycle-friendly. The brand-new Canalside route of The Ride For Roswell quickly became one of our most popular, and it's easy to see why. Next year we hope to marry two of Western New York's greatest assets by including the ferry ride as part of our Canalside route, which gives us a great new pathway for family fun and active enjoyment of this beautiful community."
Organizers of The Ride For Roswell note that while the Canalside route for the 2015 Ride has reached its safety capacity for riders, anyone interested in The Ride can still register for other open routes. For more information, go to rideforroswell.org or call 716-THE-RIDE (716-843-7433).
###
About Canalside
Canalside is a growing regional destination and entertainment district, situated on 21 historic acres along downtown Buffalo's emerging waterfront on the Buffalo River. Canalside earns its name from its storied past, when the Erie Canal Harbor was built in 1825 as the western terminus of the Erie Canal. Until five years ago, the land was barren and inaccessible, but the area has been reclaimed by the state's Erie Canal Harbor Development Corp. and developed with millions of dollars in public and private investment. With more than 1,000 yearly events and nearly 1 million annual visitors, Canalside is fast becoming the go-to place for in- and out-of-towners of all ages to learn, play and relax.
About Roswell Park
The mission of Roswell Park Comprehensive Cancer Center is to understand, prevent and cure cancer. Founded in 1898, Roswell Park is one of the first cancer centers in the country to be named a National Cancer Institute-designated comprehensive cancer center and remains the only facility with this designation in Upstate New York. The Institute is a member of the prestigious National Comprehensive Cancer Network, an alliance of the nation's leading cancer centers; maintains affiliate sites; and is a partner in national and international collaborative programs. For more information, visit www.roswellpark.org, call 1-800-ROSWELL (1-800-767-9355) or email AskRoswell@Roswellpark.org. Follow Roswell Park on Facebook and Twitter.