Longtime Volunteer Takes Symbolic Bike Ride Before The Ride from NYC to Niagara Falls
Use #NY2NF to Follow Lockport Native Terry Bourgeois' Ride in Support of The Ride For Roswell
BUFFALO, NY — For his annual personal ride in support of The Ride For Roswell, Lockport native Terry Bourgeois will embark on a bike ride across New York State starting from the shadows of the Statue of Liberty in Battery Park, New York City, and ending in Western New York at Niagara Falls beginning Sunday, May 18.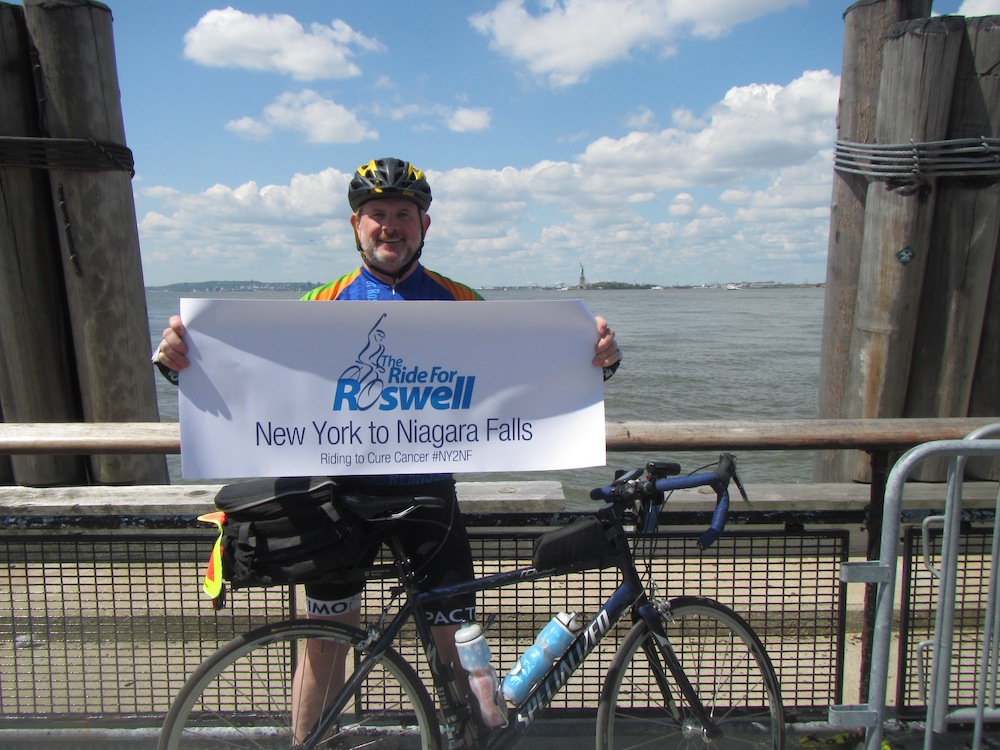 "I chose to do this particular ride in support of The Ride For Roswell because of its symbolic elements, including the Statue of Liberty as an incredible icon of hope for thousands throughout our country's existence, and Niagara Falls, which has inspired millions of visitors," says Bourgeois, who is using vacation time as an employee of Praxair for this ride and again to fill his volunteer role for The Ride For Roswell. "I have such strong faith in the abilities of the researchers, physicians and staff at Roswell Park Comprehensive Cancer Center. They inspire me and give me hope that we will see a day when cancer doesn't have the power to negatively affect the lives of so many."
Anyone can tweet support and encouragement for Bourgeois using #NY2NF. He will also post updates and photographs throughout his ride on a personal blog at http://terrybourgeois.com/. 
Bourgeois expects to conclude his bike ride across New York State on Saturday, May 24. His journey will take him through Albany, Syracuse and Rochester before ending in Niagara Falls.
Bourgeois, who will be tracked by family and friends in an RV during his ride across New York State, will carry honor cards throughout his journey representing donors who supported his ride. A longtime member of the Steering Committee for The Ride For Roswell, Bourgeois, with his wife Amanda, are engaged in year-round planning and execution of the event's set up and tear-down. They are overall champions of The Ride For Roswell by securing significant sponsorships and ride participants from their employers and throughout the region.
"Terry has been an incredible champion for Roswell Park Comprehensive Cancer Center and The Ride For Roswell, carrying our mission with him wherever he goes. Under his leadership, Praxair has become an integral supporter of The Ride, donating their time, dollars and workforce. He's a visionary, always setting his sights higher and reminding us of the big picture: a cure for this disease, which has touched us all," says Cindy Eller, Executive Director, Roswell Park Alliance Foundation.
This year, the 19th annual Ride For Roswell weekend begins with the Opening Ceremony on Friday, June 27 and The Ride on Saturday, June 28 at the University at Buffalo's Amherst Campus. More than 10,000 riders, volunteers and supporters are expected at the event.
The Ride has raised nearly $25 million for Roswell Park Comprehensive Cancer Center over the past 18 years. Last year alone, more than 8,000 riders and 2,000 volunteers helped raise $4 million for cancer research and patient care programs at Roswell Park.
For more information about The Ride For Roswell, including how to become a rider, volunteer or supporter, please visit: rideforroswell.org.