Khurshid Guru, MD, Named Huben Professor of Urologic Oncology at Roswell Park Cancer Institute
Second person to hold endowed professorship named for the late Dr. Robert P. Huben
Highlights:
Endowed professorship named for Dr. Robert P. Huben, first to hold title
Dr. Guru is an Associate Professor of Oncology, heads Center for Robotic Surgery
One of very few fellowship-trained robotic surgeons in eastern U.S.
BUFFALO, NY — Khurshid Guru, MD, Director of the Center for Robotic Surgery at Roswell Park Cancer Institute (RPCI), has been named the Dr. Robert P. Huben Professor of Urologic Oncology. The Huben Professorship in Urologic Oncology was established in 2006 to support urologic education and research. It was first held by Dr. Robert Huben prior to his death from cancer in October 2011.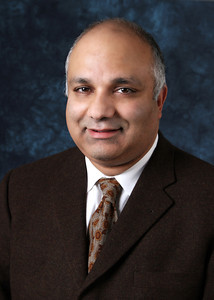 Khurshid Guru, MD
Dr. Guru's major interest is robotic surgical education and its incorporation for future generations of surgeons. The annual funds provided by the Huben Professorship endowment will be used to help expand robotic/surgical training and education opportunities.
"Dr. Huben was beloved by so many patients for his outstanding care, and made such an impact for the field that it is a great honor to be able to continue that momentum and all he stood for," said Dr. Guru, who is also an Associate Professor of Oncology in the Department of Urology at RPCI and Clinical Assistant Professor of Urology in the University at Buffalo (UB) School of Medicine and Biomedical Sciences. "I will try my best to carry the Bob Huben legacy and Roswell Park mission forward."
James Mohler, MD, Associate Director and Senior Vice President for Translational Research at RPCI, said Dr. Guru's efforts continue to push the boundaries of robot-assisted surgery forward on an international scale.
"Dr. Guru's leadership has helped make Buffalo a center for advancement in the field," said Dr. Mohler. "This well-deserved professorship will allow him to take his work to the next level and make an even bigger difference for cancer patients across the globe."
Dr. Guru is one of the few fellowship-trained robotic surgeons in the eastern United States. Dr. Guru and the Roswell Park team pioneered RPCI's program for robotic cystectomy, or bladder removal; he performed the first robot-assisted cystectomy in Western New York in November 2005. Dr. Guru has performed live demonstrations of robot-assisted prostatectomy at several international seminars.
In 2010, he and his collaborators at UB's School of Engineering and Applied Sciences unveiled the world's first robot-assisted surgical simulator that accurately mimics the daVinci robotic surgical system — the most widely used system for robotic-assisted surgery. In 2011, his company Simulated Surgical Systems LLC, a spinoff company of RPCI, launched the first procedure-specific software modules for robot-assisted surgery. Through a combination of simulation and haptic technologies, these first-of-their kind training modules guide novice surgeons' hands through every step of key robot-assisted surgical procedures, helping users to become proficient in these highly complex operations — toward the goal of ensuring patient safety and improving surgical outcomes.
Dr. Huben spent more than 30 years treating patients in the Genitourinary Center at RPCI. He also served as Chief of Clinical Urologic Oncology for more than two decades. The Dr. Robert P. Huben Endowed Professorship in Urologic Oncology was established in 2006 to honor his years of service, camaraderie and exemplary patient care.
The mission of Roswell Park Cancer Institute (RPCI) is to understand, prevent and cure cancer. RPCI, founded in 1898, was one of the first cancer centers in the country to be named a National Cancer Institute-designated comprehensive cancer center and remains the only facility with this designation in Upstate New York. The Institute is a member of the prestigious National Comprehensive Cancer Network, an alliance of the nation's leading cancer centers; maintains affiliate sites; and is a partner in national and international collaborative programs. For more information, visit RPCI's website at https://www.roswellpark.org/, call 1-877-ASK-RPCI (1-877-275-7724) or email askrpci@roswellpark.org.