The 75,000 lights dancing to music at Roswell Park's Tree of Hope Lighting Ceremony will have some competition this year for lighting up the night sky. Our 2017 tree lighter, Mashayla, has a smile so bright that we expect it will steal the show and warm the hearts of all attendees (even if winter weather starts to come our way)!
Seven-year-old Mashayla is an adorable, bubbly little girl whose giggle will instantly brighten your spirits. When she talks about loving the color pink and playing with Barbie dolls, she sounds like any other young child. However, Mashayla's last few years have been filled with a battle that is far from being normal. At age 5, Mashayla's mom noticed she was having balance issues. What came next is any parent's worst nightmare – Mashayla was diagnosed with a brain tumor.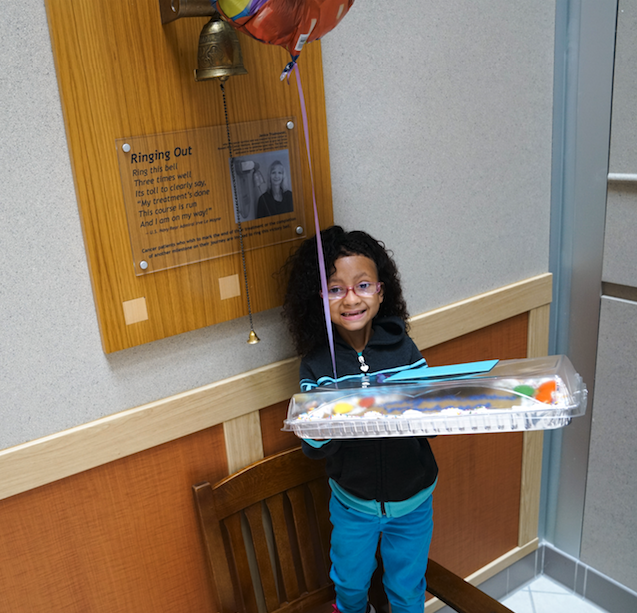 For the next two years, Mashayla underwent some pretty tough treatments, including surgery, six weeks of radiation therapy and nine rounds of chemotherapy. But then, this past September, it was finally all over! After her final round of chemotherapy, Mashayla rang the Victory Bell in the Roswell Park lobby to celebrate the end of treatment. She is even giving back to Roswell Park by serving as a Bald for Bucks Survivor Squad member to encourage her peers to raise funds for cancer research and patient care. Mashayla also loves Courage of Carly programs, like visiting Rolly Pollies and Build-a-Bear.
Never miss another Cancer Talk blog!
Sign up to receive our monthly Cancer Talk e-newsletter.
Sign up!
Editor's Note: Cancer patient outcomes and experiences may vary, even for those with the same type of cancer. An individual patient's story should not be used as a prediction of how another patient will respond to treatment. Roswell Park is transparent about the survival rates of our patients as compared to national standards, and provides this information, when available, within the cancer type sections of this website.