Ph.D. Program in Cancer Sciences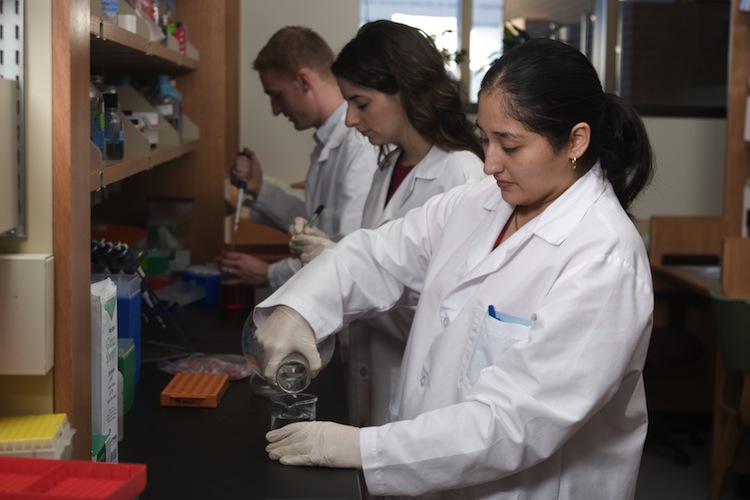 Patients are our focus at Roswell Park. Research in basic and clinical areas are centered around patient needs. The graduate program in Cancer Sciences is an integral component for driving research to understand, prevent and treat cancers. The PhD program also focuses on the student needs for flexible future career options. New initiatives in Student Interest & Impact Groups are ongoing to help students develop and pursue their interests and career passions while maintaining their own personal wellness. Student Interest Groups that have started are:
Science Policy
Student Wellness
Patient Engagement
Career Options
Founded in 1898, Roswell Park is the world's first cancer research center and is a National Cancer Institute-designated Comprehensive Cancer Center, recognizing its excellence in patient care, research and education. Roswell Park is located on the vibrant and rapidly growing Buffalo-Niagara Medical Campus, and is affiliated with the University at Buffalo Academic Health Center.
See below for application requirements.
The internationally-recognized scientists and world-class facilities at Roswell Park provide an outstanding training environment for graduate students. Because Roswell Park is a cancer research hospital, students have a wide spectrum of choices for their research focus, from the investigation of cancer mechanisms to translational/clinical research with direct relevance to disease treatment. Roswell Park has particular strengths in the areas of tumor immunology, cancer genetics and genomics, biophysical oncology, cancer prevention/epidemiology and cancer therapeutics development. Students choose one of these 'tracks' of specialization at the end of their first semester.
Doctoral training at Roswell Park Comprehensive Cancer Center is an academic collaboration with the University at Buffalo (UB). Roswell offers a Cancer Sciences Ph.D. program with an enrollment of approximately 100 students. More than 100 scientists are available to serve as faculty mentors for doctoral students. The average time-to-degree for students graduating since 2005 is 5.8 years, and we are implementing changes in the curriculum that we expect will decrease this even further.
Program of Study
In the first semester, students take:
Integrated Cancer Sciences I and II (RPG501 and RPG502) - Highlights the various aspects of cancer biology and treatments.
Intro to Biostats I (STA527) - Introduces the concepts of statistics and their importance in experimental design.
Responsible Conduct of Research (RPG504) - introduces students to various ethical dilemmas in research.
At the end of the first semester, students select a research specialization area (track).
In the second semester, students begin three laboratory research rotations to facilitate the matching of students to faculty mentors.
Second-year students enroll in a grantsmanship training course as well as Track-specific courses.
Financial Aid
All doctoral students are offered a stipend (currently $27,000 per year), a full tuition scholarship and paid individual health insurance. Importantly, this support is guaranteed for the duration of training. We also offer additional financial incentives for students who are awarded extramural fellowships.
Career Development
Graduates of our doctoral program are encouraged to consider the wide variety of career options available to Ph.D. recipients. To foster professional development we instituted a Career Directions seminar series with speakers from diverse career sectors, such as pharma/biotech, intellectual property and science policy. The series also includes workshops on job searching, interviewing, using social media and other critical skills.
Another innovation is the availability of small institutional grants (up to $2,500) to support participation in science-related professional development and career exploration activities. Ph.D. students are eligible to receive these funds once in each academic year. These grants have supported such activities as biotechnology industry internships, bioinformatics workshops, regulatory affairs certification training and translational research workshops.
All students also have access to career guidance resources available through UB. In particular, the UB Graduate School maintains a Graduate Professional Development web site with valuable information to help students succeed in selecting and entering a career path.
Applying and Admissions
News!
We do not require GRE scores of applicants to the PhD program!
Each year, approximately 20 doctoral and 10 MS students are selected to study at Roswell Park Comprehensive Cancer Center from a highly competitive pool of applicants. Applicants admitted to our graduate programs since 2015 had an average undergraduate GPA of 3.45 (U.S. applicants).
Note that evidence of successful completion of some biological courses and previous research experience will make for a much stronger application.
Applications are submitted electronically and must include:
$75 application fee, payable electronically on the online application form
Undergraduate transcripts – a minimum undergraduate 3.0 GPA is required
Three letters of recommendation
Personal statement/resume
International applicants must submit results of either the TOEFL (minimum acceptable score: 79) or the IELTS (minimum acceptable score 6.5 overall with no individual sub-score below 6.0). Please have TOEFL scores sent to the University at Buffalo using ETS code 2925. No department code is required.
The application deadline for Fall 2021 is January 6, 2021. All application materials, including reference letters, must be received by that date.
For inquiries, please contact: education@roswellpark.org