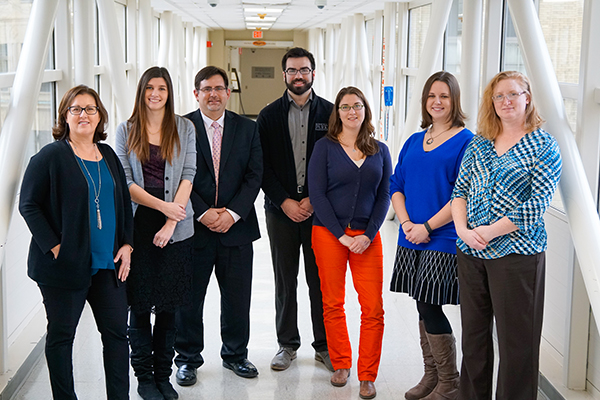 The Biomedical Data Science Shared Resource (BDS)  provides data services to investigators in support of translational research at Roswell Park Cancer Institute.
The primary focus of the BDS is to provide structured access to and use of real-time reliable clinical data for the advancement of non-interventional studies at Roswell Park Cancer Institute.
The BDS provides the infrastructure and processes to establish and monitor data standards, quality, integration, and distribution across RPCI. The BDS office develops and implements tools and methods to streamline the collection, storage, processing, and distribution of data to researchers.
In addition to improving access to and use of data, the BDS Office works closely with biobanks to annotate bio specimens and facilitate the process for patient cohorts identification and case selections. The BDS Office supports the data needs of investigators for Non-Human Subject Research.
The BDS provides the leadership and the resources necessary to meet data management needs for each specific research project in a cost effective manner.
Location
Roswell Park Cancer Institute
Biomedical Data Science Shared Resource
Gratwick Basic Science Building, Room 618
Elm and Carlton Streets
Buffalo, New York 14263
Operating Schedule
Monday – Friday, 8 a.m. – 4:30 p.m.
Clinical Data Delivery and Honest Broker services for this study were provided by the BDS, which is funded by NCI P30CA16056 and is a Roswell Park Cancer Institute Cancer Center Support Grant shared resource. Two copies of the publication acknowledging the Core grant should also be submitted to the facility at Elm & Carlton Streets, Buffalo, NY 14263.