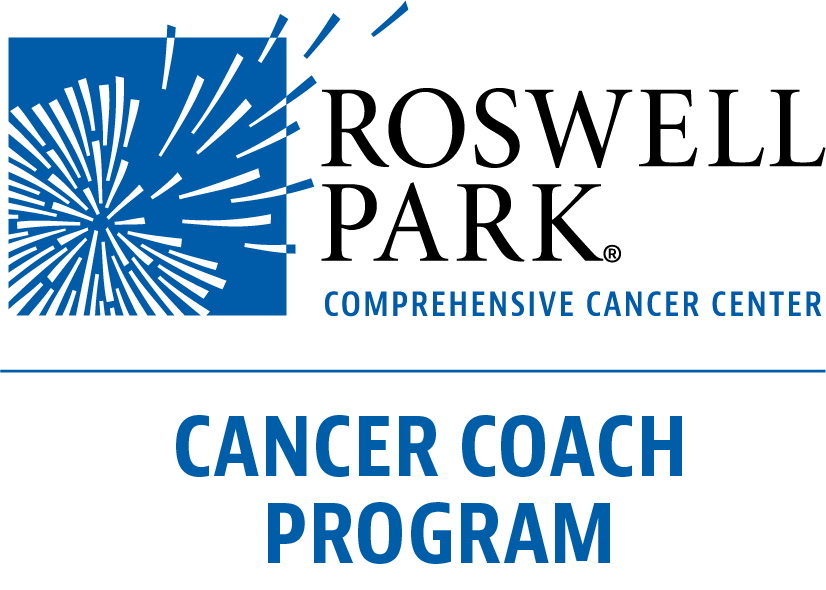 The Cancer Coach Program offers patients the opportunity to speak with cancer survivors who know first-hand the impact of a cancer diagnosis. Talking with someone who has lived with cancer can be comforting and can reduce the sense of anxiety and isolation that a cancer diagnosis may bring.
Cancer Coaches are trained and dedicated volunteers who provide support, comfort, and practical information. Cancer Coaches do not provide medical advice.
Patients are matched with a Cancer Coach based on their diagnosis, cancer stage, age, and/or gender. The Cancer Coach Program is sponsored by The Resource Center for Patients and Families and is open to all cancer patients free of charge. You do not have to be a patient at Roswell Park to use this program.
It is simple to get a Cancer Coach:
Stop into the Resource Center (located inside the cafeteria by the cash registers) or call 716-845-8659.
We will ask you about your diagnosis and your contact preferences (i.e. phone, email, or in-person).
We will match you with a Cancer Coach who shares your cancer experience.
Your Cancer Coach will contact you and help you through your journey with friendship, guidance, and support.
Interested in being a Cancer Coach?
Survivors who are out of treatment for two years are invited to apply to be a coach. New coaches attend an orientation session and on-going training events to help them in this important role. Once on-boarded, we will assign you a patient when a match is available. Please visit the Resource Center for more information or call 716-845-8659.
Are you a caregiver interested in providing support to other caregivers?
If you have cared for a cancer patient, you understand the challenges and the rewarding experience that comes with being a caregiver.  We are currently recruiting Caregiver Coaches to provide support for caregivers of newly diagnosed patients.  If you are interested in serving as a caregiver coach, please complete the Caregiver Coaching Support application.  We will then contact you to discuss this important role. Please visit the Resource Center or call 716-845-8659 for further information.