Support Workshops
Our Program offers a monthly support workshop where young adults can discuss topics that are important to them. These topics range from intimacy and fertility, to finances during and after cancer, insurance, wellness and nutrition, and getting back to work or school. Join us each month for a candid conversation about what it means to be a young adult with cancer, and talk to other individuals who really get what you mean. Check out the brochure or patient calendar for more information. 
Social Events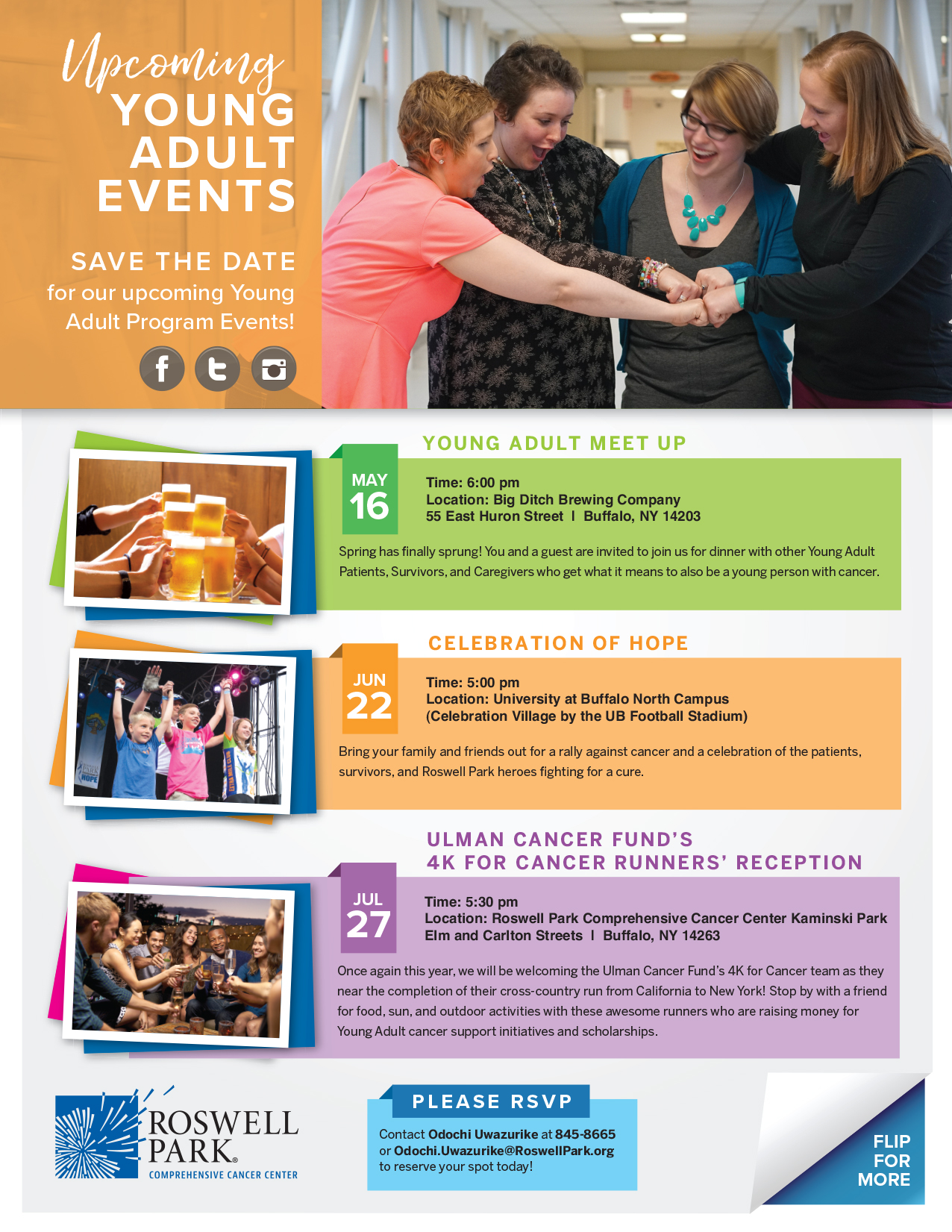 Whether it's dinner, the movies, a sports game, or a concert, our program offers various, free events for our young adult community. Join the young adult network to stay informed about all upcoming events! Here are a few events to look forward to:
Young Adult Meet Up
Spring has finally sprung! You and a guest are invited to join us for dinner with other Young Adult Patients, Survivors, and Caregivers who get what it means to also be a young person with cancer. 
Date: May 16, 2018
Time: 6 p.m.
Location: Big Ditch Brewing Company, 55 East Huron Street, Buffalo, NY, 14203 
Celebration of Hope
Bring your family and friends out for a rally against cancer and a celebration of the patients, survivors and Roswell Park heroes fighting for a cure.
Date: June 22, 2018
Time: 5 p.m.
Location: University at Buffalo North Campus (Celebration Village by the UB Football Stadium)
Ulman Cancer Fund's 4k For Cancer Runners' Reception
Once again this year, we will be welcoming the Ulman Cancer Fund's 4K for Cancer team as they near the completion of their cross-country run from California to New York! Stop by with a friend for food, sun and outdoor activities with these awesome runners who are raising money for Young Adult cancer support initiatives and scholarships. 
Date: July 27, 2018
Time: 5:30 p.m.
Location: Roswell Park Comprehensive Cancer Center Kaminsky Park, Elm and Carlton Streets, Buffalo, NY, 14263
Annual Wellness Retreat
Once a year during Young Adult Cancer Awareness week, young adult cancer survivors and a caregiver or guest are invited to participate in an all-day wellness retreat. Come and enjoy interactive sessions ranging from the healing power of the blues to stress relief and management to art therapy, as well as a keynote address from a guest speaker. The event includes light breakfast as well as lunch. We encourage you to come in comfortable clothes as some of the sessions are interactive and include light physical activity or art materials. Stay tuned for more information about our 2018 retreat!