Support Workshops
Our Program offers a monthly support workshop where young adults can discuss topics that are important to them. These topics range from intimacy and fertility, to finances during and after cancer, insurance, wellness and nutrition, and getting back to work or school. Join us each month for a candid conversation about what it means to be a young adult with cancer, and talk to other individuals who really get what you mean. Check out the brochure or patient calendar for more information. 
Social Events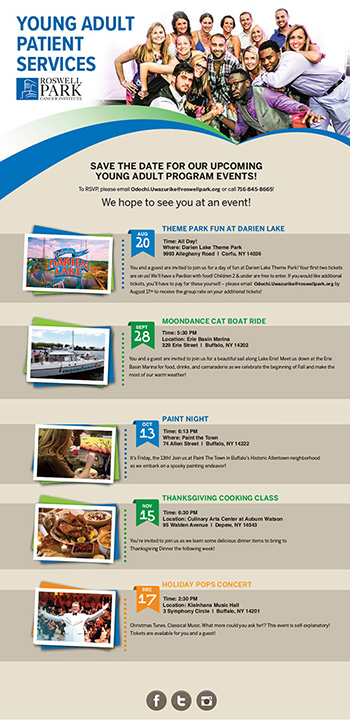 Whether it's dinner, the movies, a sports game, or a concert, our program offers various, free events for our young adult community. Join the young adult network to stay informed about all upcoming events! Here are a few events to look forward to:
Moondance Cat Boat Ride
You and a guest are invited to join us for a beautiful sail along Lake Erie. Meet us down at the Erie Basin Marina for food, drinks and camaraderie as we celebrate the beginning of Fall and make the most of our warm weather. 
Date: September 28, 2017
Time: 5:30 p.m.
Location: Erie Basin Marina, 329 Erie Street, Buffalo, NY, 14202
Paint Night
It's Friday the 13th! Join us at the Paint the Town in Buffalo's Historic Allentown neighborhood as we embark on a spooky painting endeavor!
Date: October 13, 2017
Time: 6:13 p.m.
Location: Paint the Town, 74 Allen Street, Buffalo, NY, 14222
Thanksgiving Cooking Class
You're invited to join us as we learn some delicious dinner items to bring to Thanksgiving dinner the following week!
Date: November 15, 2017
Time: 6:30 p.m.
Location: Culinary Arts Center at Auburn Watson, 95 Walden Ave., Buffalo, NY, 14043
Holiday Pops Concert
Christmas Tunes. Classical Music. What more could you ask for!? This event is self-explanatory! Tickets are available for you and a guest!
Date: December 17, 2017
Time: 2:30 p.m.
Location: Kleinhans Music Hall
Annual Wellness Retreat
Once a year during Young Adult Cancer Awareness week, young adult cancer survivors and a caregiver or guest are invited to participate in an all-day wellness retreat. Come and enjoy interactive sessions ranging from the healing power of the blues to stress relief and management to art therapy, as well as a keynote address from a guest speaker. The event includes light breakfast as well as lunch. We encourage you to come in comfortable clothes as some of the sessions are interactive and include light physical activity or art materials. Stay tuned for more information about our 2018 retreat!