The Translational Immuno-Oncology Shared Resource Good Manufacturing Practices (GMP) Therapeutic Cell Production Facility (TCPF) at Roswell Park Comprehensive Cancer Center is located on the 4th floor of the Cancer Cell Center (CCC) Building, on Elm & Carlton Streets. Guidance from the U.S. Food and Drug Administration (FDA) in the design construction and operation of the 2,574 ft2 facility was provided during a Type C pre-facility meeting (FDA Reference: PTS# PS0022365 and CRMTS#9350). The TCPF is an FDA compliant GMP facility, which is ISO9001:2008 certified, and operates under the institute's blood bank license.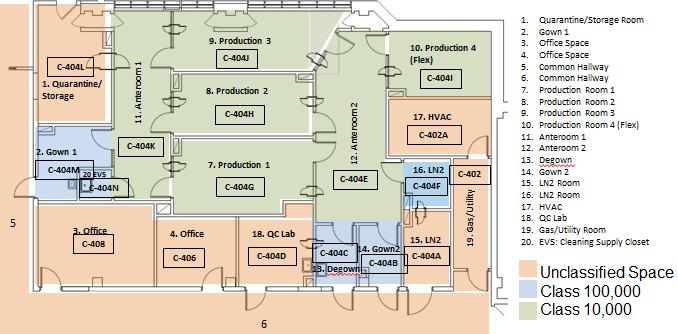 The TCPF was designed for the manufacture of clinical cell therapy products, to promote the efficient flow of personnel, materials and products. It contains four ISO 7 (Class 10,000) production rooms that receive HEPA-filtered air at 40-50 air changes per hour. Access to the suite is controlled via an electronic card access security system. The TCPF is equipped with the ISENSIX ARMSTM, which is a wireless, internet-enabled monitoring system that continuously monitors, transmits and records data related to temperature, humidity, oxygen and room pressures, in real-time to networked access points. Plenty of shelves, drawers and cabinet space have been included for storage of appropriately labeled quarantined and released materials in designated areas. There is adequate lighting, and the facility is maintained in a sanitary and good state of repair at all times. Bio-Safety procedures are incorporated into standard operating procedures or in a bio-safety manual adopted specifically for the TCPF.
The TCPF production rooms are equipped with class 100 (ISO 5) bio-safety cabinet(s), incubators, 4C refrigerator, microscope, balance and other ancillary equipment necessary for cell therapy product manufacture. Additional space on the 4th floor of the CCC building is dedicated to provide office and storage space. There are general secure areas equipped with filing cabinets and shelf space to provide storage capacity for records. Networked computers and printers for access to electronic databases are available. Conference rooms for staff meetings are available through joint departments, including the Department of Immunology, Department of Gynecologic Oncology and the Translational Immuno-Oncology Shared Resource at Roswell Park. The TCPF is fully capable to manufacture clinical-grade cell therapy products in support of phase I and II INDs.