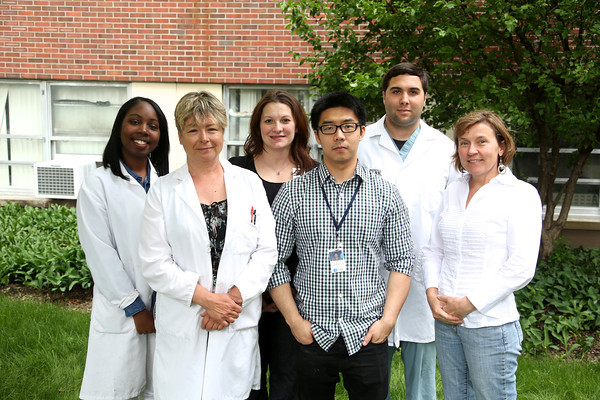 The Histology Facility (HF) is a centralized lab that provides tissue processing and histology services for research studies at Roswell Park Comprehensive Cancer Center.
HF staff also performs laser microdissection and sterile needle coring to isolate DNA from tumor samples. The HF lab works closely with the Clinical Data Network and other core labs within the Pathology Network to identify samples sets, and then perform the required staining for research studies that use IHC. The HF lab contains three automated DAKO staining systems for consistent and high-throughput IHC staining. Antibody staining procedures and IHC slides are regularly reviewed by a pathologist for quality control. The HF continually works to expand our repertoire of antibody staining protocols and currently have over 500 procedures. In 2016, the PCF processed over 14,000 slides for research at Roswell Park.
The following histology services provided by the Histology Facility:
Immunohistochemical staining
Antibody optimization for immunohistochemistry
Hematoxylin and eosin staining
Special histological staining (e.g., GMS, Masson's Trichrome, PAS)
Cryotomy
Microtomy
Paraffin embedding
Standard tissue processing
Sterile needle coring for DNA/RNA isolation
Please contact Cassandra Versaggi at 716-845-3006 or at Cassandra.Versaggi@roswellpark.org for a project specific cost estimate.