The Aperio Imaging and Analysis lab uses an Aperio® Scanscope XT slide scanner (Aperio® Technologies, Inc., Vista, CA). Aperio slide scanning permits investigators to easily access their digital images of slides from anywhere using Spectrum™, a web-based digital pathology information management system.
ScanScope XT System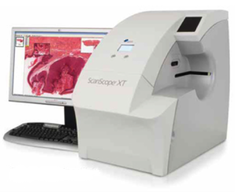 ScanScope XT is an ultra-fast, high-capacity scanning system with powerful 120-slide capacity. This system creates digital images from glass slides with superior image quality and includes the following features:
20X and 40X scanning magnification capabilities
Create digital slides in multiple formats (SVS, JEPG, TIFF, composite web slide)
View and edit digital slides with the user-friendly and freely downloadable ImageScope viewing software
Connect multiple, remote parties through digital slide conferences
ImageScope Software
ImageScope is a freely downloadable viewing software for digital slide viewing. ImageScope is easy to use and puts a host of powerful capabilities at your fingertips.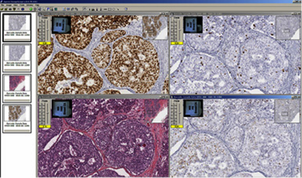 View digital slides from any workstation on the network; this eliminates the need to physically transport glass slides instantly pan and zoom to any region of the slide.
Built in web conferencing: real-time digital slide sharing and discussion in multiple remote locations.
View multiple digital slides concurrently.
Apply image adjustments in real time for contrast, brightness, and gamma.
Analyze entire digital slides or selected regions.
Add graphical and text annotations to digital slides. Use the built-in ruler to make on the spot measurements.
Save a region or selected regions of a digital slide to a file
Allows researchers to create digital images for publication as well as facilitate inter-institutional collaboration by providing rapid and easy sharing of digital image information.
ImageScope also enables side-by-side coordinated viewing of multiple slides, something that cannot be done with traditional glass slides. In addition, Aperio's SmartSync™ feature makes it easy to compare different sections from the same tissue block, even when sections are rotated or translated with respect to one another.
Spectrum
Spectrum is a web-based digital pathology imaging and information management system. Access to Spectrum can be granted by contacting Erika Van Dette at Erika.VanDette@roswellpark.org or Leighton Stein at Leighton.Stein@roswellpark.org.
Download the application form for a user account. The form must be filled out and submitted to the Spectrum administrator at prnimaging@roswellpark.org. A brief Spectrum tutorial session can be scheduled free of charge with Leighton Stein.
Automated Image Analysis
Image analysis is a service also provided by the Pathology Network Shared Resource (PNSR). Aperio® algorithms can be tailored to fine tune the cellular, nuclear, and stain parameters, creating an optimized algorithm macro for each antibody target and tissue type to select the cells of interest. The original digital slide image is never modified. Rather, an annotation layer with the markup image and quantitative data is created and linked to the digital image. Currently, we have one full time employee with expertise in digital slide analysis. Currently the PRN performs image analysis for slides stained by IHC only. Nuclear, cytoplasmic and membranous expression can be scored individually or in any combination. Vascular analysis can be performed and tailored to calculate specific vessels by tweaking vessel size parameters. Some dual-stains can also be analyzed with this system depending on the type of stains and target. To inquire about this service contact Dr. Wiam Bshara at Wiam.Bshara@roswellpark.org.