Pathology Network Faculty and Staff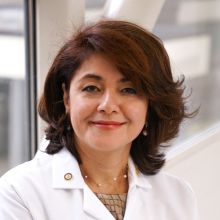 Dr. Azabdaftari is a clinical pathologist and Chief of Genitourinary Pathology. She is responsible for operational leadership of the Pathology Network Shared Resource (PNSR). Dr. Azabdaftari works closely with faculty, staff, and research investigators to provide scientific input for study design, as well as ensure access to high quality research specimen and accompanying services. As the Shared Resource Director, Dr. Azabdaftari is responsible for the strategic vision and overall direction of the resource, including budgetary oversight and development of new technology and services. 
---
Dr. Bshara is a research pathologist who leads alongside Dr. Azabdaftari in all aspects of PNSR operations. As a pathologist, he provides leadership for the faculty and staff in Tissue Procurement. In addition, Dr. Bshara is solely responsible for overseeing the Image Scanning and Analysis Laboratory, which is his area of expertise. Dr. Bshara oversees other key projects within the PRN, including QC, Tissue Micro-Array (TMA) design and construction, and pathological review for the Correlative Sciences Pathology Office (CSPO). Dr. Bshara supervises the QC of tissues collected for fresh delivery to researchers and frozen tissue used for DNA/RNA extraction and for Laser Microdissection (LMD). He also oversees TMA construction, including case selection, slide review, sample zone marking, TMA map and recipient block design. Dr. Bshara collaborates with multiple investigators, and provides assistance with grant-writing, histological and immunohistochemical stain analysis, and scientific consultation. In the past two years, he has made digital image analysis a standard part of immunohistochemistry at Roswell Park.
Administrative
Ashley V. Sedelmeyer, MHA
Business Manager
Phone: 716-845-3458
Email: ashley.sedelmeyer@roswellpark.org
Elizabeth Brese
Supervising Pathology Resource Specialist
Phone: 716-845-4085
Email: elizabeth.brese@roswellpark.org
Correlative Science Pathology Office
Nancy Crenshaw, BSN, RN, MA
Sr. Clinical Research Service Administrator
Pathology & Lab Medicine Services
Phone: 716-845-3520
Email: nancy.crenshaw@roswellpark.org
Lakshmi Seshadri, CLT (ASCP)
Supervising Clinical Laboratory Technologist
Clinical Research Support
Phone: 716-845-7784
Email: lakshmi.seshadri@roswellpark.org
Leukemia Bank
Linda Lutgen-Dunckley
Pathology Resource Specialist
Phone: 716-845-8098
Email: linda.lutgendunckley@roswellpark.org
Histology Facility
Cassandra Versaggi
Pathology Resource Technologist
Phone: 716-845-3006
Email: cassandra.versaggi@roswellpark.org
SKY Lab
AnneMarie Block, PhD
Sky Lab Director
Phone: 716-845-4589
Email: annmarie.block@roswellpark.org
Leighton Stein
Research Associate
Phone: 716-845-3213
Email: leighton.stein@roswellpark.org