Waters Xevo® TQ-XS Tandem Mass Spectrometer with ACQUITY UPLC I-Class Chromatography System
Xevo® TQ-XS MS/MS system provides low levels of ultimate sensitivity for detection of tobacco exposure biomarkers. It allows for precise measuring of biomarkers of exposure not only among conventional and novel tobacco product users, but also among bystanders passively exposed to tobacco smoke. The system also provides high levels of reliability, reproducibility, and performance.
Agilent Technologies 7890B Gas Chromatograph/ 5977A Mass Spectrometer
The 5977A MSD includes a new, highly sensitive Extractor Ion Source for higher Signal-to-Noise (SNR) and a statistically based, low-femtogram Instrument Detection Limit (IDL). In combination, the 7890B/5977A GC/MSD delivers value in many ways: increased sample throughput, expanded analytical capabilities, reduced maintenance and decreased cost for energy and gases.
Agilent Technologies 7890B Gas Chromatograph equipped with nitrogen-phosphorous detector (GC-NPD)
The Agilent Technologies 7890B is a gas chromatograph with a nitrogen-prosperous detector. This machine uses a hydrogen carrier gas along with fast oven cool-down, new backflush capabilities, and advanced automation features to help you get more done in less time, at the lowest possible cost per sample.
Perkin-Elmer PinAAcle 900Z Graphite Furnace Atomic Absorption Spectrometer (AAS)
AAS spectrometer is capable of ppb-level detection of elemental components of samples. Features longitudial Zeeman background correction, transversely heated graphite atomizer (THGA), and stabilized temperature platform furnace (STPF). The spectrometer is also equipped with Perkin-Elmer Titan MPS microwave digestion system (for sample preparation).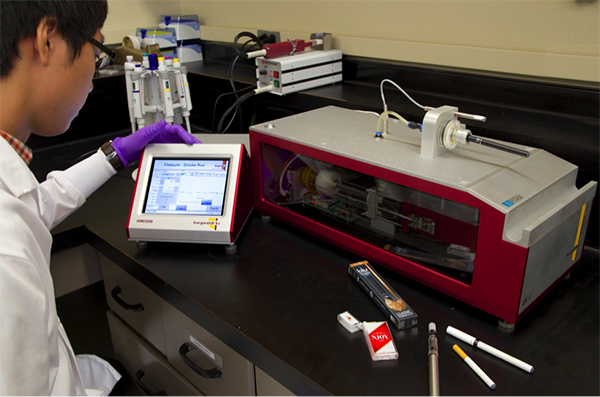 Borgwaldt LX1 Single-Port Smoking Machine
This machine is equipped with:
Adjustable puff volume 5-200 ml, puff intervals 10-9999 sec and puff duration 1-4 sec
Testing system for tobacco and electronic cigarettes analysis
Trapping options include: Cambridge filters, impinger trapping set, solid-phase trapping tubes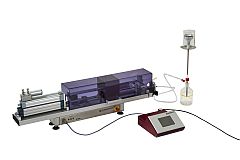 Borgwaldt S1000 Shisha Smoker
Testing system for water pipe analysis, with an adjustable puff volume of 5-1375 ml
Trapping options include: Cambridge filters, impinger trapping set, solid-phase trapping tubes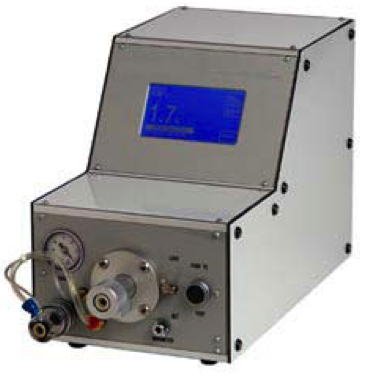 Borgwaldt PV10 and KC-3 ventilation and pressure drop tester
The Borgwaldt PV10 and KC-3 are used to measure filter ventilation, the percentage of smoke that is diluting air when a smoker takes a puff, and pressure drop, the power required to move air through a whole cigarette. Filter ventilation impacts smoke composition, filter efficiency, and physical properties of smoke. Cigarette elasticity is highly dependent on filter ventilation. Pressure drop is a component of draw resistance, which contributes to smokers' acceptance. These units are supplied with a certificate of exact flow rate, state-of-the-art touch-screen interface, and built-in fuse protection and quick connects.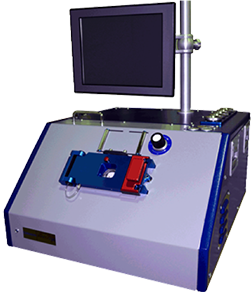 Cerulean PPM-1000 paper porosity tester
Paper porosity is a measure of movement of air through the wrapping paper surrounding the cigarette. The Cerulean PPM 1000M is used to take this measure utilizing both vacuum and pressure methods. It is capable of measuring the entire portfolio of tobacco papers across the whole measurement range 0.1- 40,000 CORESTA units. Operation is kept simple with easy-to-load paper clamps, a touch-screen interface and intuitive software that captures and displays the results.
Sample Preparation
Thermo Scientific Heraeus multifuge x1
VWR Vortex and multi-vortex mixers
Mettler Toledo pH Meter (2)
Mettler Toledo balances
Beckman Coulter UV and visible spectrometer
Labconco Rapidvap Vertex and Centrivap evaporator
Additional Resources
Whole-smoke exposure system (Air-liquid interface)
Whole body small rodent exposure chamber
Bedfont Micro Smokerlyzer CO monitors (2)
CReSS Pocket puffing topography monitors (15)
Parameter Generation & Control DR 5000 Conditioner
Burghardt LX-1 laser length measurement system
Mettler Toledo Halogen Moisture Analyzer Model HR83-P
Thermo Fisher and Sanyo -80 Freezer
International Tobacco Products Repository (ITPR)
250 sq. ft. -20F walk-in storage freezer, centrally alarmed with emergency power backup
ITPR contains 5,854 US packs and 13,595 packs from 20 other countries
Aerosol Pollution Exposure Research Laboratory (APERL)
TSI Sidepak Personal Aerosol Monitors (25)
Aerotrak Particle Counter (1)
TSI Q-Trak Indoor Air Quality Monitors (2)
SKC High-flow rate (2) and TSI low-flow rate (12) sampling pumps
PEM gravimetric samplers (4)
TSI and BIOS primary flow calibrators (4)
Ecochem Diffusion Charger (1)
Ecochem Photoelectric Charger (1)
Kanomax Piezobalance (1)
Reference gases for calibration
Data processing facilities
Personal computer workstation (1) equipped with GC-NPD software
Personal computers (1) equipped with GC-NPD software for data processing
Personal computers (2) equipped with statistical software for data processing
Personal computer (1) equipped with software for monitors
Personal computer workstation (1) equipped with GC-MSMS software
Personal computers (1) equipped with GC-MSMS software for data processing