Recruitment and Procurement
The focus of the Data Bank and BioRepository Shared Resource (DBBR) is to collect blood samples from newly diagnosed patients prior to surgery or cytotoxic treatment. Patients who are post-treatment are also asked to participate based on identified future research needs. The DBBR recruitment staff work with outpatient clinical staff to identify and consent patients and coordinate sample collection for the bank. Blood samples are collected alongside existing clinical laboratory orders, and drawn by the phlebotomy service at Roswell Park. Family members and friends accompanying patients, as well as other visitors to Roswell Park are also asked to donate samples as controls. Control samples follow the same sample procurement and processing procedures as patient samples. Every participant is asked to donate 30 mL of blood: one 10-ml non-heparinized red top tube (for serum and clot), and one 10-ml EDTA lavender top tube for plasma and buffy coat, and a second 10-ml EDTA lavender top tube (whole blood for DNA). The phlebotomist prints sample barcode labels for the blood collection tubes using the Roswell Park laboratory management system. This procedure produces an alert signaling the pending arrival of specimens for processing in the biorepository processing laboratory. Samples are sent from phlebotomy to the sample processing laboratory via pneumatic tube delivery system.
Sample Processing and Storage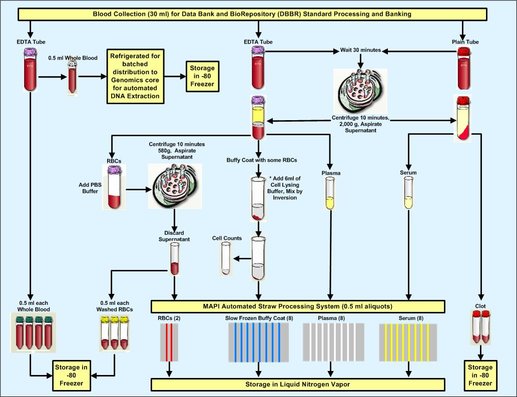 The standard time from collection to freeze for DBBR blood samples is one hour. Specimens are centrifuged and the supernatant is automatically aliquoted using a MAPI robot from Cryobiosystem (parent company is IMV International corp., L'Aigle, France). The robotic system aliquots serum, plasma, buffy coat and red blood cells into inert plastic straws (0.5 mL each), seals each end and labels each straw with a barcode identifier. The straws are kept in a liquid nitrogen storage system developed by Cryobiosystem. In addition to the straws, whole blood, clot and buffy coat are aliquoted in 0.5mL barcoded cryovials and stored at -80.
DNA is readily available through upgrades in our processing using Autogen Flexstar DNA extractor which allows us to extract DNA from up to 80 samples per day, a DropSense 96 microplate reader from Caliper Life Sciences that facilitates high throughput quantification and evaluation of double stranded DNA and a Janus liquid handling system from Perkin Elmer Life Sciences which is used to automate DNA quantification and distribution.