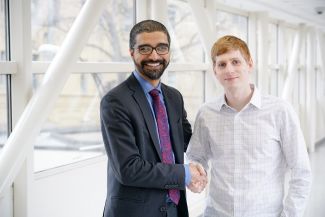 Education is an integral component of the Department of Oral Oncology. Faculty members in the department have appointments in the Roswell Park Graduate Division of the State University of New York – University at Buffalo (UB), UB School of Dental Medicine and UB – School of Medicine and Biomedical Sciences.  Faculty members actively participate in the training and mentoring of clinical (residents/fellows) and research trainees (graduate students, post-docs) and interns (high school, undergraduate, medical or dental school students)
Ph.D. students accepted into the Roswell Park Doctor of Philosophy (PhD) and Master of Science (M.S.) program in Cancer Sciences can choose to perform their thesis research in the laboratories of department faculty. Information on how to apply to the Roswell Park graduate programs can be found here:
Summer programs in laboratory or clinical research in Oral Oncology/Dental medicine is available for high school, college, medical, dental, PA students. Information on the application requirements and procedures can be found here:
Summer students who are chosen to work with the department faculty actively engage in the conduct of basic, translational or clinical research in oral oncology or dental medicine. At the end of the summer program, students are expected to present a poster and give an oral presentation of their summer research. 
Oral Oncology Research Fellowships
Research fellowships in Oral Oncology for doctoral degree holders (DDS, MD, PhD) are also available within the department. The training program is designed to enhance the knowledge of candidates in fundamentals of cancer biology and cancer therapeutics. Fellows pursue a basic, translational or clinical research project on oral and head and neck cancers under the mentorship of department faculty. Trainees are expected to present their original research at national/international conferences and submit their work for publication in peer-reviewed journals. Duration of these fellowships vary from 1-2 years.
Additional internships or observership opportunities are also available.