The Center for Personalized Medicine (CPM) is helping doctors deliver the best possible patient care by developing laboratory testing solutions that accurately, quickly and deeply inform clinicians of the latest treatment and care options based on their patients' unique tumor profiles.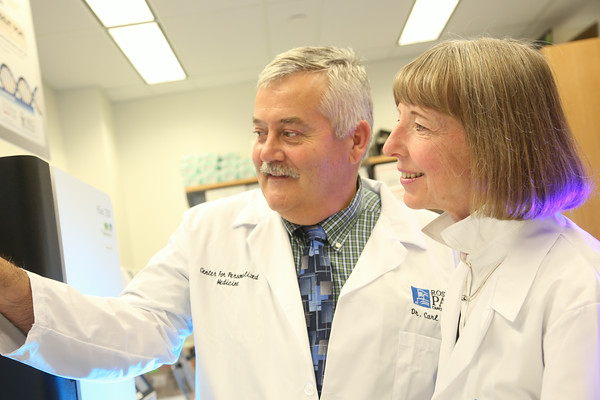 The CPM brings together a multidisciplinary expert team in the areas of oncology, pathology, laboratory and information technology, bioinformatics, medical informatics and health care delivery to perform cutting edge research and create the highest quality, evidence-based genomic tests available using advanced molecular diagnostic technologies. The team continues to develop a comprehensive OmniSeq Program to implement personalized genomic medicine in routine cancer care by partnering with Omniseq LLC, a Roswell Park Comprehensive Cancer Center commercial spin-off.
This is the future of medicine, not just in oncology but across all diseases. — Candace Johnson, PhD, President & CEO of RPCI
What is Personalized Medicine?
In cancer, personalized medicine uses advanced laboratory technologies to detect alterations in tumor DNA and RNA to match a patient to the treatments that will work best for their specific tumor, help avoid unnecessary treatment, find out how well treatment is working over time or make a prognosis.