Roswell Park Cessation Services (RPCS) provides evidence-based, best practice tobacco cessation services to Roswell Park Cancer Institute (RPCI) employees, state quitlines, healthplans, and employer sponsored programs.
Just Breathe
Quitting smoking is hard enough, but struggling with nicotine withdrawal while undergoing cancer treatment is a major challenge. Roswell Park's free cessation program, Just Breathe, offers individualized quit plans and provides behavioral counseling, pharmacotherapy and cessation support to all RPCI patients and their families, and classes are available to everyone in the Western New York community. For more information, call 1-877-ASK-RPCI (1-877-275-7724).
Download our flyer, detailing further information about Roswell Park's free tobacco cessation courses and booster sessions.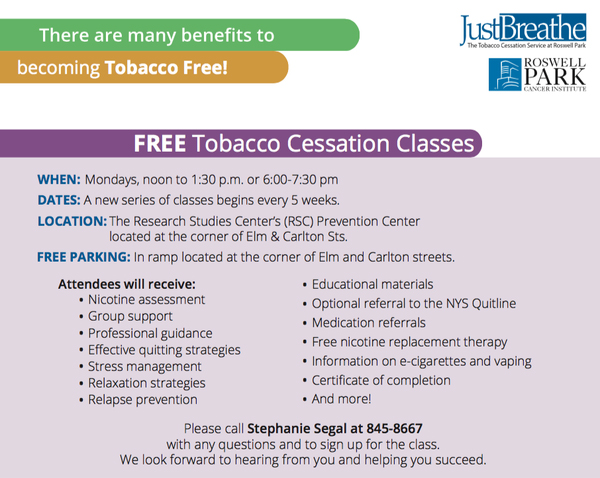 New York State Smokers' Quitline
Based at Roswell Park and supported by the New York State Department of Health Tobacco Control Program, the NYS Smokers' Quitline has logged well over one million calls since its inception. Call 1-866-NY-QUITS (1-866-697-8487). Roswell Park was the first health care facility in Western New York to go entirely smoke-free.