A Message from the President
A Month of Milestones: Success for Two Major RPCI Initiatives
Two major Roswell Park initiatives have come to fruition in the last few weeks: our successful application for the renewal of RPCI's core grant and Comprehensive Cancer Center status from the National Cancer Institute (NCI) and the approval of an advanced molecular diagnostic test for cancer developed by the Roswell Park Center for Personalized Medicine.
Both efforts represent years of planning and hard work, and both will materially impact the care of cancer patients across the region and beyond.
Many of you were with us as we announced the renewal of RPCI's core grant, or Cancer Center Support Grant (CCSG), in a packed auditorium on July 1. New York Governor Andrew Cuomo and Congressman Brian Higgins were among those who joined us for the announcement. The governor referred to Roswell Park as "a treasure," and Rep. Higgins highlighted the Institute's long history of "groundbreaking" research and clinical advances.
While the CCSG is something we typically apply for every five years, these requests are never a matter of going through the motions on something that will be greeted with an automatic rubber stamp — it's a highly competitive and demanding process. So we were especially gratified to hear the feedback from our panel of NCI peer reviewers, leaders from comprehensive cancer centers across the nation. They rated RPCI's application for renewal as "outstanding" and characterized the Institute as an organization "on an upward trajectory," well positioned to meet our goals for the future.
We got a step closer to delivering on one of those goals — personalized therapies for every cancer patient — with the approval of our OmniSeq Target™ test by the New York State Department of Health last week. This advanced diagnostic panel, a unique approach to characterizing cancerous tumors to help guide and inform treatment decision-making, analyzes 23 different cancer-associated genes using multiple gene-sequencing technologies, looking for aberrations that indicate a certain cancer type.
OmniSeq Target, developed by our Center for Personalized Medicine under the leadership of Dr. Carl Morrison, is unique in two important ways: it's the only genomic diagnostic test for cancer to analyze only those genes associated with an effective cancer therapy, and it's also the only cancer genomic test to use two existing gene-sequencing platforms in order to produce more accurate results. These are not trivial differences, but distinctions with a key difference — a focus on testing that can actually make a difference for patients and improve clinical outcomes by getting patients on the most appropriate therapies sooner.
We plan to start using OmniSeq Target testing in the care of our lung cancer patients by mid-September, and expect to be able to offer it for many patients with colorectal tumors or malignant melanoma soon thereafter. We're also looking at ways to make this testing available for cancer patients across the nation.
Both these developments are, rightly, sources of great pride for the dedicated Roswell Park teams that put so much innovative planning and hard work into them. They also represent two of the most significant achievements of the Institute during my tenure as President and CEO, and it has been incredibly rewarding and moving to see them dovetail with other recent successes, including our progress on building the RPCI Clinical Sciences Center.
Each of these accomplishments has so much future bearing on the work of every one of RPCI's 3,200-plus employees, all united toward the goal of understanding, preventing and curing cancer. And so, with the evolution of all these key initiatives from the strategy and development phase into implementation and the planning of next steps, this is an opportune time for me to move on from my executive role with the Institute. I was fortunate that upon being named President and CEO in 2007, I was invited to envision new goals and to chart the direction we'd take in pursuing them, and I know Roswell Park will benefit from my successor having that same opportunity.
While I intend to conclude my role as President and CEO Dec. 31, 2014, I will be staying on through mid-2015 to continue my clinical practice and research, and to be a resource to the Roswell Park community through this leadership transition.
This is a bittersweet time for me — it's difficult to begin to let go of the dreams and challenges that have inspired me over the 12 years I've been lucky enough to be associated with this fine institution, and the nearly 50 years I've spent in the medical field. But any regrets are softened by my gratitude for the contributions of so many people — dedicated and talented colleagues, passionate donors motivated by a keen desire to make things better for the next generation of cancer patients, elected representatives who took the time to really understand what comprehensive cancer care is and why it's so important — and my pride for all of the things we were able to achieve together.
— Donald L. Trump, MD, FACP
President and CEO
---
Thank you riders, volunteers and other supporters!  The Ride For Roswell raised $4.3 million to benefit research and patient care programs at RPCI.
---
Institute News
NCI Renews RPCI's Core Grant, Comprehensive Cancer Center Designation
The National Cancer Institute has renewed the Cancer Center Support Grant, or core grant, to Roswell Park, rating RPCI's application as "Outstanding." The designation extends Roswell Park's status as one of only 41 Comprehensive Cancer Centers, and the only one in Upstate New York, and carries with it a federal grant allocation of $19 million over the next five years.
State Approves Roswell Park's New OmniSeq Target Gene-Sequencing Test
RPCI has received state approval to begin advanced molecular testing using its new OmniSeq Target test. Developed by the Roswell Park Center for Personalized Medicine, the test is a unique approach to detecting gene mutations to help determine the best course of therapy for an individual patient. "When a physician gets our test results back, they will be able to apply that new information and adjust a patient's treatment plan to get them on the appropriate targeted therapy," notes Dr. Carl Morrison, Executive Director of the Center.
Institute Again Earns BlueCross BlueShield's Blue Distinction for Transplant
BlueCross BlueShield of Western New York redesignated Roswell Park as a Blue Distinction Center for transplant. The recognition acknowledges those medical facilities shown to deliver quality specialty care based on objective, transparent measures for patient safety and health outcomes. RPCI earned the designation based on the high-quality care provided to patients receiving blood and marrow transplant (BMT), a highly complex procedure used in treatment of many blood cancers.
---
Donor Dollars at Work
Preserving a Memory — StoryCorps Legacy Comes to Roswell Park

Thanks to a generous gift from Philip H. Hubbell, the Roswell Park Pastoral Care Department offers its patients, their loved ones, staff and volunteers the opportunity to record and preserve their most important memories and experiences while facing a serious illness.
StoryCorps Legacy, a special edition of the StoryCorps oral history project featured on National Public Radio, gives participants the chance to make a high-quality audio recording, free of charge, and receive a CD that they may copy and share with others.
During a lengthy stay at RPCI, Alison Flakes was the first to take part in StoryCorps Legacy after being invited to involve two friends or relatives — one interviewing the other. Earlier this year, she developed acute myeloid leukemia. Alison knew it was time to talk. The chance to record her story, she said, "felt like an adventure."
Her sister, Florence Flakes-Rozier, interviewed her. "We decided to play it by ear," says Alison. "I had no clue what she was going to ask me." During a 40-minute recording session in her hospital room, the sisters had an intimate conversation about her children, her career, their mom, family reactions to her illness — and a couple of tearful moments.
For that brief time, Flakes put aside her personal and professional responsibilities and concerns to look inward. "It was something I had never done before. It was my story. When you total everything we talked about, I've had a hell of a life."
She encourages others battling serious illnesses to tell their stories. "It's a time you can relax in a very intimate way and talk about your hopes, dreams, disappointments, your life, your family, your bucket list. It's a wonderful format to do that."
To learn more about StoryCorps Legacy, please call the RPCI Pastoral Care Department at (716) 845-8951.
---
The Cancer Experts
Roswell Park faculty members regularly share their expertise with major national media outlets and oncology publications. Some recent examples:
Dr. James Hitt to Chemotherapy Advisor: "Successful treatment of patients with severe odynophagia can be very difficult, and there is a need for alternatives to around-the-clock opioids. Patients with odynophagia can be plagued by pain each time they swallow, and that type of intermittent but frequent pain can be very difficult to control."
Dr. James Mohler to MedPage Today: "Patients and the primary care physicians who care for them should encourage [National Comprehensive Cancer Network or NCCN] guideline-compliant counseling, care, and outcome monitoring, which can be accomplished most easily by obtaining a second opinion at one of the 45 NCCN member institutions."
Dr. Eunice Wang to HemOnc Today: "There is now a randomized phase III study comparing Jakafi [ruxolitinib] with best available care for patients with polycythemia…. I think that that drug is going to start to see greater application in treatment of other myeloid disorders in addition to myelofibrosis, and will potentially be a standard-of-care-changing agent."
---
Sponsor Spotlight: Aflac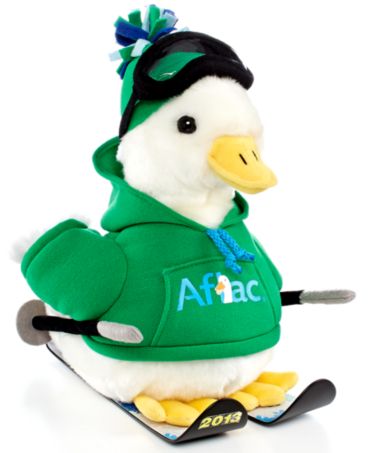 Aflac cares about the communities they live in and do business with. This commitment includes ongoing support of Western New York's number-one cancer care provider, Roswell Park Cancer Institute.
Since 2001, Aflac has sold plush Holiday Ducks to benefit pediatric cancer research, raising more than $3 million. The duck, designed by a pediatric cancer patient, is sold at Macy's stores across the country or online at www.aflacduckprints.com.
In 2013, RPCI was invited to be one of the recipients of the Holiday Duck promotion. All net proceeds from Holiday Ducks sold at Western New York Macy's stores, as well as a portion of proceeds from ducks sold online, were donated to RPCI. The program raised more than $10,000 for RPCI's new Pediatric Hematology-Oncology Unit.
"For more than a decade, Aflac and Macy's have helped to raise awareness and $3 million dollars for the fight against childhood cancer by selling plush Aflac Ducks. In 2013, we were honored to partner with Roswell Park Cancer Institute for the first time and are very pleased with our inaugural results," said Buffy Swineheart, Senior Manager of Cause Marketing at Aflac. "Together, we will continue to raise money to assist the families of Buffalo area as they battle childhood cancer."
For nearly six decades, Aflac insurance policies have given policyholders the opportunity to focus on recovery, not financial stress. Aflac individual and group insurance products help provide protection to more than 50 million people worldwide. To find out more about Aflac, visit aflac.com.
---
Events
Summer Splash
On Friday, August 8, Carly's Club at Roswell Park Cancer Institute will host the party of the summer! Come dressed in your best yellow outfit and get ready to say, "Hello Yellow" with this year's theme. Guests will enjoy an open bar all night, gourmet cuisine from Buffalo's premier local restaurants, music, dancing and fabulous prizes, including a new car!
All proceeds from the event will benefit pediatric cancer research and patient-care programs through Carly's Club as Roswell Park. Visit Summer Splash online to get tickets and learn more.
Carly's Crossing
Make a splash for childhood cancer cures at Carly's Crossing on Sunday, August 10. 
This unique open-water swim event will bring hundreds of swimmers and spectators together in support of pediatric cancer research and patient-support programs at RPCI.
Swimmers raise pledges to participate in one of three course options: a 600-yard non-competitive swim, 1-mile non-competitive swim, or 1-mile timed competitive swim. Reserve your spot and register here!
Tops 5K
Tops Friendly Markets and Team Cure Challenge are once again teaming up to host the 7th annual TOPS 5K/10K Run and Family Walk on Saturday, August 23. Registration for the event is now open, so don't delay — sign up today!
All proceeds from the race will directly support the cutting-edge research and patient-care programs at Roswell Park. Click here to register.
Bosom Buddies
Registration is now open for the Bosom Buddies Walk 2014 on Saturday, September 13. Participants may choose a 1.5-, 3-, or 5-mile walking course through the Town of East Aurora. Gather your friends and family to come enjoy one of Western New York's most historic and beautiful neighborhoods, and walk alongside our honorary chair, WGRZ-TV weekend "Daybreak" anchor Heather Ly.
All proceeds from the Bosom Buddies walk will help make a difference on behalf of the WNY Breast Resource Center at Roswell Park. The center, which is free and open to the public, helps patients and families throughout Western New York navigate their cancer journey from diagnosis and treatment to survivorship.
Sign up today at BosomBuddiesWalk.org.
Dunkin' Donuts
Come on down to the RPCI Gift Shop and enjoy 70% off Dunkin' Donuts coffee and tea with Roswell Park Coupon Books! For $25, you'll receive more than 60 coupons for medium coffees, iced coffees or teas, to be used now through the end of December. Ten of the coupons are valid in the hospital lobby location. Not only are these coupons sharable with friends and family, but they make great gifts too. To view a complete list of participating locations, click here. This is a limited-time offer!
Walk of Life
Commemorate the life of someone special with a brick, paver, tree or bench placed in Kaminski Park at Roswell Park Cancer Institute. You can personalize your message to honor/remember a family member or friend or celebrate a special anniversary, birthday or other life event. You will be invited to a dedication ceremony at our Walk of Life and Gardens of Hope event held annually in the summer. To learn more about this unique way of paying tribute, please contact Gretchen LaRock at gretchen.larock@roswellpark.org or call 716-845-4391.
---
RPCI In the News
Hundreds of Donated T-Shirts Help Fireman with Battle — USA Today/Gannett
Roswell Park Genetic Test for Cancer Receives State Approval — The Buffalo News
Good Neighbors: Survive in the Buff — WGRZ-TV Channel 2
Roswell Park is a Stronger Institution as it Prepares to Face New Challenges — The Buffalo News
Renewal of Pivotal Federal Designation is a Vote of Confidence for Roswell Park — The Buffalo News
$4.3 Million Raised in 19th Annual Ride for Roswell — WGRZ-TV Channel 2
For Sarah and Steve Tasker, Ride for Roswell is Especially Profound — The Buffalo News
See more RPCI headlines at roswellpark.org/media/in-the-news
---
You Should Know
No increased cancer risk found with colitis drugs
People with inflammatory bowel diseases (IBD), such as ulcerative colitis and Crohn's disease, should feel reassured that the biologic drugs commonly prescribed won't increase their cancer risk. These drugs include etanercept, adalimumab, infliximab, certolizumab pegol and golimumab.
Inflammatory bowel conditions are believed to result from an abnormal reaction of the body's immune system, and are characterized by chronic inflammation in the gastrointestinal tract. People with Crohn's or colitis face increased risk for colon cancer due to the constant inflammation. A class of biologic drugs called tumor necrosis factor alpha (TNF-a) agonists (or anti-TNF-a) help to cool down the immune system and reduce the inflammation. There has been concern, however, that suppressing the immune system in this way could potentially increase risk for other cancers.
Recent findings published in the Journal of the American Medical Association help to allay that fear. Researchers studied more than 56,000 people with inflammatory bowel disease and compared cancer occurrence in people who took the anti-TNF-a drugs to occurrence among those who didn't take the medication. Cancer occurred in just under 2% of patients who took the anti-TNF-a drugs, compared to nearly 7% in those who didn't take them.
In addition, no link between the drugs and any site-specific cancers was found. However, because the study only followed patients for four years, the authors cannot say whether the drugs are linked to any long-term risk.
"Because patients with Crohn's disease and ulcerative colitis are at a higher risk for colorectal cancer, colonoscopies for cancer surveillance should be a regular part of their care," says Patrick Boland, MD, Assistant Professor of Oncology in the Gastrointestinal Center at RPCI. "Their starting age and frequency is typically based on other factors like family history and severity of the IBD."
Patients should discuss their surveillance plan with their gastroenterologist.
See Dr. Boland's biography here: https://www.roswellpark.edu/patrick-boland
---
Legislative Update
Bill Titles: What's in a Name?
The Patient Protection and Affordable Care Act, the Safe Patient Handling Act, the Compassionate Care Act — these are all names of pieces of legislation, and all conjure up a positive image.
Recently, during the debate on the floor of the New York State Senate for the Compassionate Care Act, better known as "the medical marijuana bill," several legislators referenced the creative naming of the legislation. More important to the debate, however, were concerns voiced by many of the Senators about the language of the bill or its underlying purpose.
The practice of naming legislation with clever names that accentuate the positive is age-old. Sometimes, a bill's acronym is even more important than the full name. Since bills at any level of government have a relatively low chance of passing into law, legislators and advocates devise creative titles to garner media attention and recognition. Attention-grabbing titles also help constituents identify and voice opinions on legislation.
It therefore becomes the job of people like journalists and consumer advocates to convey the concerns, realities and challenges actually in the legislation. Just as first impressions are not always correct, a bill's name is not always reflective of the changes it would effect.