A Message from the President
From Robotics to Nanotech to Research, Next-Generation Opportunities for Young Minds
This Saturday, for the third time in a little over two weeks, the David C. Hohn, MD, Auditorium on our campus will be filled with high-school students as the first-ever Greater Buffalo Junior Robotic Surgeon Challenge winds down to a conclusion.
Schools across Western New York were invited to take part in the training program, which has allowed 67 students from nine public and private high schools to learn about robot-assisted surgery using the same curriculum used to train surgeons from around the world. Designed by Dr. Khurshid Guru, Director of the Roswell Park Center for Robotic Surgery, in collaboration with Dr. Eileen O'Brien of Immaculate Conception School and Erinn Field from the RPCI Applied Technology Laboratory for Advanced Surgery, the Challenge will see the top two competitors going head-to-head Saturday, performing an actual robot-assisted surgery on a synthetic bladder in a Roswell Park operating room.
The feedback from participants has been streaming in throughout the course of this 12-week curriculum. "This program has expanded my horizons and opened my eyes to new career opportunities. It has been absolutely amazing," said one Challenge participant. "Dreaming doesn't change the world, thinking does. Roswell Park allows youth to not only dream, but to think and achieve," said another. Several grateful parents have also reached out to let us know what a positive impact the program has had on their daughters and sons and the way it's already motivating them to pursue careers in health care.
This innovative, hands-on program represents one small sliver of the educational opportunities RPCI offers through partnerships with area schools, highlighting career pathways for the region's students as we begin the process of engaging and training the next generation of health-care workers, oncologists and medical researchers.
Our Yroswell initiative, launched in 2007 to demystify cancer for this young generation, continues to engage youth in various activities aimed at creating a world without cancer. To this end, Yroswell highlights several career pathways on Yroswell.com that guide students toward a future in health care. The network of motivated Yroswell youth also work to educate their peers about cancer, raise funds for cancer research and give back to the cancer community in the best way they know how, proving to each other — and themselves — just how far their advocacy and support can go in the fight against cancer.
Other examples of our education mission at work at Roswell Park:
Rex Herzberg, a City Honors junior working under the mentorship of Dr. Mikhail Nikiforov, was one of two students to receive scholarships awarded on the strength of their presentations at the Ying Tri Regions Science and Engineering Fair, held March 22-23. He's one of 33 students to do research under the guidance of an RPCI faculty member over the 16 years the City Honors Science Research Program has partnered with Roswell Park. Hakeem Salem, another student from this program, will be presenting his work at the Intel International Science and Engineering Fair May 11–16 in Los Angeles, Calif. Hakeem, who is conducting research at RPCI under the guidance of Dr. Daryl Nazareth, is the sixth Roswell Park-mentored City Honors student in the last four years to be selected to compete at this event, the world's leading science fair.
15 Health Sciences Charter School students visited our campus April 3 for one of our semiannual MASH (Medical Academy of Sciences and Health) Camp, a half-day introduction to clinical pathology and clinical research.
On April 10, Roswell Park was privileged to host Nano Day, part of Buffalo Public Schools Science Week 2014. The program, developed with partners including the State University of New York and two SUNY institutions, the University at Buffalo and the College of Nanoscale Science and Engineering in Albany, brought 450 ninth-graders from Buffalo public and charter schools to our campus for demonstrations and hands-on activities illustrating the importance of nanotechnology in our lives today.
Kicking off a two-month expeditionary learning activity, 85 ninth-graders from Tapestry Charter School came to RPCI April 11 to hear presentations from Roswell Park faculty and staff on cancer and current challenges in the field of oncology. The program will culminate with a community cancer awareness night presented by the students in their role as ambassadors of cancer prevention and early detection.
RPCI Department of Educational Affairs staff will conduct a professional-development workshop May 7 for 25 Buffalo Public Schools science teachers. The teachers will be trained on new hands-on tools and methods for teaching the principles of gel electrophoresis of DNA, a procedure used in many Roswell Park research labs.  
These varied examples illustrate both the range and the depth of our educational programming benefitting young learners. We'll continue to look for new and creative ways to introduce the region's students to the real-life challenges and opportunities of medical care, research and education. We enjoy their company. Thanks to all the students, past and present, who've visited the Roswell Park campus and shared their ideas, their questions and their energy with us.
– Donald L. Trump, MD, FACP
President & CEO
Study Will Evaluate Innovative PDT Approach Developed at Roswell Park
Roswell Park researchers have developed a unique way to treat cancers of the head and neck using a new "interstitial" form of photodynamic therapy (PDT). This innovative approach, which borrows techniques from the field of radiation medicine, will be assessed in a new clinical research study led by RPCI faculty members Hassan Arshad, MD, and Gal Shafirstein, PhD, DSc.
RPCI Teams Present Latest Findings at Prestigious Oncology Meetings
The last few weeks have been a busy time for Roswell Park investigators, with dozens of RPCI faculty and fellows sharing findings from recent research studies at major oncology conferences. Among them were more than 30 teams who presented research at the American Association for Cancer Research Annual Meeting 2014, including three who presented on collaborative Jasco Pharmaceuticals-RPCI projects, and an especially strong showing for RPCI surgeons at the Society of Surgical Oncology's annual Cancer Symposium.
Study Provides Insights on Barriers to Lung Cancer Screening
A study involving more than 1,200 current or former smokers found that most would welcome screenings for lung cancer if their insurance covered spiral computed tomography (CT) scans, an imaging procedure shown to be a highly effective way of detecting lung tumors at early stages. RPCI's Andrew Hyland, PhD, Chair of the Department of Health Behavior, was one of the investigators leading the study.
Patients Should Not Have to Fail First
By Assemblyman Matthew Titone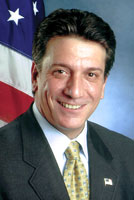 Step therapy or fail first policies are practices which require the least expensive drug in any class to be prescribed to a patient first, even if that patient's physician believes a different therapy is in the best medical interest of the patient. There are currently no time limits or restrictions placed on fail first policies. Patients, including those with serious medical conditions, can be required to fail for an indefinite period of time before the medication preferred by the physician can be prescribed. This practice has the potential to result in serious negative consequences for consumers and the public health system. By limiting the array of medication options, both physicians and patients are forced to compromise their treatment decisions in a way that is dangerous and more expensive.
Unfortunately, the results of fail first policies can often be cruel. We must not forget the human side of this policy. Fail first and step therapy policies often require patients to suffer: with pain, with side effects, and with the fear that they will never get the treatment they need. These policies allow insurance companies to prey on and profit most from those who suffer with ailments that make it difficult for them to fight back. Those who have been diagnosed with cancer, lupus, Lyme disease, multiple sclerosis, rheumatoid arthritis, or a host of other diseases and conditions, as well as people who have private insurance, are among those who do not have prescriber prevails rules to protect them from fail first practices.
I have heard far too many stories about people who have been tortured -- and I do not use that word lightly -- by unnecessary and unwanted treatments under this policy. I therefore recently reintroduced legislation (A. 5214) in the New York State Assembly that would, when medically in the best interest of the patient, create a clear process for prescribers to override the step therapy or fail first requirement of an insurance company. With the support of dozens of organizations, including Roswell Park Cancer Institute, the U.S Pain Foundation, the six Lupus Agencies of New York, the New York State Rheumatology Society, the National Multiple Sclerosis Society and the Medical Society of the State of New York, I am hopeful that we will pass this bill and give every New Yorker the right to have his or her doctor, and not an insurance claims adjuster, determine a course of treatment.
A Closer Look at Kidney Cancer's Origin
Kidney cancer is among the 10 most common cancers in both men and women and is considered to be the most lethal urologic malignancy. Among those diagnosed, about 80 percent will be diagnosed with clear cell renal cell carcinoma (ccRCC), a highly vascular type of kidney cancer (that is, consisting of atypically large amounts of blood vessels). There is a need to further understand the cellular origin of this often-underinvestigated cancer so it can be better treated and prevented.  
For many years, researchers have commonly believed that the main kidney cells called "tubule cells" were responsible for the origin of ccRCC. However, there is conflicting scientific data to support this belief and any attempt to recreate the disease in research models using this cell type has been unsuccessful.

New evidence suggests that if ccRCC is similar to other highly vascularized tumors like glioblastomas (brain tumors) or perivascular epithelioid cell tumors, the cell of origin for ccRCC may very well be a cell called a "pericyte" that is part of the blood vessel wall with the ability to transform into other types of cells.
Thanks to generous donations to Roswell Park, Kenneth Gross, PhD, chairman of the Department of Molecular and Cellular Biology, alongside Gary Smith, PhD, distinguished professor of oncology and member of the Department of Urologic Oncology, and Eric Kauffman, MD, assistant professor of oncology and member of the Department of Urology and Department of Cancer Genetics, are taking a closer look at the origins of kidney cancer.
The RPCI researchers will seek to test whether ccRCC has a vascular cell origin  by using Next Generation DNA Sequencing capabilities available at RPCI.
Dr. Gross said, "It would be paradigm shifting if our hypothesis is correct." The team agreed their research could ultimately change how we understand, prevent and cure kidney cancer.
Dr. Gross joined Roswell Park in 1977. To learn more about him click here to view his biography. Dr. Smith joined Roswell Park in 2005. To learn more about him, click here to view his biography. Dr. Kauffman joined Roswell Park in 2012. To learn more about him, click here to view his biography.
Roswell Park faculty members regularly share their expertise with major national media outlets and oncology publications. Some recent examples:
Dr. Stacey Akers to Medscape: New findings about BRCA1 mutations "should be discussed with patients considering risk-reducing salpingo-oophorectomy, (but) we need further studies to determine risks so that we can counsel patients appropriately."
Dr. Christine Ambrosone to MedPage Today: "There are different types of breast cancer, all of which have different prognoses, and a growing body of data suggests the etiology of these different types of breast cancers is different, too."
Dr. Carl Morrison to Medscape: "Although no mTOR mutations were found in our cohort, we did find P13KCA mutations in a subset of patients. This suggests that mTOR inhibitors play a bigger role in the treatment of bladder cancer than initially anticipated."
Theatre Alliance of Buffalo
The Theatre Alliance of Buffalo is dedicated to promoting local theaters and appreciation of the arts in Western New York. The organization is also committed to helping Roswell Park Cancer Institute (RPCI) find cancer cures and save lives.
For the second year in a row, the Theatre Alliance of Buffalo has come together to raise funds for Roswell Park with its Applause for Hope promotion. In February 2014, participating theaters held audience collections at every show, raising $11,000 for the new pediatric unit at RPCI. In 2013, funds raised through this promotion benefited Roswell Park's cutting-edge work towards a cancer vaccine.
"The Theatre Alliance of Buffalo is proud of its member theaters and their generous patrons for supporting this worthy cause," said Dave Bondrow, president of the Theatre Alliance of Buffalo.
The Theatre Alliance of Buffalo is a collection of Western New York theater groups who work together as one to provide market awareness and support for the region's theatrical productions.  Since its inception in 2004, the Theatre Alliance of Buffalo has grown to 20 member theater groups who are dedicated to promoting appreciation of the art of theatre.
Learn more about the Theatre Alliance of Buffalo here.
A Taste for Life
Come enjoy an evening full of fabulous wines, craft beers, and sweet treats, while helping to support a promising genetic test for lung cancer developed right here at RPCI. Your support of A Taste for Life will enable Roswell Park to make the test possible for as many patients as possible and make a difference for all lung cancer patients now and in the future. Click here to buy your tickets.
The Ride For Roswell
Register to be part of The Ride For Roswell and enjoy an inspirational message from Olympic gold medalist and cancer survivor Scott Hamilton at The Ride For Roswell Opening Ceremony on June 27. Ride Day will take place on June 28, so don't delay- register today! 
Paint Box Wedding Collection
Attention all brides and grooms-to-be, the Paint Box Project 2014 wedding line is now available! The 2014 wedding line includes invitations, save-the-dates, favors, napkins and more in a variety of Paint Box patterns created by Roswell Park's Carly's Club patients. All cards and products are customizable, one-of-a-kind creations. To view the Paint Box Project wedding collection, please visit www.paintboxproject.com.
Dunkin' Donuts Coupon Books
Enjoy more than 70 percent off Dunkin' Donuts coffee and tea with the Roswell Park coupon books. For $45 you'll receive more than 90 coupons to use for medium coffee, iced coffee or tea now through 12/31/14. Coupons are shareable with family and friends and make great gifts. Limited quantities are for sale now only in the Gift Shop, and fifteen of the coupons can be used in the RPCI lobby Dunkin' Donuts. Click here for more info.
FDA Proposes Food Label Update
The iconic Nutrition Facts label on food packaging will soon get a makeover in an effort to help people find and understand the information they need to make better food choices. The proposed changes aim to reflect updated nutrition science, more realistic serving sizes and a fresher look. 
Among the changes:
Added sugars will be listed to help consumers discern how much sugar occurs naturally in the food and how much was added purposefully. Cutting down on added sugar intake helps people consume more nutrient-rich foods.
Potassium and Vitamin D amounts will now be required. Amount of calcium and iron will still be required, but listing Vitamins A and C would be voluntary.
Updated daily values for nutrients like sodium, dietary fiber and vitamin D.
Serving size will reflect what people actually eat rather than how much—or little—they should eat. For example, a 20-ounce bottle of soda, usually consumed in one sitting, would be labeled as one serving. Larger food packages would need to have dual column labels to provide "per serving" and "per package" nutrient information.
Design changes will make calories, serving sizes and daily value percentage more prominent.
"I love that added sugars will be delineated on the label. Most everyone should avoid foods that contain them," says RPCI clinical dietician Margaret Meissner, MSRD CDN CDE. "Potassium is also a valuable mineral to monitor for heart and kidney patients and others with high sweat or stool losses and the serving size update is a reality check. Knowledge is a catalyst for change. If you're not sure how to interpret a food label to fit your needs, consult with a Registered Dietitian-Nutritionist."
Learn more about the proposed Nutrition Facts Label.
Leadership Changes on the Health Policy Front
Health and Human Services Secretary Kathleen Sebelius announced her resignation. President Obama has nominated Sylvia Matthews Burwell, current director of the Office of Management and Budget, to take Sebelius' place. Burwell is a Washington veteran, having served as Chief of Staff to former Treasury Secretary Robert Rubin during the Clinton Administration. She also ran the Walmart Foundation and served as President of the Gates Foundation's Global Development Program.
Ms. Burwell's confirmation by the U.S. Senate is likely since the Senate rules change from last year ensures that presidential nominees only need a simple majority for confirmation.
This change should have little effect on the implementation of the Affordable Care Act in the short term but does give the administration a chance to reset the national conversation over "Obamacare" with a new face in charge of the program. 
Likewise, there will be a change in New York State. Dr. Nirav Shah, the New York State Commissioner of Health, has announced his resignation, with a planned June departure.  First Deputy Commissioner Dr. Howard Zucker will serve as Interim Commissioner.  Once again this change should have little effect on administration and/or departmental policies.   
Sebelius leaves at a time when most of the website's problems have been fixed and enrollment in private health insurance programs through the Affordable Care Act has surpassed the first-year goal of 7 million.