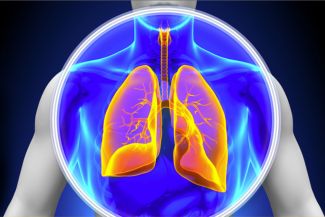 GO2 Foundation for Lung Cancer Designates Roswell Park as Screening Center of Excellence
Cancer center recognized for following best practices in field
Highlights
Designated centers demonstrate best practices outlined by NCCN, ACR
Roswell Park's Lung Cancer Screening Program offers low-dose CT scans
Center's program diagnoses 70 percent of lung cancers at early stage
2
Foundation for Lung Cancer.

The nonprofit foundation's designated centers ensure that screenings transform lung cancer care in the community by providing clear information on who is an eligible candidate and complying with comprehensive best practices by professional governing bodies such as the American College of Radiology (ACR) and the National Comprehensive Cancer Network (NCCN).
"We are proud and honored to be working with Roswell Park Comprehensive Cancer Center as a GO2 Foundation for Lung Cancer Screening Center of Excellence," says Foundation Co-Founder, President and CEO Laurie Fenton Ambrose. "Their commitment to practice responsible lung cancer screening will lead to advancements in research and many lives saved They are an example to follow."
Roswell Park's screening program focuses on people at high risk and involves detailing medical history, physical examination, and taking a low-dose CT scan (LDCT) of the chest. Our experts have diagnosed 70 percent of cancers at an early stage, compared to national trends that detect the same percentage at advanced stages.
"Our lung cancer screening team brings knowledge and passion to the care we deliver, and this designation confirms it," said Mary Reid, MPSH, PhD, Director of Cancer Screening and Survivorship. "Our comprehensive approach sets us apart because it ensures that patients have access to state-of-the art screening technology, personalized medicine, clinical trials and support from psychosocial and smoking-cessation counselors."
Roswell Park has previously received the Screening Center of Excellence designation from the Lung Cancer Alliance, a founding member of the GO2 Foundation for Lung Cancer.
###
Roswell Park Comprehensive Cancer Center is a community united by the drive to eliminate cancer's grip on humanity by unlocking its secrets through personalized approaches and unleashing the healing power of hope. Founded by Dr. Roswell Park in 1898, it is the only National Cancer Institute-designated comprehensive cancer center in Upstate New York. Learn more at www.roswellpark.org, or contact us at 1-800-ROSWELL (1-800-767-9355) or ASKRoswell@RoswellPark.org.
BUFFALO, N.Y. — Roswell Park Comprehensive Cancer Center's efforts to provide the public with lung cancer early detection screening options have earned a prestigious Screening Center of Excellence designation from the GO