Cancer center is only Buffalo employer on ranking published by Forbes
Highlights
Forbes list is based on survey of more than 50,000 U.S. workers
Employees asked about experiences relating to various aspects of diversity
Roswell Park ranked 67th among 500 employers named to list
BUFFALO, N.Y. — Roswell Park Comprehensive Cancer Center has been recognized as one of America's Best Employers for Diversity 2019. The Buffalo cancer center was ranked 67th among 500 employers and 8th among the 30 employers within the health care sector to be named to the list, which is based on employee surveys.
Forbes selected America's Best Employers for Diversity based on an independent survey conducted in collaboration with the analytics firm Statista among a sample of more than 50,000 U.S. employees working for companies employing at least 1,000 people in their U.S. operations, across 24 different industries. The online surveys asked participants about a number of topics relating to age, gender equality, ethnicity, disability, LGBTQ+ and general diversity concerning their own employer.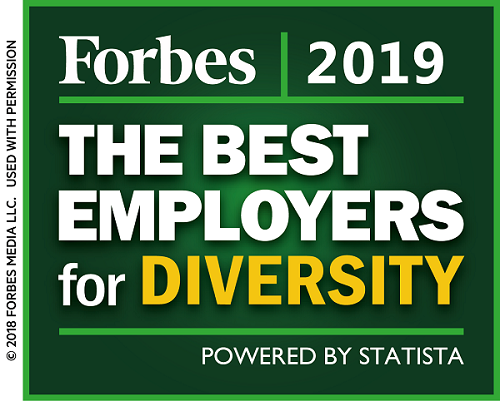 "The City of Buffalo is the proud home of Roswell Park Comprehensive Cancer Center, and I congratulate them on this most prestigious recognition," says Buffalo Mayor Byron Brown. "This accomplishment demonstrates the effectiveness of an organization's commitment to a diverse and inclusive work environment. Roswell Park — an organization fueled by diversity, inclusion, and innovation — is one of the best hospitals for cancer care in the nation. Roswell Park proves that with deliberate policies, thoughtful values, and compassionate outreach, an inclusive workforce accomplishes more."
Roswell Park employs more than 3,400 people at its main campus in Buffalo and affiliate sites across Western New York. The cancer center is the only Buffalo-based employer to be named to this year's list.
"Of all the distinctions and honors Roswell Park has received, this recognition of our diverse and inclusive team is among those that make me proudest," says Roswell Park President and CEO Candace S. Johnson, PhD. "It's based on our employees and what they had to say about their day-to-day experiences as Roswell Park employees. And there's something incredibly powerful about seeing all these individuals, with all the things that make them unique, coming together to unite around one focus, one mission. We wouldn't be Roswell Park without that richness."
Roswell Park is committed to building and retaining a diverse workforce and to helping increase employment and contracting opportunities for all Western New Yorkers, not only through its hiring and retention efforts but through resume-building workshops and job fairs throughout the community. For more information on these efforts and other services available through the Roswell Park Office of Diversity and Inclusion, which is led by David Scott, Director, and a video about career development at Roswell Park, go to roswellpark.org/diversity/diverse-workforce.
"Our diversity as a team is a big part of quality and being able to provide culturally competent care," says Roswell Park employee Kristy Tyson, MBA, who works as a community patient navigator. "We're encouraged to bring what makes us unique into our work and celebrate our differences."
Roswell Park will hold a team celebration this spring to celebrate this distinction.
The full Forbes Best Employers for Diversity 2019 list is available at forbes.com/best-employers-diversity/list.