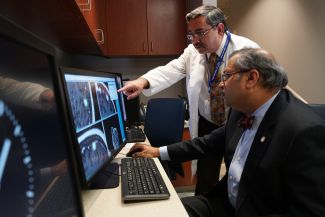 20 Years, 6,300 Patients: Roswell Park Marks Milestone for Gamma Knife Radiosurgery Program
Cancer center celebrates 2 decades as global leader in use of minimally invasive, precisely targeted radiation therapy
Highlights
Roswell Park launched Gamma Knife program in 1998 with $3.5 million grant
Now performs more than 500 procedures a year and is a regional resource
Program director Dr. Dheerendra Prasad trains other centers across globe
In November 1998, Roswell Park Comprehensive Cancer Center took a leap when it began to offer an emerging technology called Gamma Knife radiosurgery for many people with cancer and other disorders. Twenty years later, some 6,300 patients have been treated through this advanced and targeted approach — many of them from across the country and across the globe — and Roswell Park is an international leader and mentor in the most effective use of this advanced system.
Dan Leksell, MD, the son of the neurosurgeon who invented radiosurgery and developed the first Gamma Knife device, traveled to Buffalo today from his home in Sweden to mark the 20th anniversary of the Roswell Park Gamma Knife Program.
Gamma Knife radiosurgery is a minimally invasive option for treating many brain tumors and conditions — including malignant and nonmalignant tumors; brain metastases, or cancer that spreads to the brain from other parts of the body; and noncancerous conditions like arteriovenous malformations, which can lead to stroke, facial pain and essential tremor.
In 2017, Roswell Park saw the highest volume in the U.S. for a single Gamma Knife device, treating 540 patients. For more information and statistics, click the image above.
The Gamma Knife program at Roswell Park was launched through a generous $3.5 million grant made possible by donations to the Roswell Park Alliance Foundation, and has remained one of the leading radiosurgery programs worldwide thanks to sustained investment by the cancer center. Roswell Park has upgraded its Gamma Knife system three times since its first Gamma Knife system was installed in 1998, most recently when it became the first cancer center in the United States to implement Elekta's Icon system in 2016. The Icon is noteworthy as the very first Gamma Knife system to allow for "frameless" treatment — advanced technology that expands the range of conditions that can be treated through Gamma Knife radiosurgery and gives more patients an option for cognition-sparing treatment of brain disorders.
One of the biggest hallmarks of the program was the recruitment of Dheerendra Prasad, MD, MCh, FACRO, as Director of the Gamma Knife Center in 2005. Dr. Prasad is among the top three most experienced Gamma Knife experts in the world, having performed more than 12,000 radiosurgery procedures himself, and has traveled to 68 centers worldwide to train providers and share his expertise and best practices.
"Roswell Park has demonstrated incredible leadership in building this very important program over the years, from Dr. David Hohn's vision in guiding this program through its early years to Dr. Candace Johnson's enthusiastic support today," says Dr. Prasad, who is also Medical Director of the Department of Radiation Medicine and Professor of Neurosurgery and Radiation Oncology at Roswell Park. "From the get-go, these past and current Roswell Park presidents — along with our department Chair, Dr. Michael Kuettel — were focused on how best to implement this technology so that it could improve the care of patients throughout the region and even across the country, and what we've achieved through their ambassadorship is considerable."
"From a neurosurgical standpoint, from a radiation oncology standpoint and from the patient's perspective, which is always so important, you have something very special here at Roswell Park. Dr. Prasad and team have found new ways to expand the application of Gamma Knife radio surgery so that it can benefit more patients," says Dr. Leksell, who is also Chairman of the Leksell Gamma Knife Society.
The Gamma Knife Center at Roswell Park Comprehensive Cancer Center is the only facility in Western New York to offer Gamma Knife radiosurgery. More than 500 patients annually receive radiosurgery treatments at Roswell Park — the highest volume for any U.S. center with a single Gamma Knife. Roswell Park's Gamma Knife technology and expertise are also available to physician partners from the Western New York community, who come to Roswell Park to treat roughly 50 patients every year.
"I think the most significant impact of the Gamma Knife program at Roswell Park has been our focus on brain protection, notes Dr. Prasad. "We have helped to show that this technology can be safely and effectively used to treat patients with multiple brain tumors, sparing them the long-term effects of whole-brain radiotherapy. But what I'm most excited about is that because radiosurgery has advanced alongside exciting developments in other areas of treatment, particularly immunotherapy, many of our patients are thriving with good quality of life."
"My decision to seek care at Roswell Park was an all-around, complete win. Of all the treatments I've been through, Gamma Knife radiosurgery was the least invasive," says Konstance Engelsman, who was diagnosed with metastatic breast cancer in 2013 and travels to Buffalo from her home in the Hudson Valley to receive care from Dr. Prasad and his team. "Treatment options that minimize symptoms and manage the cancer while preserving your quality of life should be at the top of the list. You owe it to yourself to do everything in your power to access such treatments."
For more information about Gamma Knife radiosurgery at Roswell Park, please call 1-800-ROSWELL (1-800-767-9355) or email AskRoswell@Roswellpark.org. 
###

Roswell Park Comprehensive Cancer Center is a community united by the drive to eliminate cancer's grip on humanity by unlocking its secrets through personalized approaches and unleashing the healing power of hope. Founded by Dr. Roswell Park in 1898, it is the only National Cancer Institute-designated comprehensive cancer center in Upstate New York. Learn more at www.roswellpark.org, or contact us at 1-800-ROSWELL (1-800-767-9355) or ASKRoswell@RoswellPark.org.