Dr. Candace Johnson Named Cancer Center Director at Roswell Park Comprehensive Cancer Center
Esteemed scientist, previously Deputy Director, will steer operation of Institute's research, education programs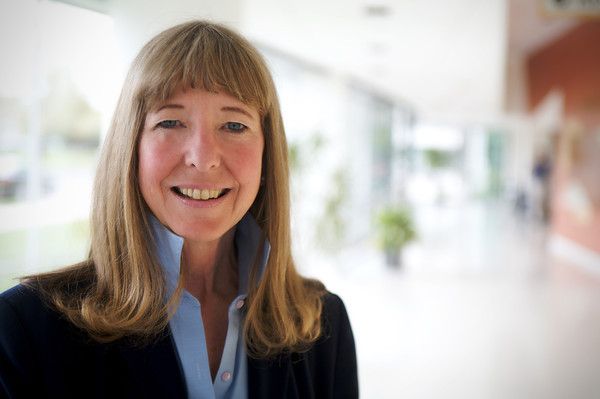 BUFFALO, N.Y. — Candace S. Johnson, PhD, has been promoted to Cancer Center Director at Roswell Park Comprehensive Cancer Center (Roswell Park), the only National Cancer Institute-designated comprehensive cancer center in Upstate New York. In this new role with the Institute, she will manage the Institute's Cancer Center Support Grant (CCSG) from the NCI as Principal Investigator and will oversee faculty recruitment and allocation of resources including space, personnel and institutional funds.
CCSGs, or core grants, are competitive multi-year awards to those research centers that meet the NCI's rigorous criteria for superior multidisciplinary research. In July, the NCI renewed its core grant to Roswell Park, awarding the Institute $19 million over five years in recognition of an "outstanding" application and renewing Roswell Park's Comprehensive Cancer Center status, a designation held by only 41 centers across the nation. The programs funded by the CCSG make up the foundation of the Institute's research and education activities.
In announcing her promotion, Michael L. Joseph, Chair of the Roswell Park Board of Directors, noted that implementing these coveted NCI awards and maintaining high-performing research and education programs is an ongoing process that requires dedicated effort and planning.
"Candace has been an outstanding leader of the scientific program at Roswell Park," said Joseph. "She has led by example with her field-leading research on the role of vitamin D in reducing cancer risk and has been a key driver of the Institute's notable growth in areas like immunotherapy and genomics. She helped build Roswell Park Comprehensive Cancer Center into a vibrant center that's poised to capitalize on both existing strengths and new opportunities, and I know her vision will help steer the Institute into ambitious, exciting new directions."
Dr. Johnson also serves as Wallace Chair in Translational Research and Chair of the Department of Pharmacology and Therapeutics at Roswell Park. She joined the Roswell Park faculty in 2002 from the University of Pittsburgh Cancer Institute, where she served as Deputy Director of Basic Research, and the University of Pittsburgh School of Medicine, where she was a professor of pharmacology and medicine. Since 2008, she has served as Deputy Director of Roswell Park, where she oversaw all basic, clinical and translational research.
After earning a doctoral degree in immunology and a master of science degree in microbiology/pathology from Ohio State University, Dr. Johnson completed research and postdoctoral fellowships in immunology/cell biology at the Michigan Cancer Foundation, Detroit. A Fellow of the American Association for Advancement of Science, she has received such awards and special recognition as the Woman of Distinction award from the Girl Scouts, Roswell Park's Scientific Contributions to Clinical Training Award, the University of Pittsburgh Innovator Award, the Medaille College Excellence in Leadership Award and the Roswell Park Alliance Foundation's Dr. Thomas B. Tomasi Hope Award.
###
The mission of Roswell Park Comprehensive Cancer Center is to understand, prevent and cure cancer. Founded in 1898, Roswell Park is one of the first cancer centers in the country to be named a National Cancer Institute-designated comprehensive cancer center and remains the only facility with this designation in Upstate New York. The Institute is a member of the prestigious National Comprehensive Cancer Network, an alliance of the nation's leading cancer centers; maintains affiliate sites; and is a partner in national and international collaborative programs. For more information, visit www.roswellpark.org, call 1-800-ROSWELL (1-800-767-9355) or email AskRoswell@Roswellpark.org. Follow Roswell Park on Facebook and Twitter.