RPCI Department Chair Earns 'Gold Medal' From American College of Radiation Oncology
Friday, February 28, 2014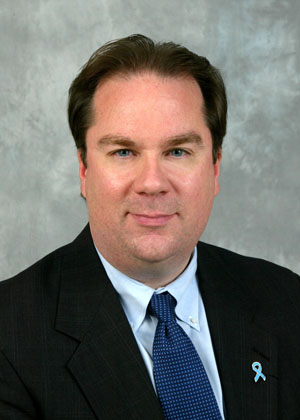 BUFFALO, N.Y. — Michael Kuettel, MD, PhD, MBA, the Barbara C. and George H. Hyde Chair in Radiation Medicine at Roswell Park Comprehensive Cancer Center, has been recognized by the American College of Radiation Oncology (ACRO) as "one of the nation's leading radiation oncologists." Dr. Kuettel received the 2014 ACRO gold medal on Thursday, February 27, at the organization's annual meeting in Orlando, Fla., in recognition of his distinguished services to ACRO and the field of radiation oncology.
"This award acknowledges Dr. Kuettel's work in highlighting the importance of multidisciplinary cancer care and how it fits into the mission-driven care we're committed to at Roswell Park Comprehensive Cancer Center," says Donald L. Trump, MD, FACP, Roswell Park President and CEO. "Dr. Kuettel directs the most technologically advanced radiation facility in Upstate New York, and has led the Institute's Radiation Medicine program during a time in which rapid advances in technology have underscored the need for outstanding staff development and constant commitment to quality control."
In practice since 1985, Dr. Kuettel joined Roswell Park as Chair of Radiation Medicine and Professor of Oncology in 1999. He also serves as Chair of the University at Buffalo (UB) Department of Radiation Medicine and serves on the National Comprehensive Cancer Network panel that develops the Prostate Cancer Practice Guidelines.
Dr. Kuettel holds a PhD in anatomy and cell biology from the Medical College of Wisconsin; an MD from the Northwestern University School of Medicine, where he also completed a postdoctoral fellowship in molecular oncology; and an MBA from the Georgetown University School of Business. He completed residencies in radiation oncology, at the Johns Hopkins Hospital, and in internal medicine, at Northwestern Hospital.
A past President and board Chairman for ACRO, and currently Director of the organization's Practice Accreditation Program, Dr. Kuettel has also held leadership positions with such professional organizations as the American Society for Radiation Oncology (ASRO) and the Radiation Therapy Oncology Group (RTOG).
###
The mission of Roswell Park Comprehensive Cancer Center is to understand, prevent and cure cancer. Founded in 1898, Roswell Park is one of the first cancer centers in the country to be named a National Cancer Institute-designated comprehensive cancer center and remains the only facility with this designation in Upstate New York. The Institute is a member of the prestigious National Comprehensive Cancer Network, an alliance of the nation's leading cancer centers; maintains affiliate sites; and is a partner in national and international collaborative programs. For more information, visit www.roswellpark.org, call 1-800-ROSWELL (1-800-767-9355) or email AskRoswell@Roswellpark.org. Follow Roswell Park on Facebook and Twitter.