Roswell Park Patients Will Have Expanded Access to Medical Records Through NYS Health Foundation Grant
$125,000 award will fund implementation of 'OpenNotes,' to be integrated into MyRoswell patient portal
Highlights:
Note-sharing empowers patients, can improve clinical outcomes
Cancer center will be one of the first NYS facilities to implement the concept
Interactive features to be added through MyRoswell secure portal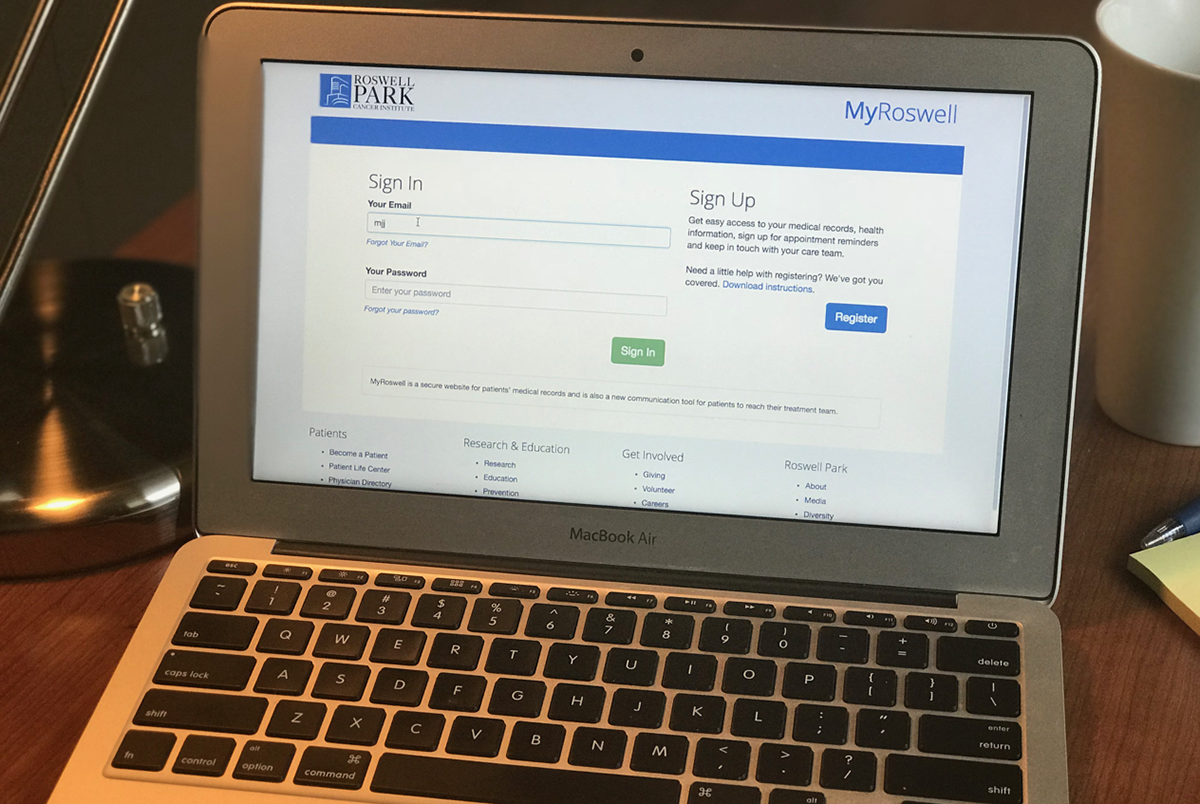 BUFFALO, N.Y. — A newly awarded grant will enable easier, more interactive access to medical records for Roswell Park Comprehensive Cancer Center patients. The comprehensive cancer center will become one of the first centers anywhere in New York State to implement the OpenNotes concept and integrate note-sharing into its secure digital portal, MyRoswell, thanks to a $125,000 award from the New York State Health Foundation.
"Information-sharing is a critical piece of the care we provide," says Roswell Park Chief Medical Officer Boris Kuvshinoff II, MD, MBA. "Access to information about medical care not only empowers patients, it actually can help improve their clinical outcomes, because the clinical team and patient are communicating more thoroughly and effectively."
OpenNotes is an international movement advocating for patients' expanded access to medical notes — accounts by medical staff in each patient's written records that document important details and guidance about a patient's diagnosis, care, medications or other interventions, prognosis and follow-up care. First established in 2010 at Beth Israel Deaconess Medical Center in Massachusetts, the OpenNotes concept is now being implemented at several centers across New York State. The grants announced this week to Roswell Park and six other centers are the first awarded by the NYS Health Foundation to organizations in Upstate Western New York in support of this initiative.
"Note-sharing is one of the quickest and most effective ways for clinical care providers to keep patients informed and to engage them in the treatment planning process. The New York State Health Foundation grant has given us such a great platform for being creative with how we integrate OpenNotes into our patient portal and tailoring it to the needs of Roswell Park patients, whose diagnoses and treatment care plans are often very detailed and complex," says Everett Weiss, MD, Roswell Park's Chief Medical Information Officer.
Implementation of OpenNotes at Roswell Park will begin in 2018 and will be phased, with both outpatient clinic visit notes and inpatient discharge summaries to be available for every adult patient on the existing MyRoswell portal. Interactive features will allow patients to highlight sections of a note where they have questions, save key sections they'd like to discuss at their next visit and access a personalized glossary of medical terms to improve their comprehension of note contents.
###
The mission of Roswell Park Comprehensive Cancer Center is to understand, prevent and cure cancer. Founded in 1898, Roswell Park is one of the first cancer centers in the country to be named a National Cancer Institute-designated comprehensive cancer center and remains the only facility with this designation in Upstate New York. The Institute is a member of the prestigious National Comprehensive Cancer Network, an alliance of the nation's leading cancer centers; maintains affiliate sites; and is a partner in national and international collaborative programs. For more information, visit www.roswellpark.org, call 1-800-ROSWELL (1-800-767-9355) or email AskRoswell@Roswellpark.org. Follow Roswell Park on Facebook and Twitter.